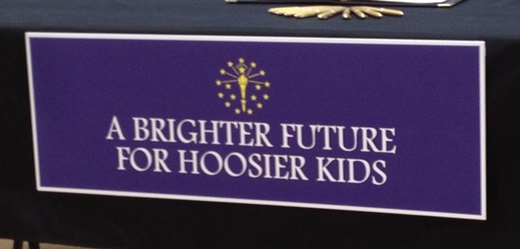 We were honored to host a momentous occasion here at Englewood Christian Church today. Because of Daystar Childcare, our widely-recognized daycare, we were selected as the site where Gov. Mike Pence would sign into law, a new bill that provides state funding for Pre-Kindergarten. As noted by Nicole Baker-Fulgham in her talk at the 2014 Justice Conference last month, Indiana was one of the last remaining states that did not provide any state funding for Pre-K. We were delighted to be the place where the journey began toward better care for the children of Indiana, and especially children of low-income families.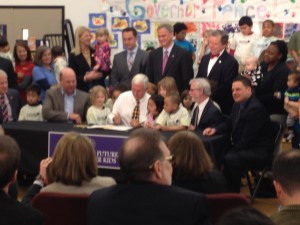 The bill signed into law today was HEA 1004, which initiates a pilot program that provides Pre-K funding for certain students in a 5-county area. This pilot program also includes a longitudinal study that will track students who are funded, in their development through grade 3. While some might argue that this bill doesn't do enough to fund early childhood education, it is a cautious step in the right direction.
The bill-signing opened with a welcome from Englewood pastor Mike Bowling, who noted that this was "a great day for the children of Indiana!" Bowling introduced Daytstar co-directors Lisa Bowling (his wife) and Laura Dyke, who presented the governor with his own Daystar Childcare t-shirt. The signing ceremony also featured the children of Daystar and Englewood's homeschool co-op singing two songs, and brief remarks by the governor. Pence's statement emphasized the bi-partisan support that brought this law to be signed and the duty we gave to care for the children of Indiana.
We at Englewood are proud to be part of this momentous occasion, and relish the opportunity that we have to work with the children of our daycare and to work with others in Indiana, including the governor, legislators, the United Way, etc. to create the infrastructure for better and affordable early childhood education for the children of Indianapolis and Indiana. Yes, our state has a long way to go — in comparison with other states — but today's bill-signing is an indication that change is on the way! Churches have important work to do in demonstrating Christ's love to the children of our neighborhoods, in ways that help them mature into engaged and compassionate people.