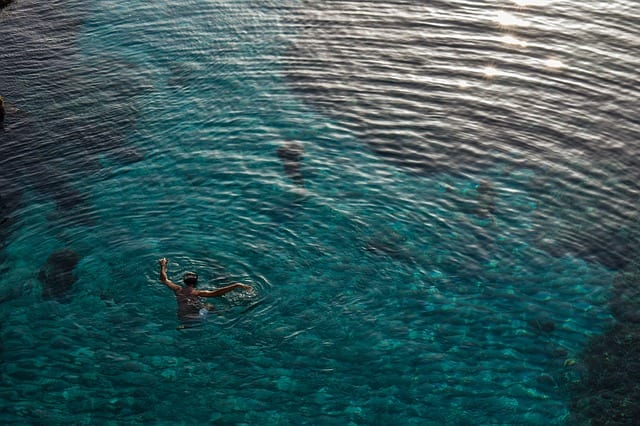 I dreamed I went swimming with all of my friends.
I don't exactly have friends. I have people I know and love to interact with online, but in Steubenville I keep to myself most of the time. When I woke up I didn't know who these people were. But in the dream, we were old friends, talking and laughing together.
I dreamed my friends and I were all staying in a great big fancy high-rise hotel. We met in the hallway and went down to the first floor, where the indoor pool was. It was a giant pool, bigger than the one at the Olympic games, warmer than a bath. It felt so comfortable and safe– swimming is the only exercise I like. I've loved swimming since I was a little girl. In the dream, I swam in the big pool and then I took a long shower.
Then we started to go back to our rooms, but on the way down the hall we found a small chapel where a priest was saying Mass. I stayed to pray but my friends didn't. When it came time for Holy Communion, I got to the front and found out there weren't any low-gluten Hosts, and I started to cry.
I'm still crying, inside.
We didn't get to go swimming or see friends we love this summer.
We haven't gotten to do much of anything for eight months.
I've only been able to go to Mass once since March.
We don't have a car, and the bus schedule is extremely tricky for daily Mass because it stops running so early; there's no bus at all on Sundays. Nobody's carpooling during the COVID crisis, with good reason. And the churches in this diocese aren't enforcing masks, and a number of Catholics seem to think they're demonstrating their faith by not wearing them. One neighbor told me only about a third of the people at one Sunday Mass she attended had their faces covered. It might be safe to go to a sparsely attended daily Mass under those circumstances, but Sunday when they're in every other pew is just too risky. Michael has asthma and I'm chronically ill myself. He could die if he catches the virus. I could be further disabled. We have a daughter who needs us.
In the Diocese of Pittsburgh, not too far from here, they have parking lot Masses and parking lot confessions. I could go to one of those. I daydreamed about it, once we got a car and I got used to driving on highways. Noon parking lot confession, then go stock up on groceries at the Robinson Costco, then come back to the church in time for Mass and go home. The perfect day. The only thing that would make it better is if there was somehow a way to go swimming as well, but still, perfect enough for this terrible year. Of course, now Pennsylvania is apparently banning anyone who does not live or work in the state from entering without a negative COVID test. I don't know exactly how that's going to work, but suddenly I feel further from Christ than ever.
I don't understand people who claim that dispensing the Sunday Obligation is dangerous because people will get used to not going to church. I want to go to church more than anything in the world– even though, as a spiritual abuse survivor, it's never been comfortable or easy. But I want to go back to feeling terrible because something in the liturgy brought back a terrible memory, instead of because I can't get to a liturgy. I feel like I'm drowning without it.
And I'd do anything to go swimming.
And I'd do anything to visit my friends who live miles away.
And I wouldn't say no to going people watching at a crowded mall. I'm shallow that way. I am an introvert but I like to people watch at the mall.
And I wouldn't mind a hike in the mountains either. At the beginning of the year I'd been plotting to somehow drive to Pocahontas County, West Virginia, to the state park we used to stay in every year when I was a little girl. I showed Rosie maps and told her about the hiking trails that get dark so suddenly at night. I told her about how I used to play in the creek with my Bad Cousins and have all kinds of misadventures there.
When they started shutting down the whole country in March, I fantasized for just a moment about somehow going to that park and sneaking into a cabin to wait out the pandemic. They have fully equipped kitchens and cozy fireplaces there. I could sneak down to the Lewisburg Wal Mart for groceries every so often and stock up. Michael, Rosie and I could go hiking and fishing and maybe even commandeer a canoe from the rental place before anybody knew they were missing. We could swim in the Greenbriar instead of a pool, after it warmed up. I know just the spot where it's the perfect depth and so flat on the bottom. The trip would be like Appalachian version of From the Mixed Up Files of Mrs. Basil E Frankweiler.
I wondered if that one window was still as easy to force open as they were when my Bad Cousins played pranks that way, when we were teenagers. I wouldn't go along with them when they played pranks. I was too afraid of getting caught. But the idea was appealing, last March.
Of course, I didn't end up doing that.
I'll do it next year, perhaps, driving a car we own, and it will be legal, and I'll pay money for it. This year I'll just dream about going on a trip.
Way back when this started, when the worst thing that happened to us was having to cook with blood oranges, I said that I was determined to be heroic. And I still am determined.
I didn't have any idea it would be this miserable for this long. I didn't know that so many people, from the president right down to the congregation that won't mask in the pews, would be selfish enough to make this so difficult, for so long. I didn't know I wouldn't be able to swim even once this summer or that it would be long, long after Easter before I got the Blessed Sacrament– and then, after I'd received Him, that that would have to last me for again as long, and still no end in sight.
I didn't know it would be such a cold, miserable descent into hell.
I didn't know I would feel so much like I was dying of thirst, or suffocating– or drowning.
Once, when I was a very little girl, I went swimming in a public pool with a big tall diving board over the deepest part. I was fearless about swimming. I thought I knew everything about the subject. But this wasn't the small pool in my grandfather's yard, a pool that only went to five feet deep, with my anxious parents and uncles watching me like a hawk. This was at least three times as deep, to make it safe for diving, and the lifeguards who were flirting with each other instead of paying attention. I didn't know how different jumping off the platform was compared to jumping off the edge of the pool. When I smacked the water, I decided to see if I could swim down and touch the bottom like I did at my grandfather's pool. I was a good swimmer, but I wasn't this good. I hadn't quite reached the bottom when my ears began to throb and my lungs began to burn. I hadn't taken a very deep breath before hitting the water, because I wasn't used to what it felt like to jump from such a height.
What happened next took only a few seconds in real life, but it felt like forever. I paddled furiously. With every stroke of my arms, I expected to feel air above me, but each time I only felt more water, and as this happened I got more and more afraid. As I got more afraid, my lungs hurt worse. I was near panic, but I forced myself to keep my mouth closed. My lungs burned harder than anything I could imagine, but I kept paddling up. Finally, I broke the surface and took a huge breath.
If my lungs hadn't hurt so much, maybe I'd have stopped paddling.
That's why I've prayed to not stop feeling like I'm drowning right now.
I've prayed for the grace not to lose that pain, that burning, that desperate longing, as we hunker down for a hard winter. To not stop having sad dreams about friends and church and swimming, to not stop fantasizing about ways to get out to the woods and go hiking, to not stop longing for Christ in the Eucharist, nor Christ everywhere present and filling all things either. If I stopped longing for whatever is good, pure, lovely and worthy of praise, then it wouldn't just be a descent into hell. It would be becoming hell. But if I keep longing for something other than hell, I might just find my way out.
I am determined to keep paddling.
The surface is up there somewhere.
This will be over someday.
I dreamed I went swimming, and that's what I'm going to do.
Image via Pixabay.
Mary Pezzulo is the author of Meditations on the Way of the Cross.
Steel Magnificat operates almost entirely on tips. To tip the author, visit our donate page.