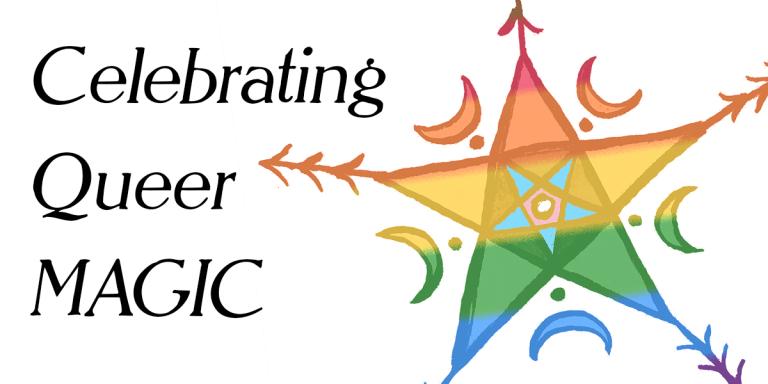 It's June! Not only my birthday month, but it's also Pride Month. As a queer Witch myself, magic that helps to protect and empower LGBTQI+ folks is near and dear to my heart. The following provides a fresh update to two particular magical workings whose time is now.
Shared Magic Sigils
The majority of the shared magic sigils I make are for aiding and protecting marginalized people (as well as places). Every sigil I share includes when and how it was made, what went into it, and some suggestions for use. Shared magic sigils help create a defined foundation and focus for energy, are easy for folks to understand, use, and apply.  Also, the more they are used, some would say that also builds powerful magic on a larger scale, connecting and inspiring.
The Power Sigil
The first wide-scale public shared magic sigil I created appeared right here on this blog in November of 2016. It was simply entitled "The Power Sigil." The goal of the sigil was simple but has spoken to so many since it was introduced: to protect and empower those who need it. Within a few days of going live, the blog had 100's of thousands of hits and over the years the Power Sigil has been tattooed, painted, etched, stitched, danced, carved, screened, and anointed all over the world.
Occasionally I like to revisit and update a sigil. I initially created a rainbow variation of the Power Sigil in late 2016/early 2017. The other day I got to thinking about that design and decided now's the time to revisit it again, using the Progress Pride Flag color scheme for inspiration: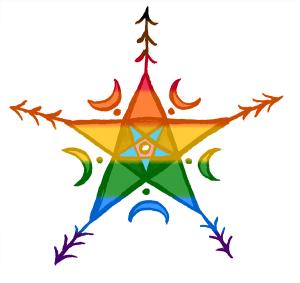 Instead of the rainbow being present only in the lines of the sigil as in the original design, here it floods the whole positive and negative space of the design itself, and the inverted star in the middle features the Transgender Pride Flag colors. I have made the design available as shirts, stickers, and other items via my Threadless shop with proceeds benefiting The Trevor Project which Threadless is also matching for the month of June. The Trevor Project's mission is to give aid and support to LBGTQ teens to prevent suicide.
The Sigil to Protect Transgender Rights
I also got inspired to revisit the Sigil to Protect Transgender Rights. While not a huge variation, this new design again features colors from the Transgender Pride Flag. There isn't a day that goes by that we don't hear of some new atrocity that the far right is trying to devise to punish and eliminate those who are trans. Trans lives are in danger, especially young people. This sigil is designed to protect trans rights and trans bodies.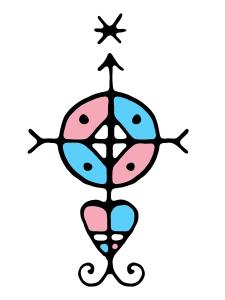 Like the 2023 Pride Power Sigil, I've also made the Sigil to Protect Transgender Rights available as shirts, stickers, bags, etc in my Threadless shop. Proceeds from the sales of these items benefit Trans Lifeline.  The mission of Trans Lifeline is to connect trans people to the community support and resources they need to survive and thrive.
What Now?
If you are interested in working with either or both of these sigils, I highly recommend visiting the original links for each so that you can fully understand what went into each sigil and consider how to best use it. There's also information about the Creative Commons Attribution-NonCommercial-ShareAlike 4.0 International License for each sigil.
Sigils can be applied to candles, to homes, bodies, community places, incorporated into rituals and meditations, danced, painted, and so forth. Consider what will work best for you and your practice. And happy Pride Month!