Dear Terry,
I've been married for three years and the issues and stress we have is too much sometimes. When we were dating, things were fun and we had a lot in common. Dave and I were both recently divorced and met through a friend. It wasn't romantic at first, but then we started hanging out together and realized we had a lot in common and there was a spark. We both love music, play an instrument, and are teachers.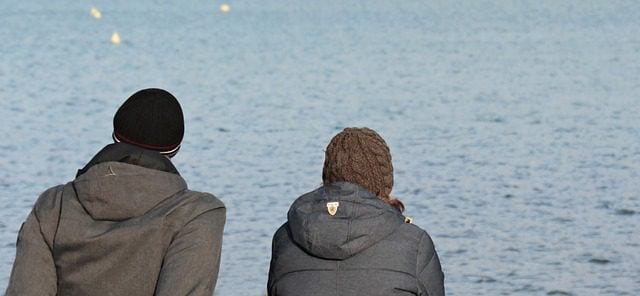 I guess the real problems started when he moved in with me and my two daughters who are twelve and fourteen. Meghan and Teresa didn't take to him easily and there were a lot of arguments over shores, homework, and lack of respect from them to Dave. I get tired of being in the middle and sometimes it's just easier to let them argue. But one day last week, Meghan called Dave a dictator and she ran over to her friend's house without telling me where she was going. I was so mad, I grounded her for a week.
Another issue is that Dave is ten years older than me and his kids are grown. Honestly, he forgets how hectic things can get and he makes a lot of comments like "My boys never left dishes in the sink" or "They always did their homework without being ask." Somehow, I don't believe things went that smoothly and when he says these things, it doesn't help, it just makes my girls dislike him even more.
Most of the time Dave and I get along on the nights Meghan and Teresa are at their dads (4 nights a month) but lately, we're too tired to go out or even be intimate. I still love him, but I'm starting to wonder if I got married too soon after my divorce and if Dave is a good match for me. I would appreciate any advice you can give.
Sincerely,
Darlene
Dear Darlene,
The increased pressures of living in a stepfamily can bring a marriage to the breaking point. The challenges of raising kids, working, scrambling for time for romance, let alone time for sex; can make couples feel discouraged. However, before you make a decision about whether to end your remarriage, please try the rituals below and read the checklist after that. Be sure to take things slow. Getting a divorce is a major life decision, and it can take at least four years for members of a stepfamily to adjust.
Even though you are very busy, I highly recommended that you establish a ritual of spending at least 30-minutes a day together. Select a few activities from the list below:
Rituals That Can Restore Intimacy and Ignite Passion: 30-Minute Alone Time Activities
Put on your favorite music, enjoy a glass or wine, and dance and/or listen to music.
Cuddle. Touching one another, put your arms around each other, and holding hands while talking or watching TV.
Cook and/or eat a meal together alone. If you have children choose one night weekly when your children are with their other parent or engaged in an activity in the community.
Make out. The magical way to spark passion is kissing and if it leads to making love, even better!
A workout or exercise session such as walking outdoors, taking a yoga class, jogging, bike riding, swimming, or taking a class at a gym together.
Pause and Reflect Upon Your Relationship
In addition to adopting some of the 30-minute rituals from the list above, ask yourself these five questions:
Are you generally positive in your interactions with your partner and point out things he or she does well, or do you tend to criticize them often? Dr. John Gottman informs us that criticism is one of the leading causes of divorce.
In addition, do you try to assume the best of your partner and stop the blame game? Keep in mind, it takes two to tango and many remarried couples bring emotional baggage from their first marriage that casts a dark shadow over a second marriage. Ask yourself if your reactions are truly based on your partner's behavior, or do you still have to unpack baggage from your first marriage – such as trust issues or fear of abandonment.
Do you and your partner handle conflict poorly? Learn healthy ways to repair from conflict such as waiting at least an hour to discuss an argument and listening to your partner's side of the story. Be honest with yourself and learn to give and accept an apology from your partner. Couples who practice forgiveness, have a better chance of enjoying long-lasting love.
Are you practicing enough self-care? This includes regular exercise, a healthy diet, time with friends and family, and pursuing a hobby (such as your Music)? When people have an empty bucket, they don't have much left to give others.
Have you considered starting couples counseling to work on improving your communication and listening skills? Many remarried couples find sessions beneficial and can even combine it will dinner after or before to make it a total date night.
Intimate relationships always present challenges but remarriage involves a unique set of complications that many couples underestimate until (another) divorce seems like the only option. Based on my 30 years in clinical practice helping divorced and remarried individuals and couples, and my personal experience with remarriage, I know that couples can find lasting love the second time around with advice and tools targeted to their specific needs.
Twitter, Facebook, and, movingpastdivorce.com. Terry's award winning book Daughters of Divorce: Overcome the Legacy of Your Parents' Breakup and Enjoy a Happy, Long-Lasting Relationship is available on her website. Her new book The Remarriage Manual: How to Make Everything Work Better the Second Time Around was published by Sounds True on February 18, 2020.
I'd love to hear from you and answer your questions about relationships, divorce, marriage, and remarriage. Please ask a question here. Thanks! Terry