I'm betting that many Christians were elated when it was revealed that US comedian Kevin Hart had a touch of homophobia in his past. But that joy, I guess, evaporated when he apologised for anti-gay tweets, and insisted that he had since 'evolved'.
Now True Believers™ have a reason to dislike Hart even more, because his latest movie, Night School, which I watched last night, mercilessly takes the mick out of Christians by portraying school drop-out Teddy Walker [Hart] working in a godly fast food joint, where a constantly grinning loon of boss periodically ceases all activities to get staff to hold hands and pray.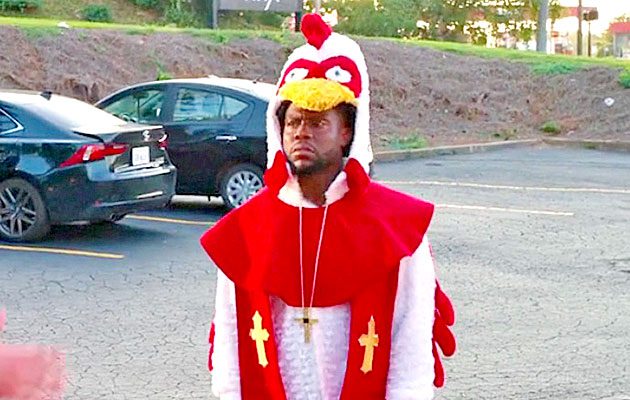 The moment I the first saw the scene portraying the fictitious Christian Chicken restaurant, I whooped at my partner:
I bet that's Hart taking the piss out of the very real and notoriously homophobic and Chick-Fil-A chain in America.
I was right. The mockery was seized on by Christian website
Movieguide
, which warned that the movie contains:
Irreverent portrayals of a Christian chicken restaurant patterned after Chick-fil-A … Teddy's job at a restaurant called Christian Chicken has him wearing a chicken suit while holding a sign out front that says its food is 'heavenly', and yelling 'Honk once if you love chicken, honk twice if you love the Lord!' There's also a scene where he tries to break free from taking part in an employee prayer circle. This scenes [sic] and the restaurant's overly happy Christian boss sometimes appear to be mocking Christians.
Night School narrowly avoided getting labeled "abhorrent" – a word often used by Movieguide to describe what it regards as anti-Christians movies. Instead it advised "extreme caution" and pointed out its plus points:
It has a moral, pro-capitalist worldview stressing hard work, honesty, education, and second chances. So, it's uplifting and funny enough to make it an enjoyable experience for most moviegoers. However, it's marred by lots of foul language, other lewd content, and some irreverent comedy.
I enjoyed, but did not love the movie. Hart's done far better stuff.