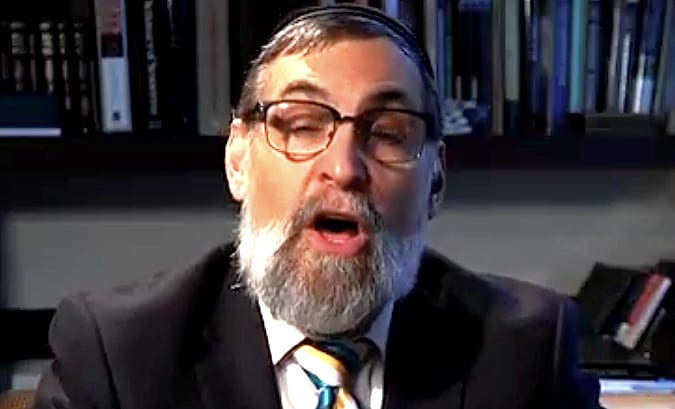 ANGRY Orthodox Jews in New York City gathered on Tuesday outside of the Israeli Consulate in Manhattan to protest the Israeli government's ongoing 'oppression of the anti-Zionist community' and the imprisonment and the alleged 'torture' of Rabbi Binyamin Friedman, above, who has been kept in detention for 12 weeks.

After Friedman was hauled off by the police for attending an outdoor Beis Shemesh prayer gathering he was allegedly chained to a bed for 19 hours in a prison's "punishment wing" after he refused to enter any room that had a TV in it, according to a lengthy Facebook statement posted by an organisation called Israel Versus Judaism.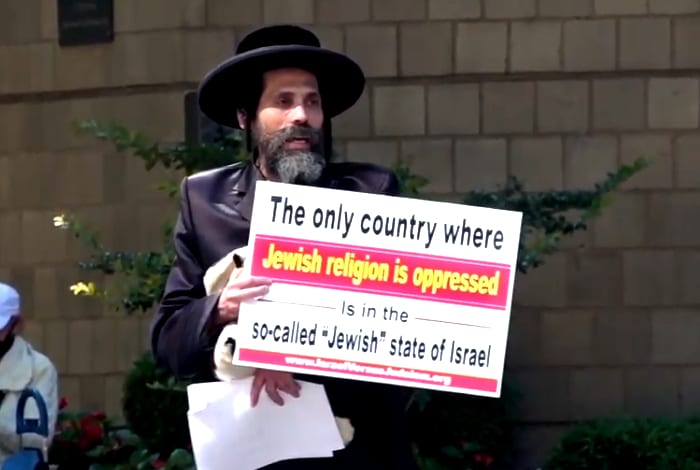 Organiser of the NYC demo, Rabbi Hershel Klar, said in a press release issued on June 22 that:
During the Coronavirus pandemic, the Israeli government did not allow people to pray in groups, even in the street with proper social distancing and protection, or as lone individuals inside synagogues. In enforcing social distancing regulations, the government disproportionately targeted the Orthodox community, while in secular cities like Tel Aviv they were lax and allowed buses to operate while packed with passengers.
He said of Israel:
The world must know: they are not a Jewish state! They don't represent the Jewish people!
Klar alleged that Friedman has been "brutally treated" because of his activism against the Israeli state.
This is a part of the Israeli regime's ongoing oppression of our anti-Zionist communities.
He added:
This is not the first time Friedman has been arrested and harassed, and certainly not the first time that anti-Zionist activists in general have been tortured by the police. The community believes that it's no coincidence that its members are regularly treated this way.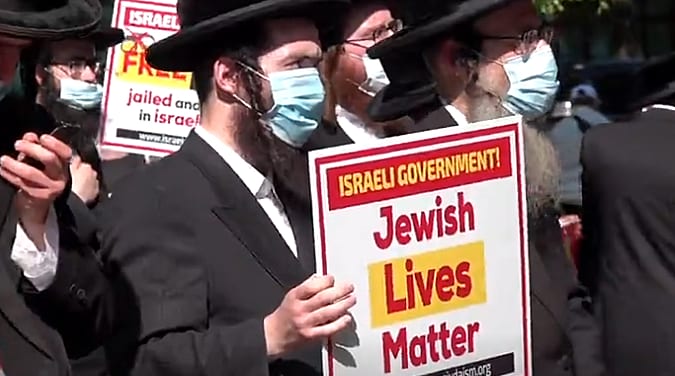 He claimed that "a religious Jewish girl," Hadassah Margulies:
Was dragged out of her bed in the middle of the night and thrown into military prison for evading the draft. This is not the first time that they have persecuted boys and girls for refusing to join the immoral Zionist army.

The Israelis' vicious treatment of a Rabbi, and in general their ongoing oppression of the authentic religious community, shows that they are not a Jewish state as they claim to be. Their goal is and has always been to uproot Torah observance. Their very sovereignty is forbidden by the Torah, which teaches that Jews may not have their own state.

They act in the name of Jewry and fight against their neighbors, which is against the Jewish religion and thereby causing anti-Semitism in the Middle East and throughout the world. And now the world can see that they not only cause anti-Semitism – they themselves persecute Jews.

Their state is not a help or benefit to Jews; it is nothing but a movement that seeks to transform Judaism from a religion into a nationalism, destroying the old Jewish people in the process. Their state has existed for 72 years and they are frustrated that we, the original Jewish people, still continue to exist and thrive. They see us as an obstacle to their goals.
He concluded:
The traditional Jewish community in the Holy Land never recognized the state, and under international law as a minority group living under an oppressive regime, they have the right to freedom of religion and expression.
According to Israel Versus Judaism, its YouTube channel has been suspended for "repeated violations" of YouTube's community standards.
• If you wish to report any typos/incorrect info in this piece, please email me at barry@freethinker.co.uk
If you'd like to buy me a cup of coffee – and boy, do I get through a LOT of coffee keeping this site active – please click the link below.
I'd love a cup of coffee