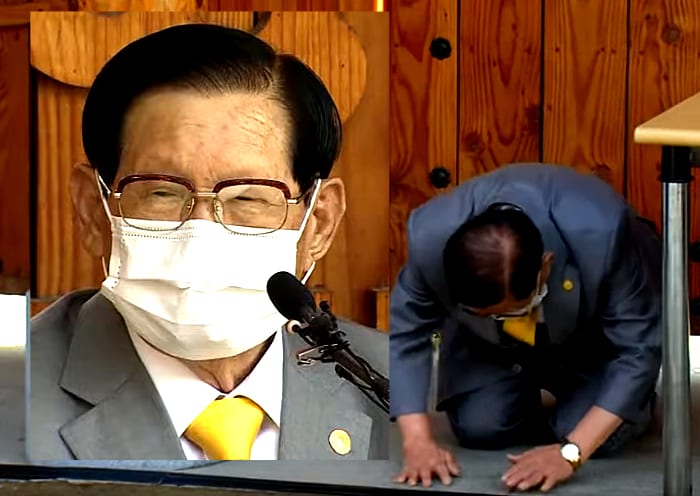 A GROVELLING apology made a few weeks back by self-proclaimed 'messiah' Lee Man-hee, 88, head of the Shincheonji Church of Jesus, for his cult's role in spreading coronavirus cut no ice with officials in the city of Daegu, who are now seeking damages of 100 billion won (£66m).
According to The Independent, the city at the epicentre of South Korea's coronavirus outbreak, has filed a civil damages suit against the church, which has insisted it fully complied with government efforts to contain the virus.
At least 5,213 of the South Korea's total 12,484 Covid-19 cases have been linked to the church, according to the Korea Centres for Disease Control and Prevention.
Authorities had previously filed a complaint against the church, accusing it of refusing to submit a full list of members and facilities and not cooperating with city health efforts.
The church's founder, Lee Man-hee, has advised members who recovered from the virus to donate their blood plasma for coronavirus research.
Around 4,000 recovered Covid-19 patients from the religious group have reportedly agreed to donate their plasma as a way to express gratitude to the government and medical staff.
South Korea health officials have said that, in the absence of other treatments or vaccines, plasma therapy may be a way to lower the death rate, especially in critical patients.
Widespread infections among members of the church in February and March made South Korea the first country to have a major outbreak outside China.
Last November, after I posted a piece about the church boasting of having recruited 100,000 new members in a single year, I received a "cease and desist" email from a Shincheonji official, ordering me to take down the post and never, ever refer to the church as a cult in the future. I told him to take a flying fuck at a rolling doughnut.
• If you wish to report any typos/incorrect info in this piece, please email me at barry@freethinker.co.uk
If you'd like to buy me a cup of coffee – and boy, do I get through a LOT of coffee keeping this site active – please click the link below.
I'd love a cup of coffee