ALL together now, brothers and sisters in Christ, hallalujah!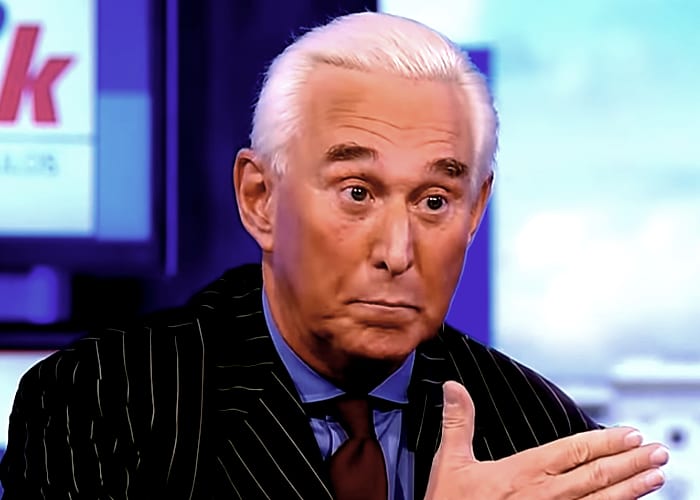 Spared a 40-month jail term after receiving a controversial pardon from his close buddy Donald Trump, Roger Stone, above – convicted for for lying and witness tampering during the Mueller investigation – has credited evangelist Franklin Graham for putting him on the path to Jesus.
Speaking on Thursday to conservative Christian radio host Eric Metaxas, Stone – who, according to Wiki, had Richard Nixon's face tattooed on his back in 2007 when he was 54 – revealed he's stood up at a Franklin Graham rally in Florida last year in response to a call from Graham to receive Jesus Christ as his saviour.
He said a number of people in his life had been urging him to turn to God, and he had been pursuing a godly path ever since he was convicted on February 20, 2020, and was sentenced to 40 months in federal prison.
He said he had met privately with Graham before the evangelist's Florida rally. Graham told him that whatever many happen, whether he went to prison or not, his strong advice was to turn to God.
Stone then asked Graham to appeal on his behalf to Trump. Graham's intervention apparently led the President's Press Secretary to issue a lengthy statement earlier this month saying Trump was pardoning Stone.
The statement attacked the prosecutors as "overzealous" and said:
Roger Stone has already suffered greatly. He was treated very unfairly, as were many others in this case. Roger Stone is now a free man!
The Trump White House statement, according to Wiki:
Contained multiple false statements and baseless claims regarding Stone's prosecution and the Mueller investigation.
Telling Metaxas of his conversion, Stone said:
All the tension in my neck and shoulders was gone. I was almost euphoric. I had a new confidence, I had a new outlook. It really was life-changing
Stone said he knew that secular media would mock him, noting an article in the Washington Monthly calling his reported conversion a joke and a ploy.
The Washington Monthly's Nancy LeTourneau wrote:
Roger Stone (and Donald Trump) are perfect examples of how a belief in cheap grace sets white evangelical Christians up to be easy prey for con men (and women). All someone has to do is claim to have accepted Jesus as their savior and nothing else is required. Someone like Roger Stone is welcomed into the fold without ever having to name any of the despicable things they've done, much less be held accountable. They don't have to commit to changing their ways or even say that they'll try to be a better person.
Earlier Stone said:
It doesn't matter how grievous your sins may be, they can be washed away, if you will simply accept Jesus Christ as your saviour. This is the greatest decision that I've ever made. And I'm very at peace with it.

I mean I was a sinner. We've all sinned. The good news is we can all get right with God.
Stone said he has:
Chosen to walk with the Lord, and that has really made my burdens so much easier.
• If you'd like to buy me a cup of coffee – and boy, do I get through a LOT of coffee keeping this site active – please click the link below.
I'd love a cup of coffee