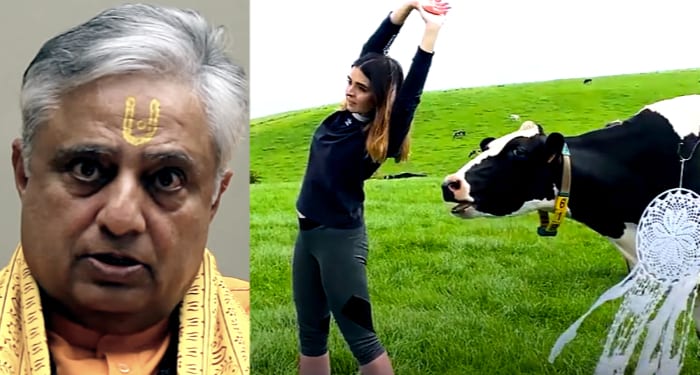 FOREVER on the lookout for things he regards as harmful to Hinduism, Nevada-based Rajan Zed went on the offensive when he discovered that a farm in the UK had launched yoga lessons in a field full of cows.

Lancashire Farm Dairies (LFD) had announced plans to hold regular classes among its herd and even produced a promotional video.
But it quickly cancelled the lessons when Zed, President of Universal Society of Hinduism, spearheaded a protest by Hindus, saying that the cow, which is sacred and had long been respected in Hinduism, should not be used as prop for human entertainment.
Zed also pointed out that this idea seemed to be diluting the profound, sacred and ancient discipline of yoga.
LFD has now apologised for offending the religion.
In an email to the Zed,  Jack Morrison, Brand Manager at LFD, said:
We can only apologise if the recent fitness activity has caused offence, as you can imagine this wasn't our intent … there will not be further events.
Zed said he was grateful to the company for backing down, but suggested  that that companies like LFD should send their senior executives for training in religious and cultural sensitivity so that they had an understanding of the feelings of customers and communities when introducing new products, organising events or launching advertising campaigns.
We last reported on Zed's antics in July when he targeted a Belgian beer company.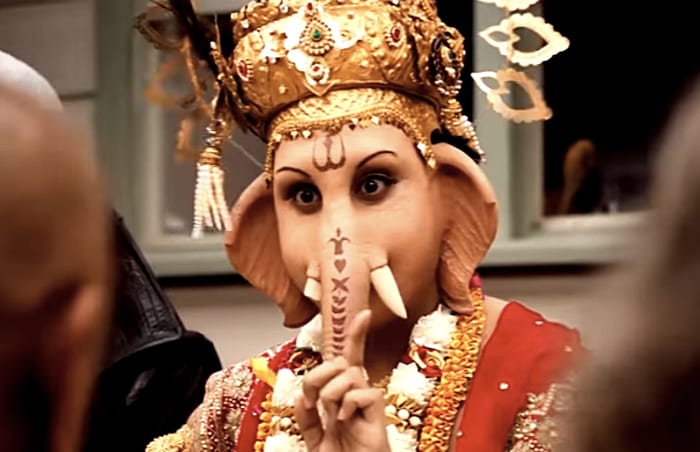 In 2017, Zed had a major run-in with Meat and Livestock Australia (MLA) over an amusing commercial for lamb that featured Jesus and mythological deities including Lord Ganesha, above.
The controversy escalated politically when the Indian government complained about it. In a statement, the Indian High Commission said the MLA advert was "offensive" and:
Hurt the religious sentiments of the Indian community. The consulate general of India in Sydney has taken up the matter directly with MLA and urged them to withdraw the advertisement. A number of community associations have also registered their protest with (the) government of Australia and MLA.
Zed said linking Lord Ganesha with meat was:
Very disrespectful and highly inappropriate …  Hinduism is the oldest and third largest religion of the world with about 1.1 billion adherents and a rich philosophical thought and it should not be taken frivolously. Symbols of any faith, larger or smaller, should not be mishandled.
• Please report any typos/errors to barry@freethinker.co.uk
If you'd like to buy me a cup of coffee – and boy, do I get through a LOT of coffee keeping this site active – please click the  link below