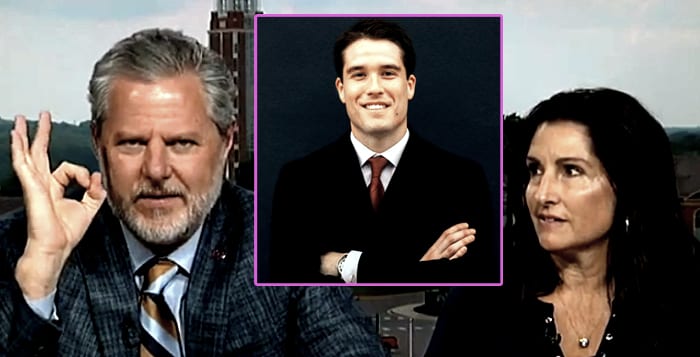 LESS than a week after group of pastors who graduated from Liberty University urged the college's board of trustees to 'permanently remove' Falwell Jr, 58, from his role as the university's President, Falwell is blaming his embarassing and obnoxious behaviour on his wife's brief affair with a young man – Giancarlo Granda, inset – whom he accused of subjecting the couple to threats and extortion.
The leading US  evangelical was as placed on an indefinite leave of absence from Liberty after a photo of him with his jeans partially unzipped went viral earlier this month. Soon after, 50 ministers from churches around the country said in a letter to acting President Jerry Prevo that the university was in need of a new pair of hands at the helm
It is because of our deep love for Liberty University and our great optimism for its future that we write to you today to urge you, the Board of Trustees, to permanently remove Mr. Falwell as president and chancellor and replace him with a new leader.

We do not write out of any personal vendetta against Mr. Falwell. We recognize that under his leadership, since his father's death in 2007, the school has experienced significant financial and institutional growth and added important programs that are poised to shape a generation of Christian leaders in nearly every field of study.
The photo brought to a head other concerns. A few weeks earlier there was that awful "blackface" tweet. 
The pastors wrote:
The racially insensitive comments earlier this spring and the recent posting of the inappropriate picture on social media have brought embarrassment to the school. It has also embarrassed the many alumni that work hard in our community to not only uphold the reputation of the university but to uphold a positive witness for the name of Christ.
The letter continued:
We pray for Mr. Falwell and his family and hope that he received the time and privacy he needs for reflection and spiritual renewal. However, as you contemplate the direction of the school, we encourage you to take another important step by pursuing a new president and chancellor.
Well, today Falwell himself is soliciting thoughts and prayers. He ends a lengthy statement with the words:
Our faith in Christ is greater than ever, and with His help and with those in the community who we love and who appreciate the impact of forgiveness, we will get through this. We ask for your prayers and support.
In the statement, Falwell said that he has suffered depression caused by a former "family friend" who had an affair with his wife, Becki, and who has been threatening to expose it.
The affair was short-lived and that the two reconciled quickly. But, they claimed, her former lover has threatened them over the past several years. The statement did not name the attendant, but he has been identified as Giancarlo Granda in dozens of news stories.
The Falwells said:
While we tried to distance ourselves from him over time, he unfortunately became increasingly angry and aggressive. Eventually, he began threatening to publicly reveal this secret relationship with Becki and to deliberately embarrass my wife, family, and Liberty University unless we agreed to pay him substantial monies.
In 2012, the Falwells said they were impressed with the pool assistant and wanted to help him start in business. Falwell's wife worked a deal to buy a gay flophouse Miami hostel and put him in charge. The deal has been tangled in legal challenges.
Granda, 29, has dismissed the charges of threats. According to this report, he said that he was just 20 when the then 49-year-old Falwell and his wife started a sexual relationship with him.
Whether it was immaturity, naïveté, instability, or a combination thereof, it was this 'mindset' that the Falwells likely detected in deciding that I was the ideal target for their sexual escapades.

Any allegation of extortion is falsely, defamatory and belied by clear documentary evidence.
He said that Falwell was fully aware of his sexual relationship with Becki Falwell and that they would meet up for trysts "multiple times per year" in New York City, Miami, and the Falwells' home in Virginia.
Becki and I developed an intimate relationship and Jerry enjoyed watching from the corner of the room.
"Right now I am just missing you like crazy," read a 2012 message from Becki Falwell to Granda, which he showed Reuters.
Have you had this effect on all of your lady friends?
Granda also shared screenshots from a 2019 Facetime conversation between him and Becki Falwell. She was naked while Falwell peeked from behind a door.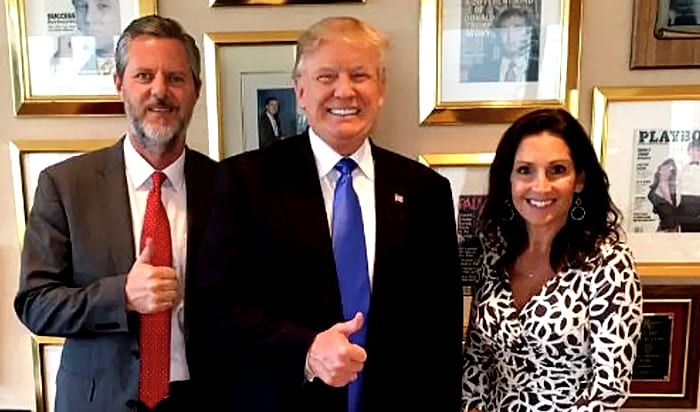 In 2019, Roseanne Barr's ex-husband Tom Arnold released a recorded conversation that suggested that Donald Trump's fixer Michael Cohen had helped Falwell resolve an "embarrassing" scandal that involved "racy personal" photos he was being blackmailed with, a scandal that many speculated at the time involved Granda because of the timing and locations of events.
In the recording, Cohen said that someone had somehow come into possession of "a bunch of photographs, personal photographs" of Falwell, which he described as the kind usually kept "between husband and wife."
"I actually have one of the photos," Cohen said during the conversation. "It's terrible."
After Falwell found out about the affair, he said in the statement, he lost 80 pounds and suffered mental stress, especially as Granda switched from being thankful for Falwell's help to demanding money.
Falwell said that now that his family has revealed its troubles, he plans to urge others in stressful situations to seek mental help.
Even though I continued successfully working with our entire Liberty team to achieve so many of our goals, I am now dealing with things in a way that I should have done before — including seeking to address the emotional toll this has taken. I shouldn't have been afraid to admit my vulnerabilities and to reach out for assistance from the mental health professionals who could have alleviated this pain and stress.

I am committed to speaking out and sharing with others at Liberty the importance of seeking counseling instead of thinking you need to be tough and try to bear these burdens on your own. I am in the early stages of addressing these issues.
Hat tip: Robert Stovold & Stephen Harvie
• Please report any typos/errors to barry@freethinker.co.uk
If you'd like to buy me a cup of coffee – and boy, do I get through a LOT of coffee keeping this site active – please click this link.