US TELEVANGELIST Pat Robertson, 90, has been slapped down hard by a co-founder of Black Lives Matter, Patrisse Cullors, for his recent rant in which he accused the organisation of leading 'a lesbian, anti-family, anti-capitalist Marxist revolution.'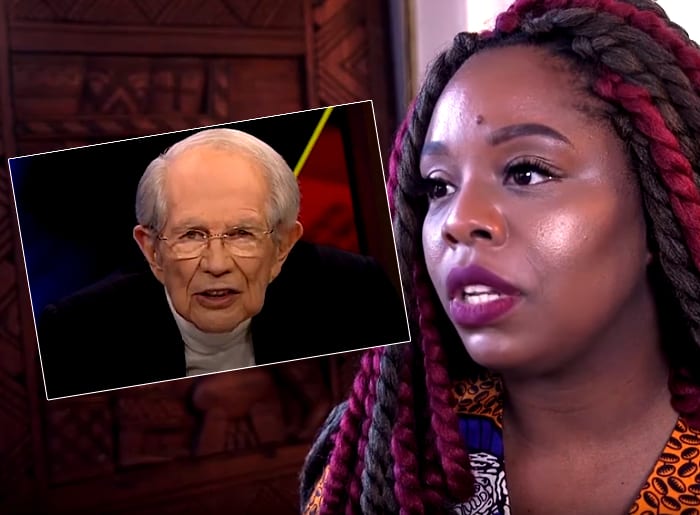 Cullors, above, said the words of the mad old fool, inset, were:
Completely inflammatory and dangerous. To insinuate that our movement is trying to destroy Christianity is disgraceful and outright offends our Christian siblings who are a part of our movement against racial injustice.
And, for good measure, Robertson was described as "garbage" on the Damage Report.
Her reaction, according to The Christian Post, came after Robertson said during last Thursday's episode of The 700 Club on the Christian Broadcasting Network that BLM was seeking the "destruction of the nuclear family."
They're talking about destroying essentially Christianity as being racist. And all the way through, they want to upend the capitalist structure and destroy America.
Cullors, who is gay and an organiser and educator who co-founded the organsuation in 2013 with Alicia Garza and Opal Tometi, acknowledges that while the organisation's vision, which includes support for the LGBTQ community, may not be shared by everyone, it should not be interpreted as "destroying a religion."
Black Lives Matter Global Network Foundation recognises that our vision may not be agreed upon by everyone. But to blatantly disregard our work and equate it to destroying religion is reckless …

We want it to be very clear that the Black Lives Matter Global Network Foundation intentions are continuing to disrupt those individuals that have consistently attacked our character, progress, and path forward.
Cullors contends that Black Lives Matter seeks to:
Connect Black people from all over the world who have a shared desire for justice to act together in their respective communities.
She said BLM also seeks to eliminate the "constant betrayal of our poor and oppressed communities" and "foster a united country that works for everyone despite their actual or perceived sexual identity, gender identity, gender expression, economic status, disability, immigration status, or intergenerational way of life."
And an ABC News report in June this year pointed out that:
From the start, the founders of Black Lives Matter have always put LGBTQ voices at the center of the conversation.
The Christian Post commented:
Like Robertson, many conservative Christians have endorsed the idea that 'black lives matter' and they agree with the push for racial justice.

However, some vehemently disagree with including an LGBTQ agenda in with the push for racial justice as it goes against traditional Christian values
• Please report any typos/errors to barry@freethinker.co.uk
If you'd like to buy me a cup of coffee – and boy, do I get through a LOT of coffee keeping this site active – please click the link below.
I'd love a cup of coffee