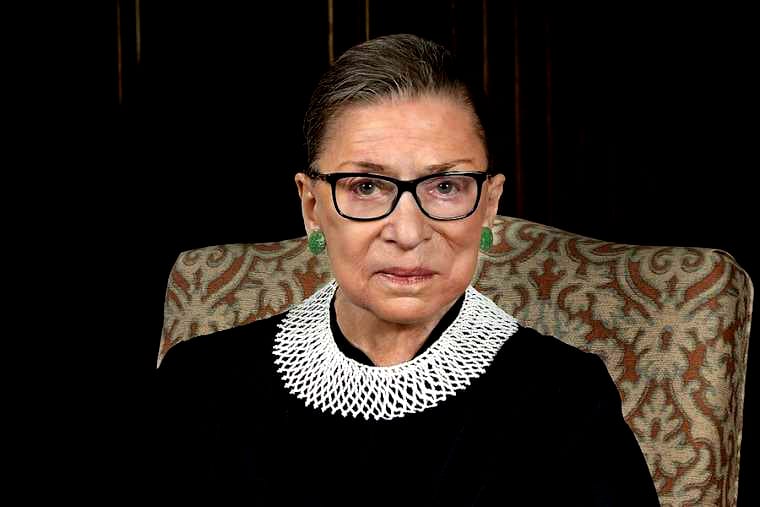 REACTING to news that Supreme Court Justice Ruth Bader Ginsburg, above, died yesterday aged 87, John-Henry Westen, co-founder and Editor-in-Chief of far-right LifeSiteNews, said: 'May God have mercy on her soul.'
He added:
Justice Ginsburg was known for her friendship with the late Justice Antonin Scalia, a pro-life Catholic who attended the Traditional Latin Mass. We hope that his faith had an impact on her later in her life, and that she repented of her pro-abortion activism at the end.
LSN's Martin Bürger then gave two reasons why Ginsburg needed to "repent": Ginsburg had voted to strike down a law banning partial-birth abortions in Nebraska and:
Was also in favor of so-called homosexual 'marriage.' Only a few months after the Supreme Court struck down the Defense of Marriage Act in 2013, Ginsburg became the first Supreme Court justice to officiate a homosexual 'wedding' ceremony.
She said afterwards:
I think it will be one more statement that people who love each other and want to live together should be able to enjoy the blessings and the strife in the marriage relationship.
She subsequently officiated at several other same-sex weddings before "imposing" homosexual marriage on the nation in the 2015 case Obergefell v Hodges.
Christian "love" quickly manifested itself beneath the LSN report. Here are some examples:
• Ding-dong the witch is dead.

• Jewish pro-abortion and pro-homosexuality Supreme Court Justice Ruth Bader Ginsburg died today at 87 years of age. She was the oldest of the nine justices. She died the day before the Jewish New Year, Rosh Hashanah 2020 – in the year 5781. This is no coincidence. May God have mercy on her soul. Will all those aborted babies forgive her ?

• We've been praying for a miracle and now we know that God is still at work. Keep up the prayers, people. We ain't done yet!
According to Mother Jones, Ginsburg had recently dictated a statement to her granddaughter:
My most fervent wish is that I will not be replaced until a new president is installed.
Adam Feldman, who runs the Empirical SCOTUS blog, wrote recently that Ginsburg's departure could be the left's "biggest loss yet." He pointed to some of the recent liberal victories on the court that would presumably have gone the other way if Ginsburg had been replaced with a conservative. Those cases include the affirmative action decision in Fisher v. University of Texas; Obergefell v. Hodges, which legalized same-sex marriage; National Federation of Independent Business v. Sebelius, which upheld most of Obamacare; and Women's Health v. Hellerstedt, which struck down restrictive abortion laws in Texas.
MJ's Ron Edmonds commented:
For this reason, the confirmation fight over Ginsburg's replacement promises to be every bit as brutal as that of Kavanaugh, whose nomination was marred by allegations that he had sexually assaulted a woman in high school. The fact that it will take place during a pandemic in the middle of a presidential election promises to make the fight an ugly one, especially given that Senate Republicans prevented President Barack Obama from confirming a nominee to the court to replace the late Justice Antonin Scalia in 2016.
Born in 1933 in New York City, Ginsburg was the second woman to ever serve on the Supreme Court. President Bill Clinton nominated her for the job in 1993.
Edmonds pointed out that, after the court shifted farther to the right with the appointments of Justice Samuel Alito and Chief Justice John Roberts Jr, Ginsburg was seen as the voice of the resistance to conservative efforts to roll back reproductive rights, civil rights, and women's rights.
Ginsburg's political affiliation became more controversial in the summer of 2016, when she publicly criticised Donald Trump, who was then the presumptive GOP presidential nominee. She told CNN's Joan Biskupic that Trump was a "faker" and that:
He has no consistency about him. He says whatever comes into his head at the moment. He really has an ego … How has he gotten away with not turning over his tax returns? The press seems to be very gentle with him on that.
Her comments created a small scandal, particularly among conservatives. Trump called on Ginsburg to resign, and she ended up issuing a statement calling her criticism of Trump "ill-advised" and promising to be "more circumspect" in the future.
On learning of her death, Trump tweeted this statement: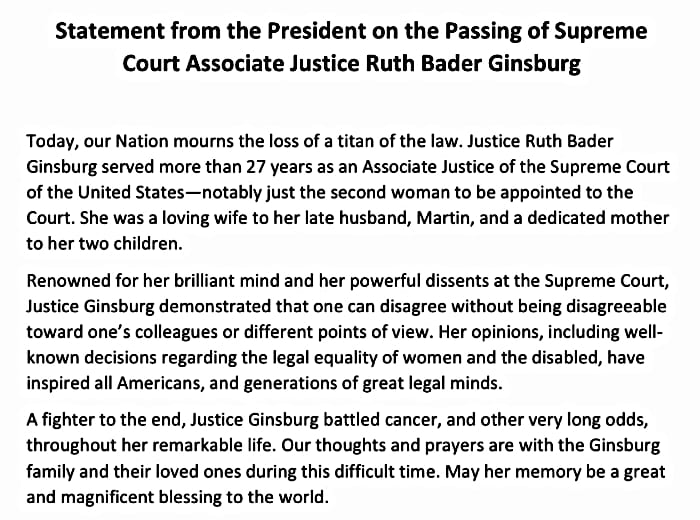 • Please report any typos/errors to barry@freethinker.co.uk
If you'd like to buy me a cup of coffee – and boy, do I get through a LOT of coffee keeping this site active – please click the link below.
I'd love a cup of coffee