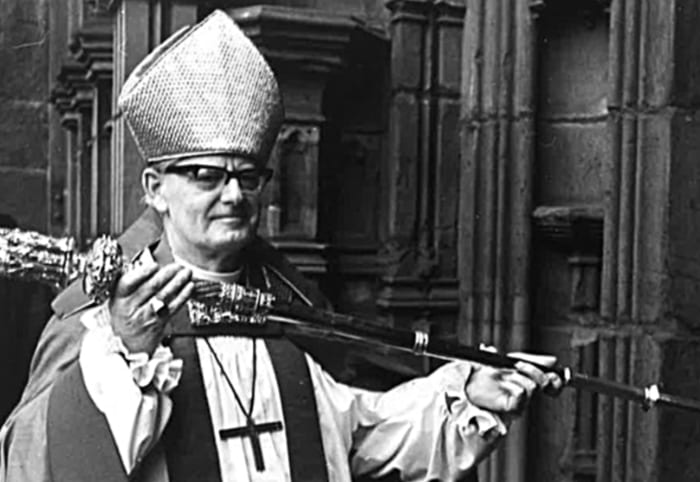 HUBERT Victor Whitsey – shown in this archive photo at his consecration as Bishop of chester in 1974 – got away with abusing at least 18 children and young people because opportunities were missed by Church of England leaders to stop his abuse when he was an active priest from the 1960 until after his retirement.

According to Church Times Whitsey, who died in 1987, is the subject of an exhaustive 145-page report, A Betrayal of Trust, which was published on Thursday by an independent review.
Judge David Pearl, who chaired the review, says that his report into the handling of the sexual abuse allegations against Whitsey will make:
Deeply uncomfortable reading for the Church.
The review charts serial abuse by Whitsey that began in 1966 when he targeted a teenage boy on a trip with the Church Brigade, and continued even after the late Bishop moved into a retirement home in 1981.
One witness statement says that, while the abuse was taking place, the Bishop said to him:
I have the power to give you everything you want, and the power to take it away.
Eighteen known victims, both male and female, ranged from children to young adults. Some were abused on multiple occasions, and many of the incidents took place at Bishop's House, in Chester.
The Bishop "groomed his victims, and often their families, to enable his abuse", the review finds.
He used his position in the Church to abuse both prospective ordinands, and children and young persons, many of whom were particularly vulnerable as they were experiencing family difficulties such as the death or departure of a parent.
It concludes that some of the victims did disclose the abuse on them to senior members of the Church, and that opportunities were missed by church leaders in the late 1970s and early '80s to deal with these matters while Whitsey was still alive. The involvement of the retired Bishop of Chester, Dr Peter Forster, and the veracity of the Bishop of Beverley, the Rt Revd Glyn Webster, come under particular scrutiny.
A joint statement from Judge Pearl and Kate Wood, a co-reviewer, said that the victims' suffering had clearly been made worse by the poor response of church officers at different times, when they had the courage to come forward.
We hope our recommendations are helpful in the Church's learning lessons in responding to allegations of abuse as well as being a reminder that, for victims, the effects of Whitsey's abuse are lifelong.
The C of E's lead safeguarding bishop, the Rt Revd Jonathan Gibbs, described the report as:
A stark account of the appalling abuse by Victor Whitsey and the Church's failure both to protect these children and young adults and to respond well when the survivors and victims had the courage to come forward.

It is also particularly poignant coming so close to the publication of the damning IICSA [Independent Inquiry into Child Sex Abuse] report on the Church of England. We apologise to all victims and survivors of Victor Whitsey, including those who may not be known to us, and where he also failed to prevent abuse by others.

As we said following IICSA, while apologies will never take away the effects of abuse on victims and survivors, we today want to express our shame about the events that have made those apologies necessary. Our focus must lie today with the survivors and victims of Whitsey, recognising the impact that this horrendous abuse has had on their lives, and with deep gratitude for their courage in engaging with the independent review.

We are taking action to ensure that the Church is a safer place for all, and we will be using these recommendations to help us drive change — and some of these already link up with existing work. We recognise that an urgent response to the identified failures in safeguarding practice is necessary.

The IICSA recommendations have been accepted in full by the House of Bishops, which has committed to moving towards an independent safeguarding structure as well as to working for a real and lasting change in the culture of the Church.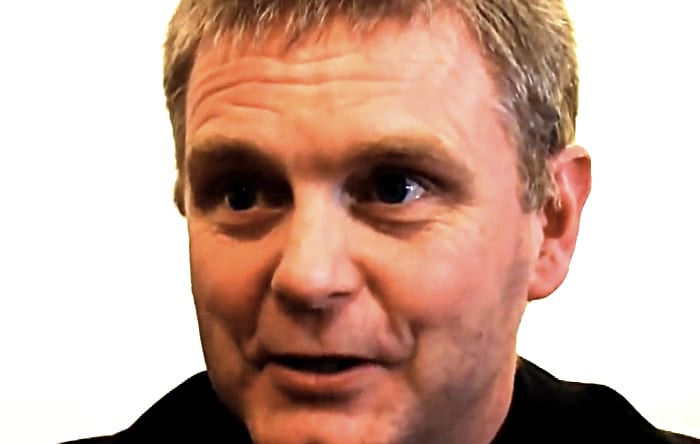 The present Bishop of Chester, the Rt Revd Mark Tanner, said on Thursday:
There are no words to express my horror and shame as I read this report; and, even if there were, words alone are not enough. Our apologies, which are freely and sincerely given, must be backed up by action.

I am grateful to all those who have already helped us start to change, to Judge Pearl for this report, and most of all to the incredibly brave survivors who have spoken up and made us listen. It is with them and all victims of abuse that my thoughts and prayers rest today as I commit myself and the diocese of Chester to respond in word and action to this report.
Church Times said that Tanner "looked stricken" at the press conference that followed the publication of the report, referring more than once to the "wickedness" that had been perpetrated.
The Archbishop of York, the Most Revd Stephen Cottrell, said:
That a bishop should have been able to go on abusing young and vulnerable people over such a long period without ever being held to account for his actions is a matter of deep shame for the Church of England. In addition, there may be others for whom the publication of the report raises painful questions: we know of at least one instance where disclosures of abuse by someone else were made to Whitsey when he was bishop, and he did nothing in response.

On behalf of the Church I apologise, and say I am deeply sorry to all who suffered as a result of his behaviour. In addition to making this apology, I also want survivors to know that, if you wish it, my colleagues and I will be here to offer you real and ongoing support. Meanwhile, we must ensure that these challenging lessons are learned, so as not to repeat the errors of the past.

A Betrayal of Trust is the second damning report of the C of E to be published this month. On October 6 we reported that the chair of the IICSA, Prof Alexis Jay, said in the inquiry's latest report that the Church was:
In direct conflict with its own underlying moral purpose to provide care and love for the innocent and the vulnerable.

Over many decades, the Church of England failed to protect children and young people from sexual abusers, instead facilitating a culture where perpetrators could hide and victims faced barriers to disclosure that many could not overcome.
• Please report any typos/errors to barry@freethinker.co.uk
If you'd like to buy me a cup of coffee – and boy, do I get through a LOT of coffee keeping this site active – please click the link below.
I'd love a cup of coffee