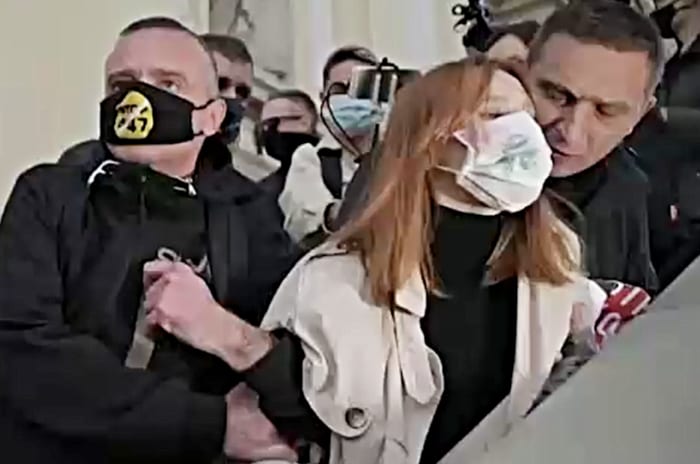 FAR-right thugs, including Robert Bakiewicz, right, were videoed yesterday (Sunday) ejecting women from a church in Poland where they were demonstrating against the country's almost total ban of abortions.
Bakiewicz today used Facebook to announce the setting up of a "National Guard" to protect Polish churches against "left-wing trash":
Zero tolerance for extreme left aggression! The left declared war, so self defense must be created against their aggression. We are setting up a National Guard to defend the values of our civilization. We will not be passively watching them start burning our churches like in the West.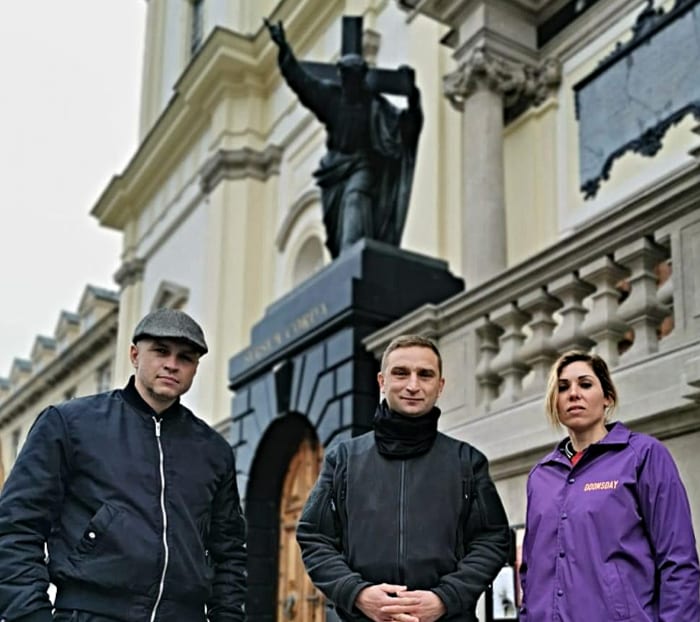 On Sunday he posted a picture of two of his cohorts, saying:
Today volunteers of the #IndependenceMarsz Guard have been protecting Warsaw's churches from profanation all day.
In the past Bakiewicz has called for a "pure" Catholic theocracy.
The video report said that a number of Catholic churches across Poland were targeted in the fourth straight day of protests against the new law.
Demonstrators chanted "we've had enough!" and "barbarians" inside a church in the western city of Poznan, according to a video clip posted on social media, in scenes that were repeated across the deeply Catholic country.
The protesters were reacting to Thursday's ruling by Poland's constitutional court that an existing law allowing the abortion of damaged foetuses was "incompatible" with the constitution.
The verdict is in line with the position of Poland's powerful Roman Catholic episcopate and the governing nationalist Law and Justice (PiS) party.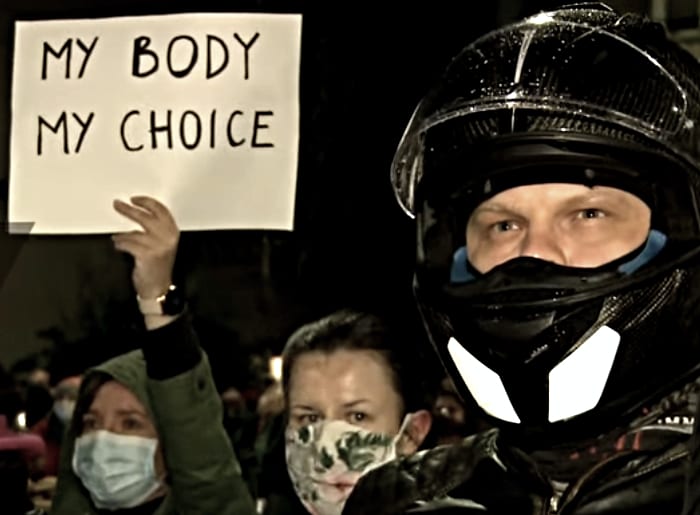 Protesters, brandishing placards bearing expletives and others saying "I wish I could abort my government", clashed with police and supporters of the ban outside a landmark church in central Warsaw.
Local media also ran pictures of graffiti on church walls in various cities and towns reading "Women's hell" – the main slogan of the protests.
Thousands of people – most of them women – also rallied in the cities of Gdansk, Krakow, Lodz, and Rzeszow, and in dozens of traditionally more conservative towns.
They echoed mass protests held across Poland since Thursday in defiance of strict limits on public gathering under anti-coronavirus measures.
Opponents of the ruling argue it puts women's lives at risk by forcing them to carry unviable pregnancies but supporters insist it will prevent the abortion of foetuses diagnosed with Down Syndrome.
There are already fewer than 2,000 legal abortions per year in Poland – which even before the ruling enforced some of the strictest termination restrictions in Europe – and the vast majority of those are carried out due to damaged foetuses.
But women's groups estimate that up to 200,000 procedures are performed illegally or abroad.
Women's Strike, the organiser of the protests, said there would be more rallies in the coming week – urging people to blockade cities on Monday, and calling on women do perform a nationwide strike on Wednesday.
Last week's abortion verdict – which is final and cannot be repealed – drew condemnation from several human rights groups in Europe and the Council of Europe, the continent's leading human rights organisation
The ruling on abortion, according to this report, was handed down by Poland's highest court, that said abortions due to fetal defects are unconstitutional.
Poland will now only allow the procedure in cases of rape, incest or when the mother's life in danger.
Meanwhile, I received an email today from Marzena Zukowska, organiser with Dziewuchy London, who sent me a press release saying that more than 2,000 people rallied in front of the Polish embassy in London on Saturday, lighting candles and chanting in a show of mass solidarity
While Covid-19 and police restrictions have halted a protest scheduled in London for today (Monday), Polish activists have announced a series of online actions, encouraging Polish citizens and allies to show their disapproval of the law.
The release added:
Today marks the fourth straight day of mass protests across Poland – and the world – against the Constitution Court's decision to make abortions unlawful in cases of foetal abnormalities. Hundreds of thousands have marched and rallied in the streets of Warsaw, Poznan, Lublin, and small rural towns across Poland.

Many protesters have been met with police repression and tear gas.

Since 2016, Poland's Law and Justice Party has relentlessly pursued anti-abortion proposals, combined with anti-LGBTQ+ fear-mongering, that have been met with with large-scale feminist 'black protests', as well as international condemnation from institutions like Council of Europe and Amnesty International.

These proposals and government lobbying efforts have been led by allies of Law and Justice in the Catholic Church, as well as pro-life and anti-LGBTQ+ campaigners like Kaja Godek and the ultra-conservative institute Ordo Luris.

For on-going updates on the situation, follow the hashtags #StrajkKobiet #PiekłoKobiet and #ToJestWojna on Twitter, Facebook, Tiktok and Instagram.
Update (October 27): LifeSiteNews gleefully reports that anti-abortionists were today forced flee from Poznan's Archbasilica of Saints Peter and Paul church by gangs of Lech Poznan football club supporters who have apparently set themselves up as defenders of Catholic churches. In 2014 the club's supporters avoided being charged with uttering anti-Semitic chants at an opposing team.
A prosecutor found that chanting "Move on, Jews! Your home is at Auschwitz!" did not constitute a criminal offence.
• Please report any typos/errors to barry@freethinker.co.uk
If you'd like to buy me a cup of coffee – and boy, do I get through a LOT of coffee keeping this site active – please click the link below.
I'd love a cup of coffee