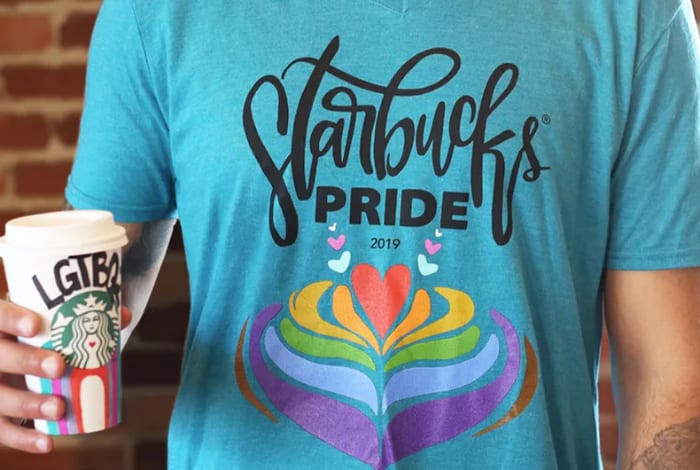 ANOTHER day, another 'persecuted' Christian … sigh! This specimen is named Betsy Fresse who's alleging in a lawsuit filed in New Jersey that she was booted from a branch of Starbucks after refusing to wear a T-shirt created for the company to mark last year's Pride Month.

When Fresse landed herself a job as a barista at a Starbucks in Hoboken in 2018 she made it abundantly clear that she was a True Christian™ who needed her beliefs accommodated by having Sundays free and certain evenings off to attend church gatherings.
The branch went along with this malarkey but trouble began brewing when she transferred to a branch in Glen Ridge, NJ.
There, to her horror according to NBC News, she spotted a carton of Starbucks Pride T-shirts in the manager's office. When she asked him if she was required to wear one, he said no. But later she was contacted by Starbucks' ethics and compliance helpline regarding her request to be exempt from wearing the shirt. She explained that wearing it would go against her religious beliefs.
Then, on August 22, 2019, Fresse was notified she was being sacked because:
Her comportment was not in compliance with Starbucks' core values.
According to her notice of termination, when she was handed a Pride shirt – which Starbucks maintains wasn't mandatory – Fresse said she wouldn't wear it and that her co-workers:
Need Jesus … all people need Jesus.
Yeah, like porcupines need potato peelers.
Despite a Starbucks spokesperson insisting that, other than Starbucks' trademark green apron, "no part of our dress code requires partners to wear any approved items that they have not personally selected", Fresse alleges in her lawsuit that she'd been "ordered" to wear the shirt.
The lawsuit states that Fresse believes:
God created man and woman, that marriage is defined in the Bible as between one man and one woman only, and that any sexual activity which takes place outside of this context is contrary to her understanding of Biblical teaching.
Her complaint also alleges that company tried to:
Exclude and silence Mrs. Fresse, whose religious beliefs it deemed undesirable.
This report adds that Fresse said that being forced to wear the shirt as a condition of employment:
Would be tantamount to forced speech and inaccurately show her advocacy of a lifestyle in direct contradiction to her religious beliefs.
A third news outlet reports that Fresse launched a "swimsuit" against Starbucks. It uses the word three times!
Fresse filed a complaint with the Equal Employment Opportunity Commission in February and was given the go-ahead to file a suit in August. She's seeking back pay with interest, plus compensation for emotional pain and suffering, and punitive damages.
The spokesperson told NBC News that Fresse's claims are:
Without merit. Starbucks does not discriminate on the basis of gender, race, religion or sexual orientation.
On its website, the company asserts it is:
Committed to upholding a culture where inclusion, diversity, equity and accessibility are valued and respected.
Title VII of the Civil Rights Act of 1964 prohibits workplace discrimination on the basis of "race, color, religion, sex and national origin."
In September, two workers at a Kroger supermarket in Arkansas filed a lawsuit, claiming they were fired for refusing to wear a store apron with a "gay rainbow" heart emblem on it.
The plaintiffs, Brenda Lawson and Trudy Rickerd, insisted the logo was an endorsement yucky gay sex and violated their belief "that homosexuality is a sin"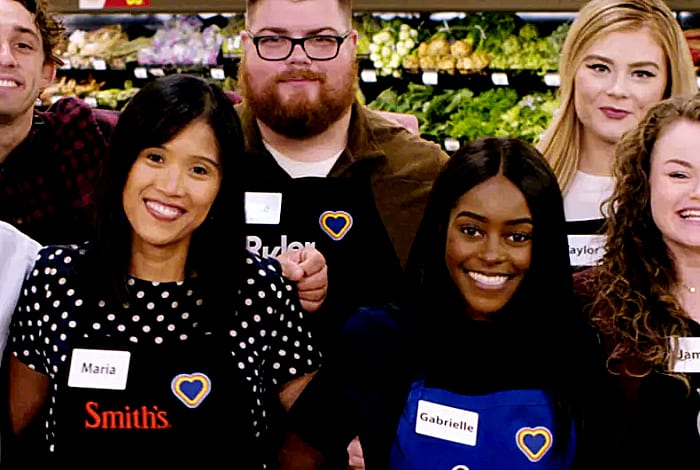 The heart symbol was introduced in April, 2019. The company asked employees to wear an apron with a blue heart emblem outlined by three colours: yellow, red and blue. The Bible-besotted pair immediately jumped to the conclusion that this was some sort of gay Trojan Horse, when, in fact, it was simply meant to indicate that the company had "heart" and cared for its customers
After being disciplined for violating the store's dress code, both Lawson and Rickerd were eventually told to take their bigotry elsewhere.
Hat tip: BarrieJohn
• Please report any typos/errors to barry@freethinker.co.uk
If you'd like to buy me a cup of coffee – and boy, do I get through a LOT of coffee keeping this site active – please click the link below.
I'd love a cup of coffee