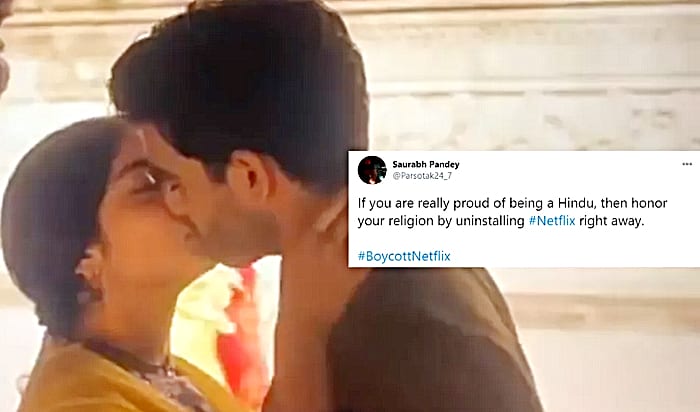 ANGRY Hindu social media users and politicians have rounded on Netflix for screening an adaptation of Vikram Seth's best-selling novel A Suitable Boy – and some are even calling for the jailing of two of the company's executives responsible for content screened in India.
According to this report, a complaint – known as a First Information Report (FIR) – has already been lodged with the police by Gaurav Tiwari, a leader of the youth wing of India's ruling Bharatiya Janata Party.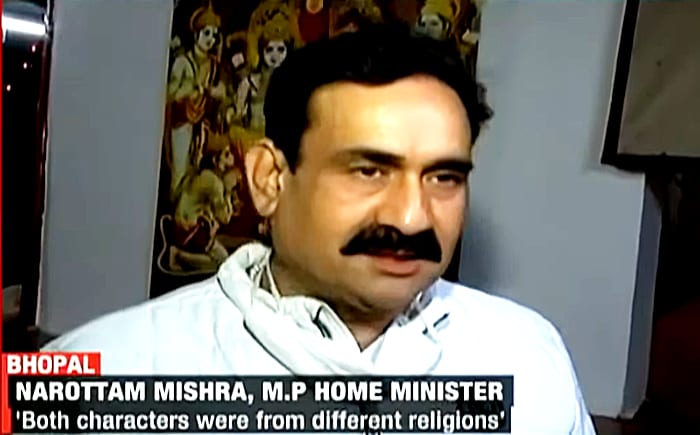 And Home of Minister of Madhya Pradesh, Dr Narottam Mishra, above, joined in the clamour to have action taken against the streaming giant.
Its "crime?"
Shooting kissing scenes under temple premises.
The FIR names as miscreants Monica Shergill, Netflix's VP of content in India, and Public Policy Director Ambika Khurana.
In a video interview Mishra whined:
I found nothing suitable in the web series. I don't consider kissing scenes in temples as good.
On Twitter, the Minister added that A Suitable Boy:
Has extremely objectionable scenes that have hurt the feelings of a particular religion. I've directed police officers to get this controversial content tested [to determine] what legal action can be taken against the producer-director of the film for hurting religious sentiments.
Netflix acquired the six-part series in July as part of a deal with BBC Studios. The lavish drama – originally made for BBC One and acquired by Acorn TV in the US – is penned by Andrew Davies and tells the story of spirited university student, Lata, coming of age in North India in 1951.
CNN Business reports that India is a huge part of Netflix's push into Asia. It has poured $400 million into the market over the last two years, turning the country into one of its main regional production hubs. Earlier this year, it also added a Hindi option on its platform to reach more Indian users.
A Suitable Boy is just one of a string of titles focused on India the company is releasing there. The show is focused on:
How modernity confronts tradition. That could also be a description for the current cultural debate in India. Recently, many politicians have been floating the topic of 'love jihad,' an Islamophobic theory that claims that Muslim men entice Hindu women into conversion under the pretext of marriage.
Mishra told reporters that a law would be introduced in his state to punish anyone found guilty of committing what's been called "love jihad."
Indian actor Swara Bhasker, above, reacted to the outrage by writing on Twitter:
If the actual #Kathua gangrape of an 8 year old child inside a temple didn't make your blood boil and soul shrivel; you have no right to be offended about a fictionalised depiction of a kiss in a temple. #fact #ASuitableBoy #BoycottNetflixIndia.
In 2018, an eight-year-old girl was allegedly bound, sedated and gang-raped inside a temple in the Rasana village of Kathua before she was killed. Swara had joined the silent protest and shared a picture of herself holding a placard: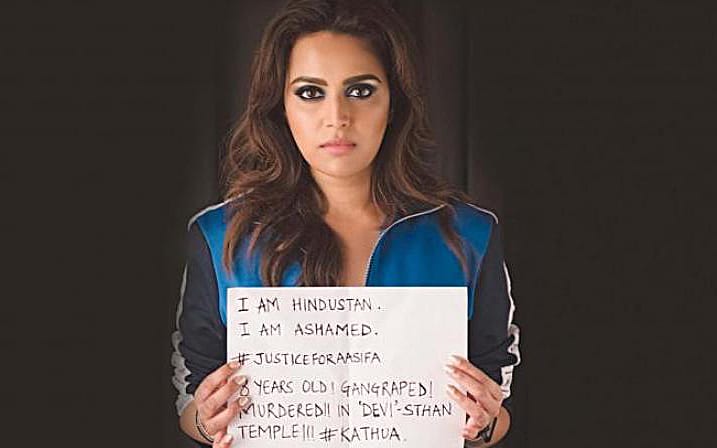 She reportedly took a lot of flak for doing so, and sparked a call for a boycott of Amazon. Amazon's brand ambassador on India, Bhasker was accused of insulting India and Hinduism.
Last month, an Indian jewellery brand pulled an ad showing a Muslim family with their Hindu daughter-in-law after criticism from some people in the Hindu community.
• Please report any typos/errors to barry@freethinker.co.uk
If you'd like to buy me a cup of coffee – and boy, do I get through a LOT of coffee keeping this site active – please click the link below.
I'd love a cup of coffee