GIVEN Pakistan's shocking inability to safeguard its women, children and members of minority religious and sexual communities, I was astonished to learn at the weekend that the Islamic republic has a Federal Minister for Human Rights.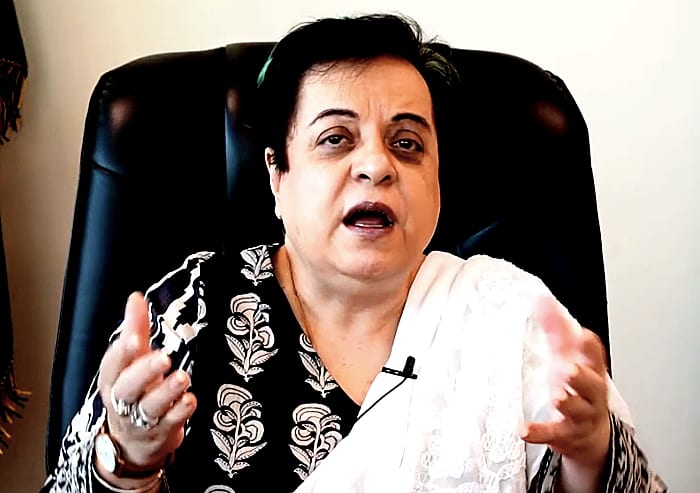 That role is held by Shireen Mazari, above, who, after reading some fake news that France's President Emmanuel Macron intended "tracking" Muslim school children in a proposed crackdown on Islamic extremism, tweeted on Sunday that Macron was behaving like a "Nazi."
She wrote:
Macron is doing to Muslims what the Nazis did to the Jews – Muslim children will get ID numbers (other children won't) just as Jews were forced to wear the yellow star on their clothing for identification.
Mazari linked her remark to online article. After France's Foreign Minister demanded a withdrawal of the comment, Mazari Mazari tweeted:
The article I had cited has been corrected by the relevant publication, I have also deleted my tweet on the same.
Business Insider yesterday (Monday) reported that Macron first outlined details of a plan last week in a bill meant to stamp out extremism. Under the bill, all children would be assigned identification numbers meant to track and ensure their attendance in school.
Though the plan came in response to a string of recent terrorist attacks, a false narrative quickly emerged as reams of tweets and news reports claimed that only Muslim children would be tracked.
The Ministry for Europe and Foreign Affairs wrote in a tweet Sunday:
Any so-called information pertaining to alleged intent to register children being schooled in France based on religion, belief or origin, is absolutely false.
France is concerned that children who drop out of school or are home schooled are in danger of being radicalised.
Interior Minister Gérald Darmanin told Le Figaro last Wednesday:
We must save our children from the clutches of the Islamists.
And the Ministry for Europe and Foreign Affairs tweeted:
All children must attend school. Home schooling will be limited to exceptional circumstances.
Every child in France who attends a state school already has a number, called "identifiant national élève," but the new bill would expand that to private schools and home schooling. The bill is set to be discussed by French ministers on December 9.
The limiting of home schooling in France has reportedly upset non-Muslims too.
The row sparked by Mazari is the latest episode in a tense feud between France and the Muslim world that has been brewing for the past five years.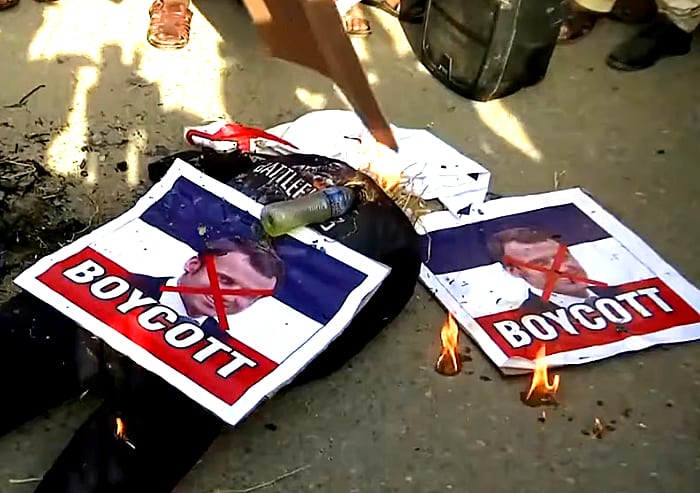 Thousands took to the streets in Pakistan and other Muslim countries in October to demand a boycott of French goods after Macron defended Charlie Hebdo's republishing of Mohammed cartoons. The photo above shows the burning of a Macron effigy by angry Pakistanis.
France experienced several terrorist attacks this autumn: the beheading of the Paris schoolteacher Samuel Paty on October 16, the killing of three people at a church in Nice on October 29, and the shooting of a Greek Orthodox priest in Lyon on October 30.
Since 2015, 276 people have been killed in 72 terrorist attacks in France.
Instead of giving credence to fake news about Muslim children being "tracked" in France, Mazari, should spend more time acquainting herself with the very real violations of human rights happening under her own nose. Amnesty International's report on the state of affairs in Pakistan in 2019 would be a good place to start.
It begins by saying:
The authorities intensified their crackdown on the right to freedom of expression. Enforced disappearances remained pervasive, with no one held accountable for them. The government failed to uphold its commitments to legislate against torture and enforced disappearances. Violence against women and girls remained widespread. Parliament blocked attempts to restrict child marriage …

The blasphemy laws continued to be used to persecute individuals and enable human rights abuses in Pakistan. Armed groups carried out attacks on religious communities, and sectarian organizations incited hatred against religious minority groups with impunity.

In September, Nautan Lal, a school principal in Ghotki was charged with blasphemy after a mob, riled up by a religious leader, vandalized a local Hindu temple and attacked properties owned by the Hindu community.
More recently, in September, it was reported here that, on a daily average, more than six children were subjected to sexual abuse in Pakistan in the first half of 2020.
At least 173 children were gang-raped and there were 227 reports of attempted sexual assault. Moreover, 38 children were killed after they were sexually abused.
Of the total children who were subjected to sexual abuse, 53 percent were girls and 47 percent boys.
Fifty-one cases of underage marriage were also reported.
If Mazari, as a guardian of human rights, is powerless to deal with these, and a litany of other abuses, she should find herself another occupation.
• Please report any typos/errors to barry@freethinker.co.uk
If you'd like to buy me a cup of coffee – and boy, do I get through a LOT of coffee keeping this site active – please click the link below.
I'd love a cup of coffee