LAST December I carried a piece about a Polish man in the UK who, according to a ruling by appeals court judges, should be taken off life support, a decision approved by his wife but fiercely contested by his staunchly Catholic family in Poland.
Subsequently the man, identified only as RS who is in a vegetative state, was taken off life support.
The issue, according to far-right LifeSiteNews, has escalated into a full-scale tussle between the UK authorities and Polish officials, who want him kept alive and repatriated to Poland.
RS, who sustained serious brain-damage in early November after suffering a heart attack, was granted diplomatic status by the Polish Government on Friday, in the belief that this would remove him from the jurisdiction of the British courts.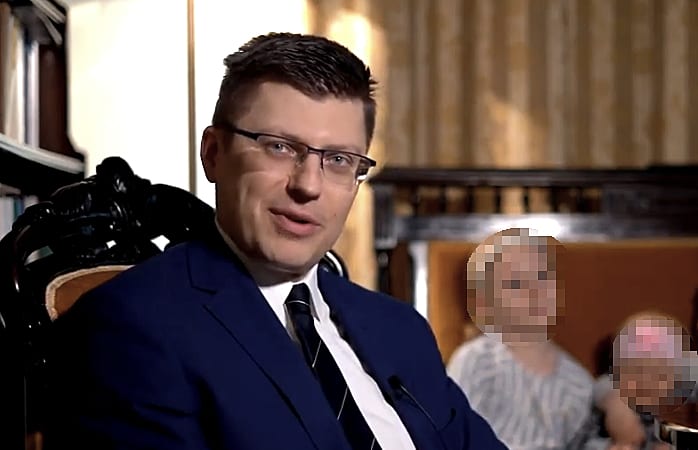 Poland's Deputy Justice Minister, Marcin Warchoł, above, said:
All we need is that consent of Great Britain. I trust that such consent will be given quickly.
Warchoł described the negotiations between Poland and Britain for the survival of the Polish citizen as:
A game for the life of our compatriot. I believe that we will win; I believe that the civilization of life will conquer the civilization of death. We cannot abandon any of our countrymen. Protection for life from conception until natural death belongs to our culture, faith and traditions.
But LSN reports that Britain's consent has not been "given quickly." Yesterday (Saturday) one of RS's two sisters tweeted a plea to Poland's Prime Minister Mateusz Morawiecki, asking him to get involved in the row.
His doctors testified in December that, although RS could live for five or more years with clinically assisted nutrition and hydration (CANH), he had only a small chance of moving into even a minimally conscious state.
For this reason, they applied to the UK's Court of Protection for permission to stop medical treatment and begin palliative care.
The doctors were supported by RS's legal wife, a divorcee whose civil marriage to RS was used by the courts as evidence that RS, a church-going Catholic, might dissent from Church doctrines regarding life-sustaining treatment.
However, RS's family, including his mother, sisters and niece, strongly disagreed and argued that RS was a devout Catholic and "pro-life."
Mr Justice Cohen, convinced that dying was in RS's "best interests," decided in favour of RS's wife and the hospital, believing that the woman knew her husband's wishes better than his birth family did.
As a result of the December 15 decision, nutrition and hydration were withdrawn from RS for the first of three times.
LSN lamented:
With the help of Britain's Christian Legal Centre and Poland's Ordo luris Institute for Legal Culture, his birth family has fought the judgement in the British courts and made applications to the European Court of Human Rights, all of which have failed. At the family's behest, and during growing interest and concern amongst the Polish population, Polish consular officials, and then the Polish Government itself, have become increasingly involved in the case.

Chrisitan(sic) Legal Concern has spent over £70,000 in fighting for RS's life. To support the battle, please donate to LifeSiteNews' fundraising campaign on their behalf.
No such organisation exists. The outfits involved are Andrea Minichiello Williams' Christian Concern the Christian Legal Center.
• Please report any typos/errors to barry@freethinker.co.uk
If you'd like to buy me a cup of coffee – and boy, do I get through a LOT of coffee keeping this site active – please click the link below.
I'd love a cup of coffee