A MUSLIM loon who created a large and lavishly illustrated 12lb tome entitled the Atlas of Creation which he distributed internationally to centres of learning, has been sentenced by a Turkish court to a total of 1,075 years and three months in prison.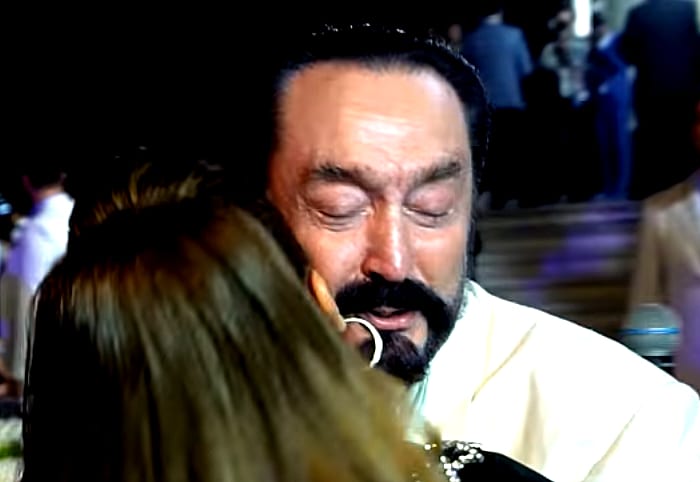 When I learned of Adnan Oktar's jailing I assumed that was it for elaborately twisting the truth, disseminating conspiracy theories and breaking sharia law – and that the sentence imposed on the playboy, above – who relishes dancing with big-breasted women – was a tad harsh.
Turns out that Oktar – who writes under the name Harun Yahya, was done for:
• Founding and leading a criminal organisation.
• Political or military espionage.
• Aiding the Fetullah Terrorist Organisation (FETO), despite not being a member.
• Sexual abuse of minors.
• Sexual abuse
• Deprivation of liberty of the person.
• Torture.
• Disturbance of the right to education.
• Recording personal data.
Oh, and "threats."
A court in Istanbul tried 236 defendants, including 78 remanded for their organised crimes under Oktar's lead.
The 64-year-old creationist, who owned a TV channel, was arrested in 2018 along with 200 collaborators, following allegations of sexual abuse and kidnapping of minors.
Oktar's TV channel broadcasted his shows surrounded by women he referred to as his "kittens." The broadcasts advocate "the true Islam" based on the Koran.
Tarkan Yavas, one of the defendants, received a 211-year prison sentence for being an executive member of Oktar's outfit, sexual abuse of a minor, sexual abuse, misstatement of property, and committing perjury in an official document.
Oktar Babuna, another defendant, was given 186 years in jail for being a member of a criminal organisation, sexual abuse of a minor, and sexual abuse.
The court continues to declare rulings on other defendants.
Atlas of Creation was widely slammed by reviewers for its inaccuracy, unauthorised use of copyrighted photographs, and intellectual dishonesty.
In September 2008 Oktar issued a challenge offering "10 trillion Turkish lira (£985,700,000,000.00) to anyone who produces a single intermediate-form fossil demonstrating evolution". He has stated:
Not one [fossil] belongs to strange-looking creatures in the course of development of the kind supposed by evolutionists.
Dr Kevin Padian at the University of California has criticised the notion that such fossils do not exist, stating that Oktar:
Does not have any sense of what we know about how things change through time. If he sees a fossil crab, he says, 'It looks just like a regular crab, there's no evolution.'
• Please report any typos/errors to barry@freethinker.co.uk
If you'd like to buy me a cup of coffee – and boy, do I get through a LOT of coffee keeping this site active – please click the link below.
I'd love a cup of coffee