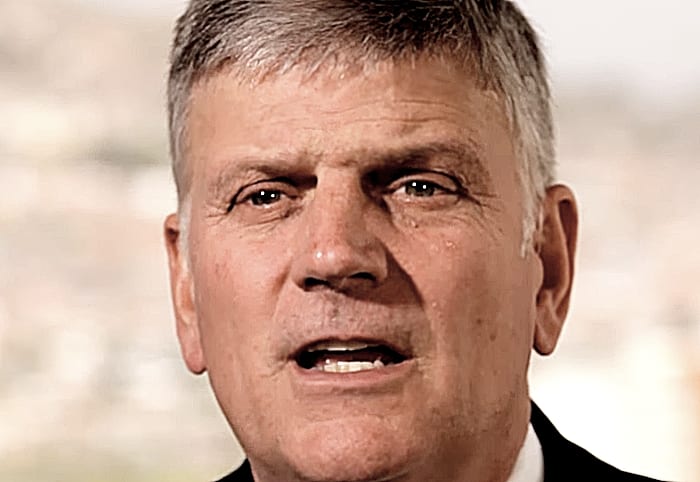 AFTER Trump's second impeachment this week, one of his most vocal devotees – evangelist Franklin Graham, above – compared Captain Chaos's treatment to that that of Jesus.
This has so infuriated left-leaning Faithful America (motto: Love thy neighbour. No exceptions) that it's launched a petition calling on board members of Samaritan's Purse and the Billy Graham Evangelistic Association to sack him.
FF's website says:
Franklin Graham is still doing everything he can to support Trump's deadly presidency, recently tweeting, 'When he says this election was rigged or stolen, I tend to believe him.'

Even Trump's incitement of insurrection has not shaken Graham's idolatry. On January 14, Graham literally compared Trump to Jesus, accusing Republicans who voted for impeachment of accepting 'thirty pieces of silver' to betray him.

As for the violence that left five dead, the court evangelical simply shrugged it off: 'We knew he had flaws when he ran for office in 2016.'

There is absolutely nothing Christian about that.
It added:
With blasphemous preachers like Graham blessing Trump's Big Lie and pretending 'antifa' was behind the attack, it's no wonder the failed coup featured crosses and 'Jesus saves' banners and flags. Graham and the religious right must be held accountable for their deadly dishonesty.

Graham gets away with his hatred and conspiracy-theories by hiding behind the humanitarian work of Samaritan's Purse and his late father's name. It's time the boards of Samaritan's Purse and the Billy Graham Evangelistic Association (BGEA) hear from Christians across the country that by propping up Franklin's politics, they have abandoned their Gospel missions and helped incite white-nationalist sedition.
After the impeachment, the despicable evangelist tweeted:
Shame, shame on the ten Republicans who joined with @SpeakerPelosi & the House Democrats in impeaching President Trump yesterday. After all that he has done for our country, you would turn your back & betray him so quickly?
The petition says:
As long as Samaritan's Purse and the Billy Graham Evangelistic Association stand by Franklin Graham, it must be said that these once-vaunted organizations have forgotten their original Christian missions, abandoned the Gospel of Jesus Christ, and are complicit in the spread of dishonest, discredited election conspiracy theories and the deadly, unpatriotic, white-nationalist terrorism at the U.S. Capitol incited by those lies.

Our faith in Jesus Christ demands that we do better than this. Your fellow Christians from across the country call on you to fire Franklin Graham, or to resign from the Board in individual protest.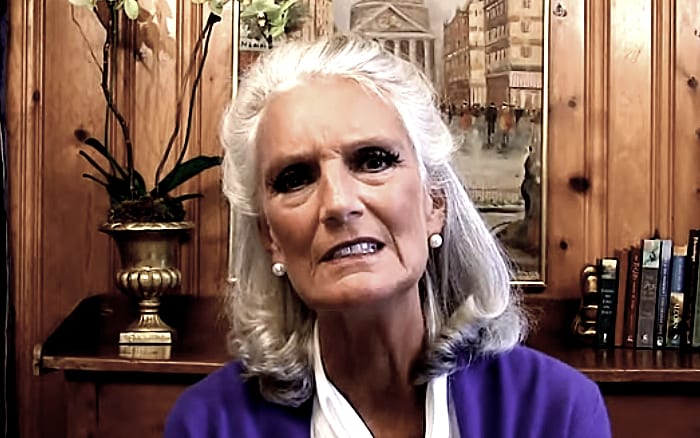 Among those to whom the petition is addressed is Graham's deranged sister, Anne Graham Lotz, above, an equally ardent Trumpite who once controversially stated that the September 11, 2001 attacks on the United States were God's punishment on the country for transgenderism, evolution and secularism.
In 2016 Lotz said that Trump was God's gift to America. She noted his election came at a time when society as a whole has become increasingly hostile toward religion in the public square and just about "every segment of our national life," adding, ironically, that:
It shows up in our government policy and the division among our people and the anarchy in the streets and the arrogance in our leadership.
Since it's launch this week, FF's petition has attracted more than 11,000 signatures.
• Please report any typos/errors to barry@freethinker.co.uk
If you'd like to buy me a cup of coffee – and boy, do I get through a LOT of coffee keeping this site active – please click the link below.
I'd love a cup of coffee