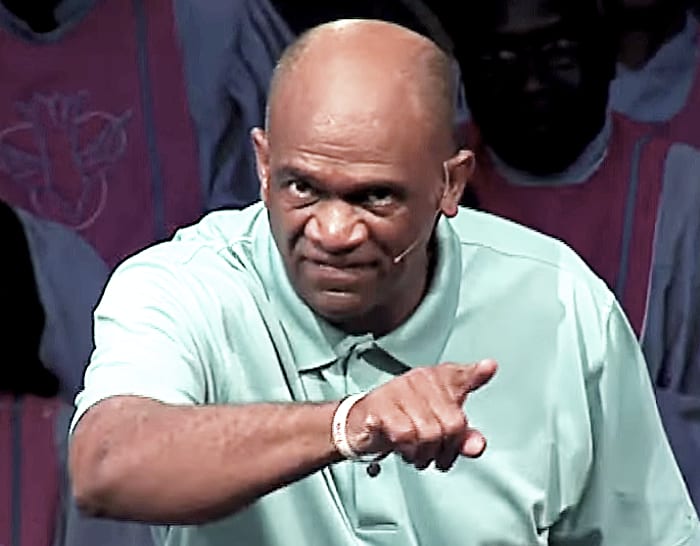 WOULD you buy Chinese bonds, or anything else for that matter, from this dodgy-looking geezer?
Well, a lot of followers of Kirbyjon Caldwell, 67, former pastor of Windsor Village United Methodist Church in Texas did just that – splashing out millions of dollars to buy worthless bonds issued by the Republic of China before the Communist takeover in 1949.
Caldwell, who had close relationships with past US presidents, notably George W Bush – but surprisingly not with the impeached huckster Trump – will now spend six years in jail for defrauding Louisiana residents – many of whom were elderly and retired – out of $3.5-million dollars.
According to this report, a contrite Caldwell told Louisiana federal court judge yesterday (Wednesday) :
They trusted me with their money, and I abused that trust. I misled them, I profited at their expense, and for that, I am very sorry.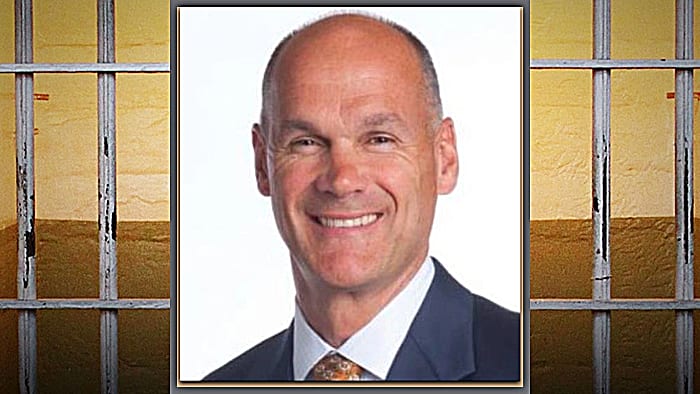 In 2018, he and Louisiana financial adviser Gregory Alan Smith, above, were indicted by federal officials after selling the bonds.
Said US Attorney David C Joseph:
These defendants used their positions as religious leaders and investment advisors to defraud Louisiana residents. In doing so, the defendants abused the trust and respect of their victims for the sole purpose of stealing their money.
The pastor was also known as the "Minister of Good Success" for his mix of theology with business success, advocating "holistic salvation," including spiritual, emotional and financial well-being.
Caldwell told Christianity Today magazine in 2001 he advocated:
Achieving success without violating God's law. We are very much risk-takers; we are innovative; we are entrepreneurial. But guess what? Jesus was innovative and entrepreneurial, as was John Wesley.

So, unlike some pastors, I don't view that as a scriptural stretch or as an anti-spiritual orientation. I think some churches obviously feel that their activities should be restricted to Sundays, and that economic development should be left to another sector. I don't buy that.
Despite pleading guilty to fraud, Caldwell has remained on staff at Windsor Village and served as a lay preacher. His wife was named the church's lead pastor after he surrendered his credentials.
In a statement, Bishop Scott Jones, head of southeast Texas' United Methodist group, said Caldwell:
Confessed his crimes and offered a sincere expression of remorse for his actions and the harm they caused as well as taking extraordinary steps toward repairing the damage. The court heard about these efforts and many additional factors, including the significant accomplishments over decades as a pastor and community leader, when determining Mr. Caldwell's appropriate punishment for the confessed crimes.

We continue to pray for healing for all affected by Mr. Caldwell's actions, including his family and the Windsor Village United Methodist Church, as well as Mr. Caldwell.
Before sentencing, Chief US District Judge S. Maurice Hicks Jr noted Caldwell's history of community service and the more than $4 million he has since repaid to victims, which Hicks said was a rarity in most fraud cases.
When Caldwell's attorney Karima G Maloney told the judge Caldwell had been stripped of his lifestyle and loss of position, Hicks pointed out that Caldwell, even though now considered a lay minister, was drawing a salary from the church of $7,000 a month, while his wife, who has assumed the role of senior pastor, gets $15,000 a month in addition to $15,000 for a housing allowance.
Maloney requested that Caldwell to be sentenced to home confinement, saying he is at high risk for COVID-19 because of his prostate cancer and hypertension.
The judge deferred his report date to prison until June.
Smith, 58, of Shreveport, Louisiana, was also sentenced to six years followed by three years of supervised release for conspiracy to commit wire fraud. He was ordered to pay restitution in the amount of $3,588,500, as well as a fine of $100,000.
• Please report any typos/errors to barry@freethinker.co.uk
If you'd like to buy me a cup of coffee – and boy, do I get through a LOT of coffee keeping this site active – please click the link below.
I'd love a cup of coffee