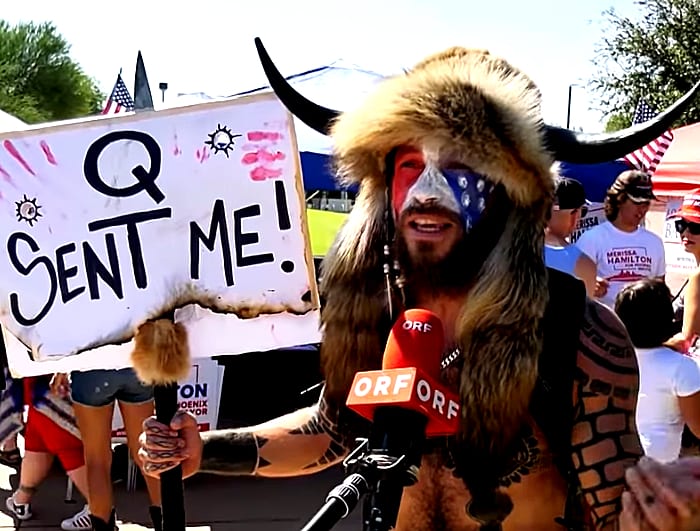 MILLIONS across the world were appalled by the antics of posturing nincompoop Jacob Anthony Chansley, above, the painted and tattooed Trumpite who breached the Capitol in Washington DC, but among the most outraged are members of the Heathen community who claim that the idiot known Jake Angeli had not only misappropriated their symbols but that of Sioux Indians.
Since the breach, according to Religion News Service, a growing number Heathens and Pagans have lashed out at Chansley, claiming that his behaviour and tattoos served to convince many that Heathenry had direct connections with Nazism.
Chansley's tattoos include a number of Heathen symbols, including three interlocking triangles called a valknut; Mjölnir, Thor's hammer; and a tree that "may represent Yggdrasil, the sacred tree in Norse cosmology."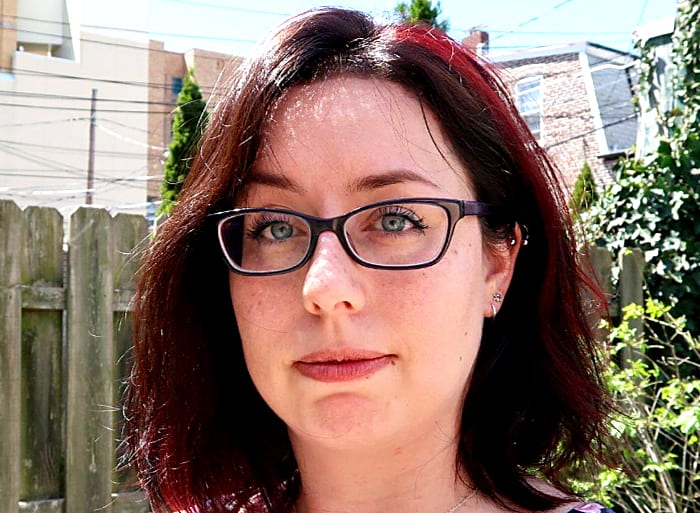 Lea Svendsen, above, a heathen author, said it was "heartbreaking" to see her articles of faith at the center of the violence.
We don't want to make people uncomfortable. We don't want them to feel unsafe, because we're allies, we are here for them, we're part of the community, we're neighbors.
RNS said it's unclear whether Angeli adheres to Heathenism or has merely appropriated the symbols. In a blog post, Jason Mankey, editor of Patheos' Pagan channel, acknowledged that some pagans have stumbled into QAnon conspiracy theories online, where discussions about aromatherapy and herbalism can devolve into baseless fears about microchipped vaccines.
Svendsen said:
But it's also the case that Norse iconography and religion have been widely appropriated by white supremacists since Nazis seized on them as part of the history and culture of an imagined master race.
That's not what those symbols stand for, according to Ethan Stark of Heathens Against Hate.
Mjölnir in particular is the "most recognized and widely used" symbol of Heathenry, Stark said. It was likely adopted in response to crosses worn by many Christians as Norse cultures converted to Christianity, and has become popular again as many people have rediscovered Norse religions. But its widespread use among white supremacists has caused confusion.
The Anti-Defamation League notes that the symbol must be judged in context, and:
One should never assume that the Thor's Hammer appearing by itself necessarily denotes racism or white supremacy.
Heathens Against Hate and others also took issue with Angeli's horned headdress. Mankey wrote:
As a devotee of the Horned God, I'm especially sickened by Angeli's perversion of the horns. For me those horns represent oneness with the Earth, the pursuit of knowledge, and the liberation of the oppressed. The sickened MAGA crowd that stormed the Capitol building shares none of those values, and I hope Angeli is soon brought to justice, gets the mental health assistance he most obviously needs, and is then sent away to rot in jail for twenty years.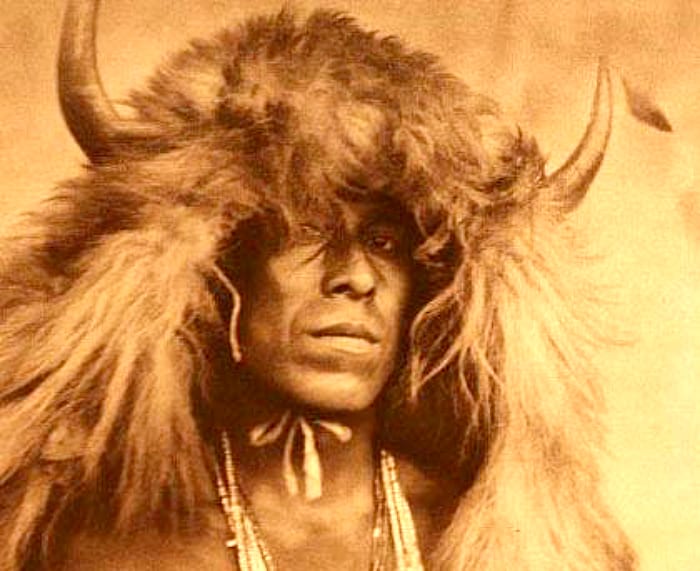 Several individuals and organisations have pointed out that the headdress resembled a Sioux war bonnet.
Heathens Against Hate tweeted.
The greater victim of appropriation is the #FirstNations #Sioux, whose sacred headdress reserved for warrior men of particular merit, is being worn by the vile and undeserving.
The organisation is one of several that was quick to speak out against Wednesday's riot at the Capitol and any association with Paganism or Heathenry.
The Troth, an international heathen organisation, noted that:
Several of those who have been most visible in these events have also been bearing symbols many of us hold very dear and even sacred. Tonight, we join with faith leaders from around the globe in a prayer for peace to settle over the United States and that a calm and orderly transition of power continues.
It's important to speak up, Svendsen said, because she doesn't want anyone – especially people of colour or or members of LGBTQ communities – to feel uncomfortable around her as she is a visible Heathen who wears those symbols as articles of faith. To her, white supremacy is the antithesis of her beliefs.
The very notion of excluding others based on how they appear or what their ethnic background is or what their philosophical background is, is counter to what the myths themselves teach us.
Chansley was arrested last Saturday and charged with knowingly entering or remaining in any restricted building or grounds without lawful authority, and with violent entry and disorderly conduct on Capitol grounds. He is currently in detention awaiting a second court hearing tomorrow (Friday).
His court-appointed attorney, Gerald Williams, told the judge that his client has been unable to eat since his arrest. He said his client has a restricted diet, though it was unclear to Williams whether Chansley's food issues were related to health concerns or religious reasons.
A judge then granted permission for Chansley to be put on an organic diet after hearing that his mum Martha declare:
He gets very sick if he doesn't eat organic food — literally will get physically sick.
The judge deemed the mama boy's refusal to eat "deeply concerning," and said he will be now be:
Provided food in line with a shaman's strict organic diet.
• Please report any typos/errors to barry@freethinker.co.uk
If you'd like to buy me a cup of coffee – and boy, do I get through a LOT of coffee keeping this site active – please click the link below.
I'd love a cup of coffee