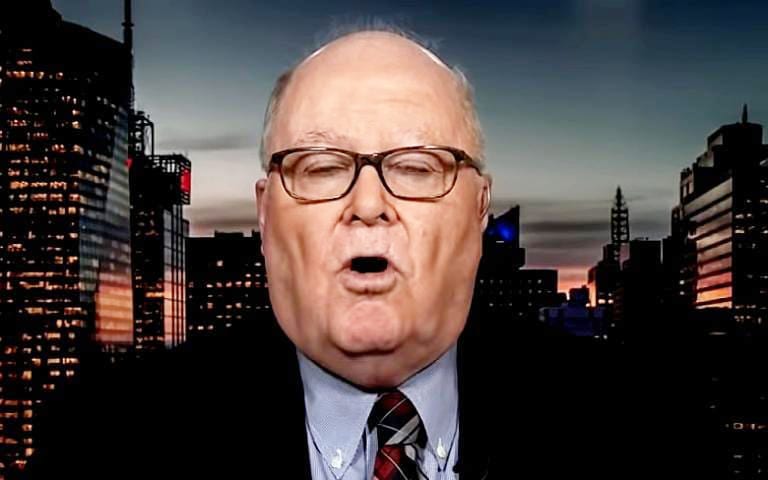 EVEN before the US House of Representatives passed a landmark Equality Act yesterday, bigots such as Bill Donohue, of the Catholic League, above, evangelist Franklin Graham and Tony Perkins of the designated hate group, the Family Research Council, were bellowing about an all-out assault on Christians.
The Equality Act amends the 1964 Civil Rights Act to include sexual orientation and gender identity as protected classes in addition to race, religion, sex and national origin.
The key civil rights bill passed in a vote of 224 to 216, with three Republicans breaking with their party to joining all Democrats in supporting the legislation.
Donohue reacted by saying:
According to House Speaker Nancy Pelosi, the Equality Act is 'about ending discrimination'; President Joe Biden agrees. That may be its intent, but its effect is to promote the most comprehensive assault on Christianity ever written into law.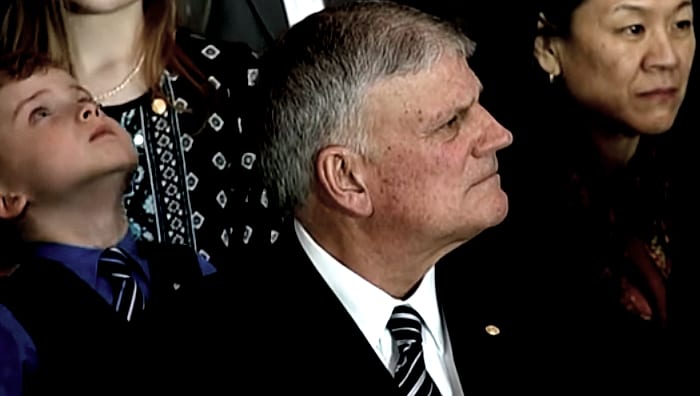 There was considerably more blather from Franklin Graham, above, who asked:
Have you heard of the Equality Act? The name might sound good, but it's deceiving. It has nothing to do with equality. It's just a smokescreen to force Americans to accept the LGBTQ agenda and it creates a lot of INEQUALITY for Christians and all people of faith.
And he warned:
Christians will be persecuted for their sincerely held beliefs as never before. The clear teachings of the Bible on the sins of homosexuality and abortion will no doubt be considered 'hate speech.' It will be a nightmare from which this nation may never recover.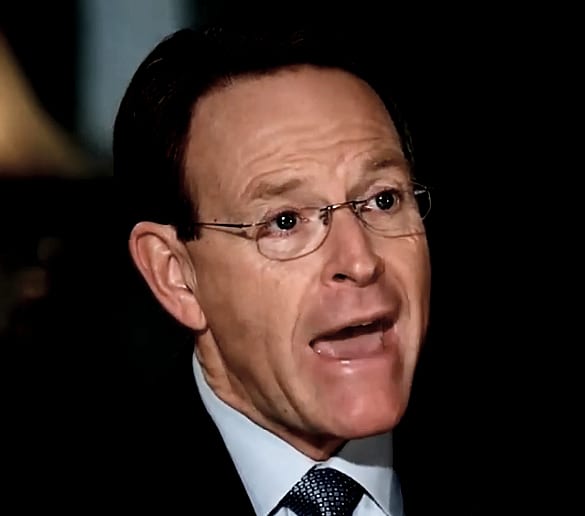 Perkins, above, went into raging drama queen mode, writing:
The Equality Act is a grave and treasonous threat to our nation's core values contained in our First Amendment. The fact that no Republicans have co-sponsored it, even those who co-sponsored in the previous Congress, underscores the Democrats' lurch to the Left.

This is a radical bill that uses the government to control, through coercion, how every American thinks, speaks, and acts on issues of human sexuality. It may be named the Equality Act, but as the details make quite clear, the only equal thing about it is how much damage it does to many facets of American life.

It is an attack on parental rights and women's sports, but to the millions of people of faith in this country, it is an egregious attack on the freedom to believe and live according to those beliefs.

The Religious Freedom Restoration Act will be committed to the 'memory hole,' and we will then experience a devastating loss of religious freedom in America, and that will have consequences for all Americans.
He added:
Activists in high-office, whom President Biden is working to appoint, could use the Act to punish faith-based organizations of any type – places of worship, schools, small businesses, adoption agencies, pregnancy centers, and other non-profit charities—that decline to surrender their beliefs on the family, sexuality, and even abortion.

The Equality Act is a Trojan horse for radical Leftists, whose goal is to invade every square inch of America, even the homes of those who hold different beliefs, with the force of law. It will effectively cancel people of faith from civil society. We urge every Member of Congress to oppose the Equality Act.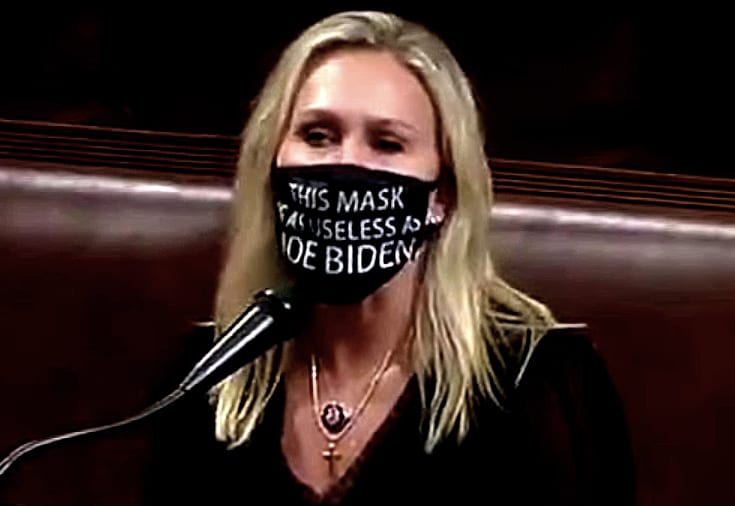 Ironically, Republican Representative "Mad Marge" Greene, above, Christian, QAnon supporter and all-round fruitcake, may have helped boost support for the Act with a infantile stunt that got nationwide coverage in which she was roundly ridiculed.
Before the vote, she posted an anti-transgender sign outside of her office, directly across the hall from another lawmaker – Illinois Rep Marie Newman – who has a transgender daughter.
The freshman Georgia congresswoman's stupidity followed a string of incendiary statements and actions she made before she was removed from her committee assignments earlier this month.
Newman posted a video on Twitter showing her hanging a pink and blue transgender pride flag outside her office Wednesday afternoon. She explained that she did so because of Greene's attempt to block the act.
She believes prohibiting discrimination against trans Americans is 'disgusting, immoral, and evil'. Thought we'd put up our Transgender flag so she can look at it every time she opens her door.
That evening, Greene retweeted Newman's post and added a video of her hanging a sign that reads:
There are TWO genders: MALE & FEMALE … Trust The Science!
Greene, of course, is an expert in science. She believes that Jewish lasers in space had been use to caused the deadly Camp Fire in California in the fall of 2018. It was deadliest wildfire in California's history.
The Act will come into law only if it is passed by the Senate.
President Joe Biden said in support of the Act:
Every person should be treated with dignity and respect, and this bill represents a critical step toward ensuring that America lives up to our foundational values of equality and freedom for all.
•

Please report any typos/errors to barry@freethinker.co.uk
If you'd like to buy me a cup of coffee – and boy, do I get through a LOT of coffee keeping this site active – please click the link below.
I'd love a cup of coffee