AFTER a six-week old baby died this week following a baptism in Romania, pressure began mounting to change the ritual.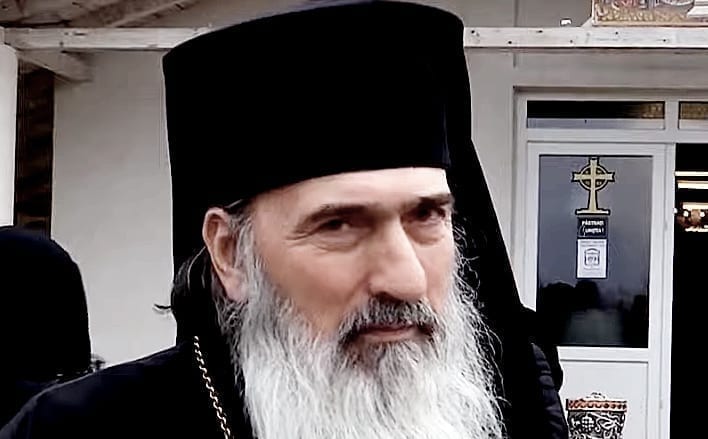 But the the leader of the Romanian Orthodox Church's traditionalist wing – Archbishop Teodosie, above – has dug in his heels and insists that practice of immersing a baby three times in "holy" water will continue.
The Guardian reports that the baby died after his face was submerged several times during the baptism, and suffered a cardiac arrest. He and was rushed to hospital on Monday but he died a few hours later. The autopsy reveaed liquid in his lungs, and prosecutors have opened a manslaughter investigation against a priest in the north-eastern city of Suceava.
An online petition calling for changes to the ritual had gathered more than 56,000 signatures by Thursday evening. The petition said:
The death of a newborn baby because of this practice is a huge tragedy. This risk must be ruled out for the joy of baptism to triumph.
One internet user denounced the "brutality" of the ritual and another criticised the "stubbornness of those who think that it is the will of God" to maintain it.
The incident prompted this tweet from Professor Richard Dawkins: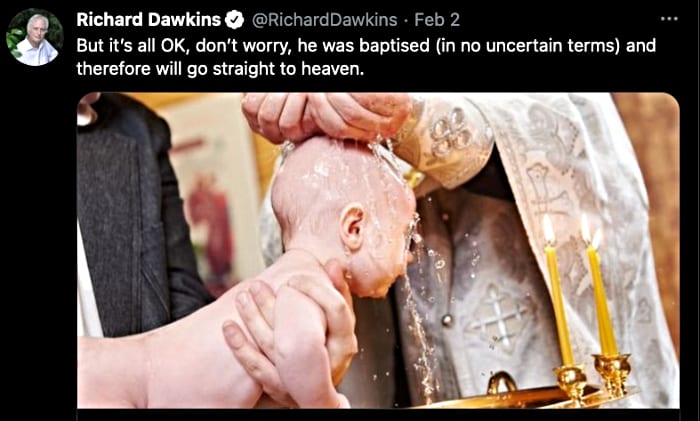 This report adds that the priest who performed that ritual said the baby had cried during and after immersion, indicating that his vital signs were good.
However, several minutes later the baby, who was born prematurely, went floppy and he called the ambulance.
The family took issue with that account and told news outlet Antena 3 that the baby stopped breathing when he was being taking out of the font, and they called the emergency services.
The unnamed father said:
We wanted to christen him, and I can tell you he was crying, but the priest plunged him into water three times, and he inhaled water. The priest took him out and wiped him down. I found out from doctors that he'd inhaled 110 milliliters of water. He was bleeding from his nose and we put his head down to get out the water but he didn't recover; his heart was beating but it was very weak.
Emergency officials resuscitated the infant and he was taken to the St John the New Suceava County Hospital where he was put on a ventilator, hospital spokesman Dan Teodorovici said.
He suffered a cardiac arrest, and died early Monday morning.
Obiectiv de Suceava reported that current church rules say that newborns should just have water sprinkled on their foreheads and not be immersed in the font. However, it appears that "old school" church traditionalists such as Teodosie insist on full immersions.
In 2010, another Orthodox priest was accused of accidentally drowning a six-week-old boy during a baptism in northeast Romania.
Witnesses claimed the baby died after the priest failed to cover his mouth and nose as he immersed him in water three times.
More than 80 percent of Romanians are Orthodox and the Church is one of the most trusted institutions, according to recent opinion polls.
Hat tip: Stephen Harvie
• Please report any typos/errors to barry@freethinker.co.uk
If you'd like to buy me a cup of coffee – and boy, do I get through a LOT of coffee keeping this site active – please click the link below.
I'd love a cup of coffee