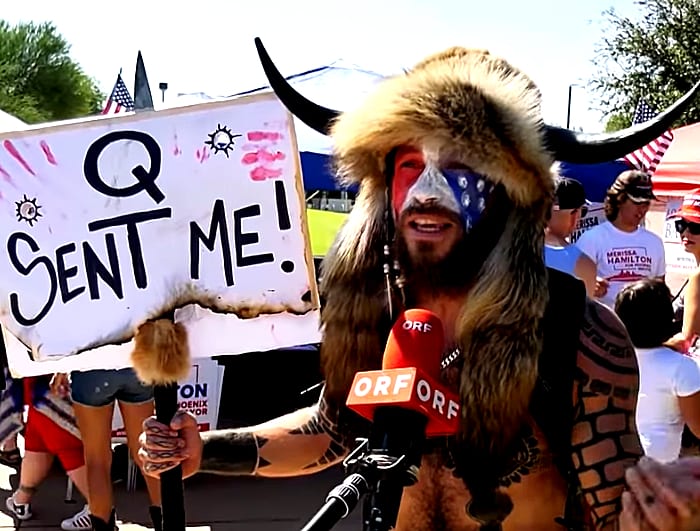 A SURVEY just published by the 'conservative' American Enterprise Institute (AEI) reveals that 41 percent of white evangelicals 'completely or somewhat agreed' with the statement 'if elected leaders will not protect America, the people must do it themselves even if it requires taking violent actions.'
Some grim takeaways from the survey, published today by Religion News Service:
• A quarter of white evangelical Protestants believe a QAnon conspiracy theory that purports Trump is "secretly battling a cabal of paedophile Democrats."
• Roughly half  – 49 percent – express support for the debunked claim that Antifa was responsible for the recent insurrection at the US Capitol.
• Twenty-nine percent of Republicans and 27 percent of white evangelicals — the most of any religious group — believe the widely debunked QAnon conspiracy theory is completely or mostly accurate.
• Close to two-thirds (62 percent) believe there was widespread voter fraud in the 2020 election – despite numerous experts and courts at all levels refuting such claims – and roughly the same percentage (63 percent) believe Biden's victory was "not legitimate."
• A majority (55 percent) also said they believed it was mostly or completely accurate to say "a group of unelected government officials in Washington, D C, referred to as the 'Deep State' (has) been working to undermine the Trump administration."
Experts say the data point to a widening ideological divide not only between white evangelicals and other religious groups in the country, but also between white evangelical Republicans and other members of their own party.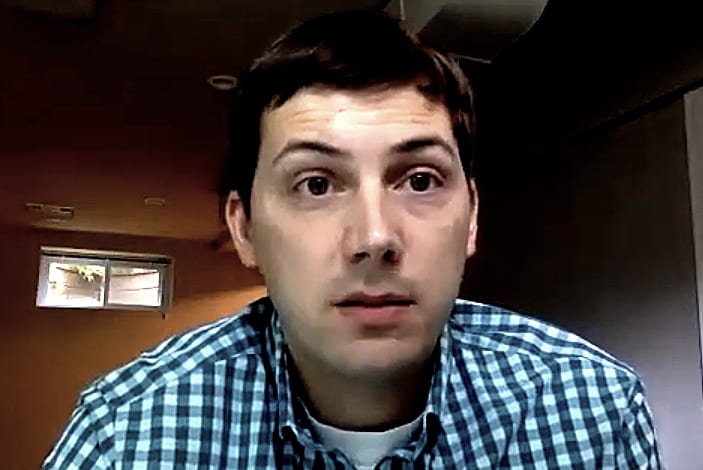 According to Daniel Cox, above, Director of AEI's Survey Center on American Life, the report suggests conspiracy theories enjoy a surprising amount of support in general, but white evangelicals appear to be particularly primed to embrace them.
Asked to explain why white evangelicals appear disproportionately likely to embrace conspiracy theories, Cox noted that, as a group, they do not fit a stereotype of conspiracy theorists as people disconnected from social interaction. Instead, most retain strong connections to various social groups.
But white evangelicals stand out in a different way: The vast majority say some or a lot of their family members (81 percent) or friends (82 percent) voted for Trump in the 2020 election — more than any other religious group.
Said Cox:
People who do strongly believe in these things are not more disconnected — they are more politically segregated.
The resulting social echo chamber, he argued, allows conspiracy theories to spread unchecked.
That kind of environment is really important when it comes to embracing this kind of thinkin. You're seeing people embrace this sort of conspiratorial thinking, and everyone in their social circle is like, 'Yeah, that sounds right to me,' versus someone saying, 'You know, we should look at this credulously.'
Cox said forthcoming data will highlight the ideological distinctiveness of white evangelicals even among people who identify as Republicans or who lean toward the party, signaling an
An increasingly important divide in the GOP among people who identify as evangelical Christian and those who do not. If you're a Republican but identify as an evangelical Christian, you're far more likely to believe in voter fraud in 2020 election. You're far more likely to believe that Biden's win was not legitimate. You're more likely to believe in the QAnon conspiracy. You're more likely to believe in the 'Deep State.'
Meanwhile "QAnon Shaman," Arizonian Jacob Anthony Chansley – aka Jake Angeli – pictured in the intro to this report, wants to testify at a Trump's impeachment hearing, claiming Trump failed in his last days in office to pardon him.
Chansley's lawyer Albert Watkins his client felt "betrayed" by the Insurrectionist-in-Chief.
Watkins said Chansley was "horrendously smitten" by Trump.
My client wasn't violent. He didn't cross over any police lines. He didn't assault anyone. He was there at the invitation of our president.
Chansley was charged with knowingly entering or remaining in any restricted building or grounds without lawful authority, and with violent entry and disorderly conduct on Capitol grounds.
According to government prosecutors there is:
Strong evidence, including Chansley's own words and actions at the Capitol, that supports the intent of the Capitol and rioters to capture and assassinate elected officials.
Earlier this month Chansley was transferred to the Alexandria Detention Center after his attorney argued that his client had gone nine days without eating because organic food wasn't served at the jail in Washington. A judge ordered corrections officials to provide the special diet.
Chansley lost 20 pounds since being transferred from Arizona to Washington. US District Judge Royce Lamberth said the US Marshals Service told the court that the District of Columbia Department of Corrections had asked for Chansley to be moved because they couldn't honor the court's order to feed him organic food.
• Please report any typos/errors to barry@freethinker.co.uk
If you'd like to buy me a cup of coffee – and boy, do I get through a LOT of coffee keeping this site active – please click the link below.
I'd love a cup of coffee