'No Limbaugh, no attack on the Capitol on Jan. 6. That is how malignant he was.'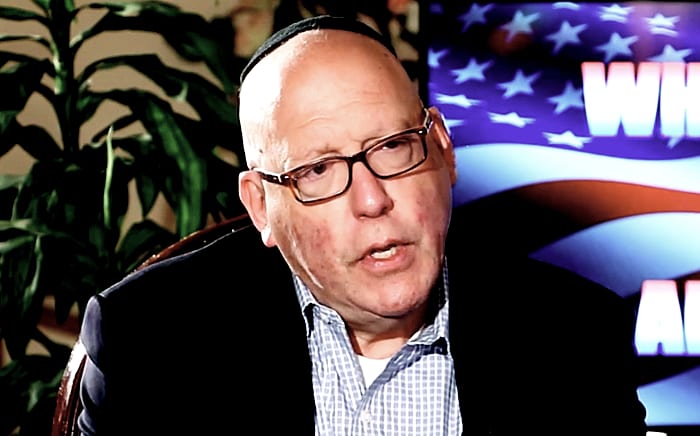 Those are the words of Florida Rabbi Jeffrey K Salkin, above, who expressed deep disgust over the fact that the Governor of his state – Ron DeSantis – had ordered flags to be flown at half-mast today (Wednesday) for hatemonger Rush Limbaugh's funeral.
In a blistering Religion News op-ed, Salkin wrote:
I remember experiencing intense nausea as then-President Donald Trump awarded him the Presidential Medal of Freedom, this nation's highest civilian honor, last February.

It was easy to recall that feeling of nausea because I experienced it again the other day when the governor of my state, Ron DeSantis, ordered that all flags in the state be lowered in Limbaugh's honor.

Nauseated, but hardly surprised. The truth is: Limbaugh's hateful rhetoric was the verbal midwife to the Trump politics of hate. Consider this: Limbaugh had ridiculed the Parkinson's tremors of actor Michael J. Fox – just as Trump ridiculed a disabled reporter.

Which, in a normal world, should have been the death knell of the Trump candidacy.
The rabbi also lashed out at Jews he knows who believed Limbaugh was:
The best thing since sliced challah.
Salkin is by no means the only person to attack the flags order issued by DeSantis.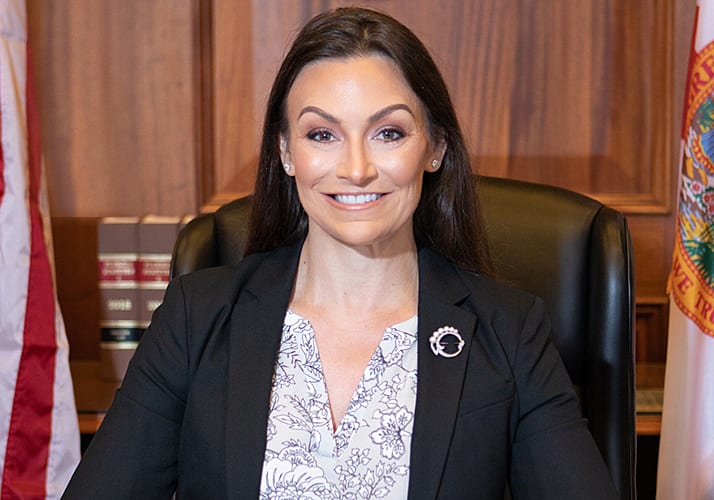 Florida Agriculture Commissioner Nikki Fried, above, a Democrat, said in a statement on Monday that she had instructed her staff not to comply with order.
Lowering to half-staff the flag of the United States of America is a sacred honor that pays respect to fallen heroes and patriots. It is not a partisan political tool.

Therefore, I will notify all state offices under my direction to disregard the Governor's forthcoming order to lower flags for Mr Limbaugh because we will not celebrate hate speech, bigotry, and division.
Fried's direction only applies to state facilities under her authority, which includes dozens of regional offices and agricultural-inspection stations.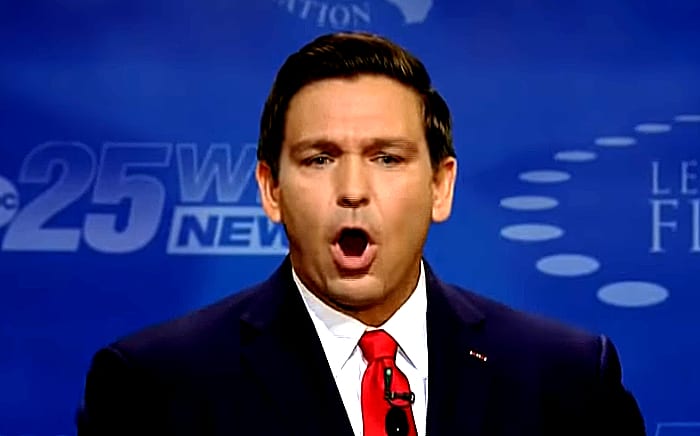 There is some speculation that DeSantis, above, may stand for the presidency in the 2024 election.
But one sceptic, Scott de Marchi, political science professor at Duke University, said that DeSantis, along with other candidates:
Do not have the charisma of Trump.
• Please report any typos/errors to barry@freethinker.co.uk
If you'd like to buy me a cup of coffee – and boy, do I get through a LOT of coffee keeping this site active – please click the link below.
I'd love a cup of coffee