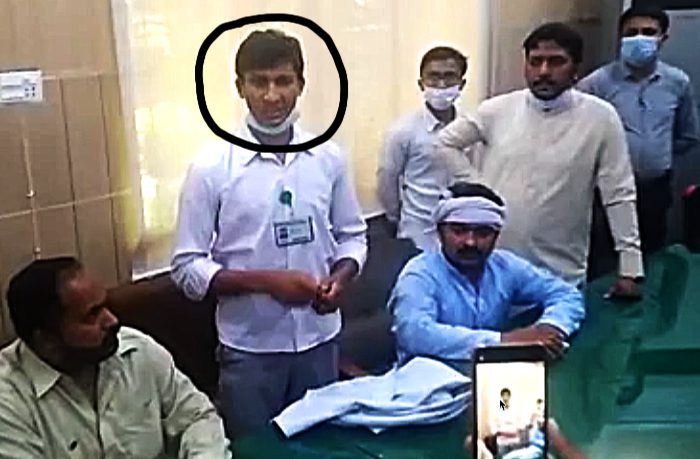 THE young man ringed above – identified as Muhammad Waqas – was captured on camera telling staff in a Pakistan hospital how he knifed a fellow nurse after she removed Islamic stickers from the wall of a ward.
He is heard boasting:
I had a knife and I attacked that nurse to kill her but only her arm was was hurt and she survived … I was going to kill her.
According to this report, after the attack the injured nurse, Mariyum Laland, and female colleague – both Christians – were arrested for "blasphemy" for removing stickers inscribed with Islamic verses from the wall of a hospital ward where psychiatric patients are treated.
Deputy Medical Superintendent Ali claimed that blasphemy charges had been proved against the two women after the hospital committee investigated the matter.
Hospital employees staged a demonstration against the two nurses and demanded strict action against them. Local Muslim clerics also joined the protesters.
Some of the protesters also attacked the police van parked inside the hospital in a bid to seize of one of the nurses but the police locked her inside the vehicle to keep her safe from the mob.
According to a police official, anti-riot police and Elite Force were called in to handle the situation.
The official said:
As the mob had surrounded the police van demanding handing over the nurse to them, more force was called in to push back the protesters. After managing to disperse the mob by using a water cannon, police succeeded in moving the nurse from the hospital premises.
The other nurse, Newish Arooj, had already managed to escape the District Headquarters (DHQ) Hospital in Faisalabad.
Reacting to the development, the International Christian Concern (ICC) said both the Christian nurses have falsely been accused of committing blasphemy.
It alleged that the head nurse, Rukhsana, had a grudge against Mariyum Laland and she provoked other Muslim staffers of the hospital, claiming she desecrated wall hangings and a sticker that contained Quranic verses.
In response, a Muslim staffer, Waqas, attacked Ms Lal with a knife as she was attending a patient in the hospital's medical ward. She received several injuries to her arm but survived the attack.
Pakistan's controversial blasphemy laws and their prescribed punishments are considered extremely severe. People accused of blasphemy are usually deprived of the right to a lawyer of their choice as most lawyers refuse to take up such sensitive cases.
• Please report any typos/errors to barry@freethinker.co.uk
If you'd like to buy me a cup of coffee – and boy, do I get through a LOT of coffee keeping this site active – please click the link below.
I'd love a cup of coffee