ALL hell broke loose in the delusional world of Christianity when US singer and Internet personality Lil Nas X promoted a Nike brand of sneakers adapted to appeal to Satan lovers.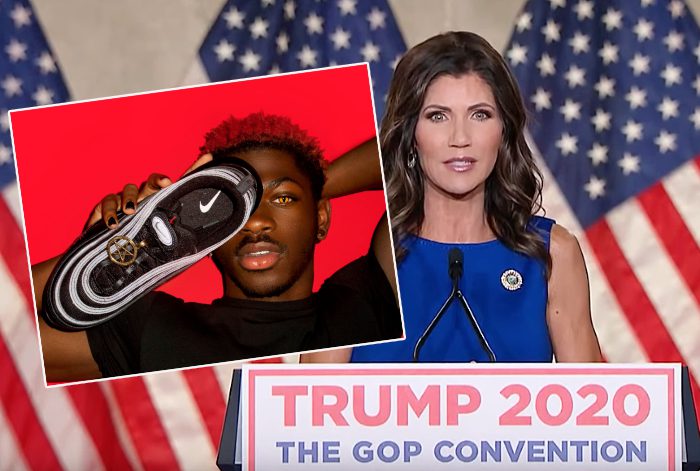 Among the most hysterical of reactions to Satan Shoes came from the Republican Governor Kristi Noem of South Dakota, above, who tweeted that the shoes put people's actual souls in danger, and Christian media delivered dozens of purse-lipped reports about the product.
Our kids are being told that this kind of product is, not only okay, it's 'exclusive.' But do you know what's more exclusive? Their God-given eternal soul. We are in a fight for the soul of our nation. We need to fight hard. And we need to fight smart. We have to win.
The out and proud gay singer – real name Montero Lamar Hill who turned 22 on April 9 – retorted:
Ur a whole governor and u on here tweeting about some damn shoes. do ur job!
A total of 666 pairs of Nike Air Max 97s sold out, at a cost of $1,018 a pair, within a minute of being released last month by an art collective called MSCHF, which had earlier created a Jesus Shoe.
Then last Friday it was reported that Nike had launched a lawsuit against MSCHF, demanding that sales of the limited edition sneakers – featuring pentagrams and soles with red ink and "one drop of human blood" – be halted immediately.
Many had already been shipped, but on April 1, a judge stopped any more deliveries.
Nike and MSCHF have since settled the case and no more damages will be sought. MSCHF does, however, have to issue a voluntary recall.
Nike said in a statement:
Nike had nothing to do with the Satan Shoes or the Jesus Shoes. If any purchasers were confused, or if they otherwise want to return their shoes, they may do so for a full refund. Purchasers who choose not to return their shoes and later encounter a product issue, defect, or health concern should contact MSCHF, not Nike.
In an age -restricted YouTube "apology" – simply a repeat of his latest "Satanic" video Call Me By My Name – the singer indicated he isn't in the least bit repentant. The video has so far attracted 6,488,078 views and 45,844 comments.
Earlier Lil Nas X tweeted:
I spent my entire teenage years hating myself because of the shit y'all preached would happen to me because i was gay. so i hope u are mad, stay mad, feel the same anger you teach us to have towards ourselves.
• Please report any typos/errors to barry@freethinker.co.uk
If you'd like to buy me a cup of coffee – and boy, do I get through a LOT of coffee keeping this site active – please click the link below.
I'd love a cup of coffee