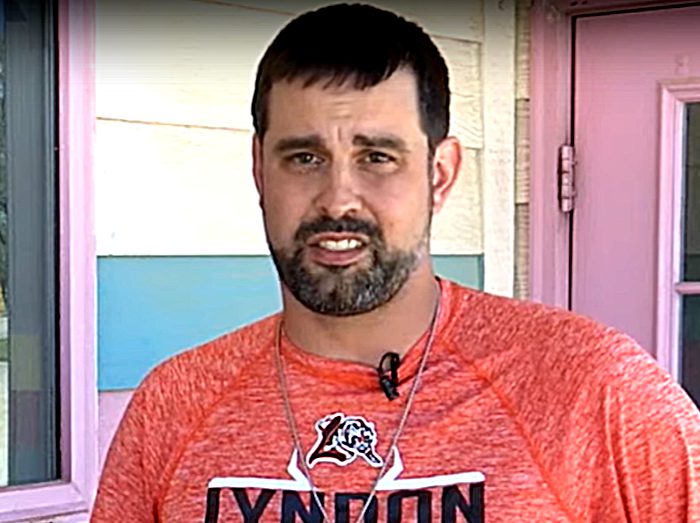 A CLASSROOM discussion in Kansas about sex and religion, lead by Republican lawmaker and substitute teacher Mark Samsel, above, turned violent when the devout Christian targeted a pupil and allegedly kneed him in the groin.

The incident at Wellsville High School that led to Samsel's arrest on Thursday was reported as "an altercation" by various local media, but in a video statement Samel said it was no such thing. He insisted it was all planned as an exercise in "performance art."
Law & Crime reports that after the pupil fell to floor Samsel turned to another student and said:
Do you want to check his nuts for him, please?
During the discussion in which Samel opined on a variety of topics including suicide, sex, masturbation and religion, the teacher tells the class about "a sophomore who's tried killing himself three times" allegedly because "he has two parents and they're both females."
The lawmaker's anti-gay tirade continued:
He's a foster kid. His alternatives in life were having no parents or foster care parents who are gay. How do you think I'm going to feel if he commits suicide? Awful.
It's reported that a number of pupils filmed Samsel's rant. In one video shared with The Kansas City Star, he is heard to say:
Make babies. Who likes making babies? That feels good, doesn't it? Procreate … you haven't masturbated? Don't answer that question … God already knows.
In the midst of Samsel's "planned performance" he grabbed the boy and said:
You're about ready to anger me and get the wrath of God. Do you believe me when I tell you that God has been speaking to me?
Samsel also allegedly forced students to go outside, hold hands, and run laps as punishment for some sort of religious infraction.
The bully, who represents the City of Wellsville in the Sunflower State's legislature, was charged with misdemeanor battery and booked into the Franklin County Adult Detention Center. He has since posted $1,000 bond and issued a series of social media posts to defend himself.
The GOP representative, first elected in 2019, claims the whole day was a performance art spectacle gone awry.
In a Snapchat post he said:
That's right. The kids and I planned ALL this to SEND A MESSAGE about art, mental health, teenage suicide, how we treat our educators and one another. To who? Parents. And grandparents. And all of Wellsville.

I went to jail for battery. Does that really make me a criminal? Time will tell.
Wellsville Superintendent Ryan Bradbury addressed the controversy in comments to local CBS affiliate KCTV.
We immediately began an investigation and, as part of that investigation, contacted the appropriate agencies. We want to be transparent but privacy laws prevent us from doing that in this case, But I can say the substitute teacher involved in this incident is not and will not be returning.
Samsel, 36, elected as a state legislator in 2019, said in his campaign bio that he is:
Guided by his conservative roots, sense of justice, and desire to do what is best for his community.
And he threw in his favourite Bible quote:
Whatever you do, work at it with all your heart, as working for the Lord, not for human masters (Colossians 3:23)
Samsel is to appear in court on May 19 in Franklin County, said County Attorney Brandon Jones.
Kansas law says battery is either causing bodily harm to another person or physical contact with someone else "done in a rude, insulting or angry manner," and is punished by up to six months in jail.
• Please report any typos/errors to barry@freethinker.co.uk
If you'd like to buy me a cup of coffee – and boy, do I get through a LOT of coffee keeping this site active – please click the link below.
I'd love a cup of coffee