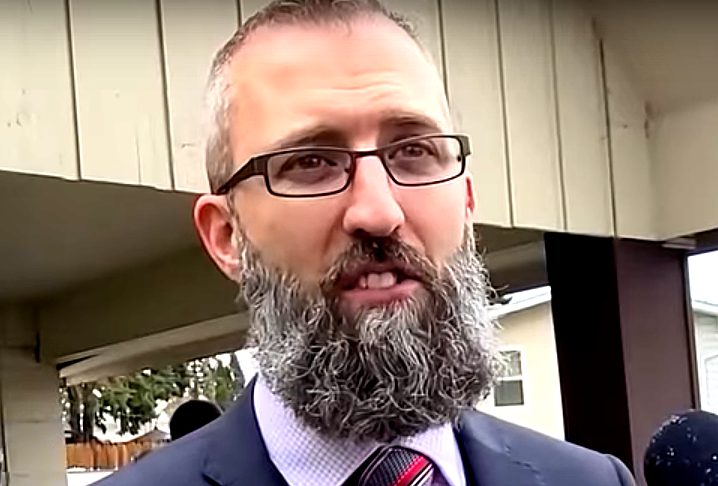 IN a recent sermon, pastor Tim Stephens, above, of Fairview Baptist Church in Calgary, told his congregation that civil authorities have no power to impose COVID-19 restrictions on churches.
Obedience to Christ trumps all other authorities. That's why we don't pay taxes. We are are not under the authority of the state.
Soon after, the arrogant plague rat with an oversized sense of entitlement discovered that the authorities do have greater powers than Jesus when he was arrested on Sunday for breaching public health regulations after holding yet another church service without required mask usage, capacity limitations, or physical distancing.
He was nabbed during a service at the church for allegedly breaching "public health measures and a pre-emptive injunction."
Stephens received a copy of the Court of Queen's Bench order last weekend, which was acquired by Alberta Health Services in order to target organisers of meetings that challenged health laws.
Calgary police said in a joint statement with AHS on Sunday:
The pastor acknowledged the injunction but chose to move forward with today's service, ignoring requirements for social distancing, mask-wearing and reduced capacity limits for attendees.
This isn't the first time Fairview Baptist Church has disobeyed health department orders. Several penalties have been levied against the church for breaking rules in recent months, and services were relocated to an unknown site for a month in January and February before reverting to their property in southeast Calgary.
According to the police:
CPS has received repeated calls from concerned citizens regarding church services held at Fairview Baptist Church over the past several weeks.
On May 5, Stephens published a note on Fairview Baptist Church's website, claiming that limiting church capacity would make no difference.
Our actions are borne out of theological commitments to the Lordship of Christ and his instruction to the church as revealed in Scripture.
He went on to say that, despite the potentially disastrous consequences, they would stick to their convictions rather than succumb to the consequences of breaking state laws.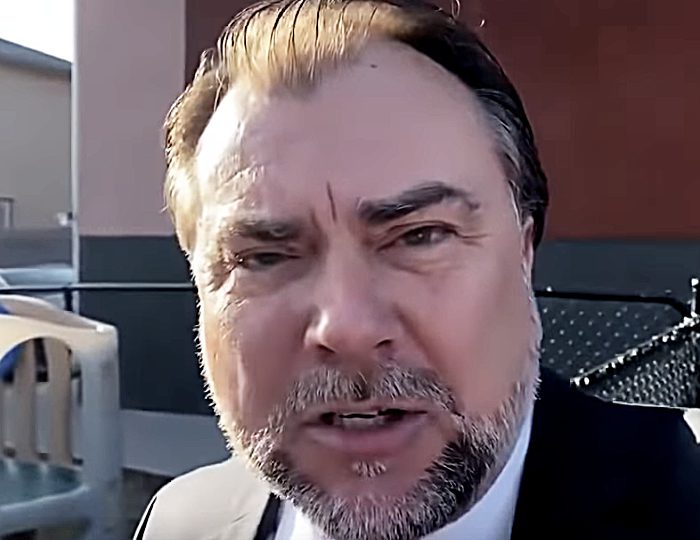 Meanwhile, another defiant and seriously unhinged Calgary preacher, Artur Pawlowski, above, of the Fortress (Cave) of Adullam Church in Calgary compared Canada to Hong Kong after he was briefly imprisoned for conducting church services under continued COVID restrictions.
Earlier he had ordered police out of his church, calling them "Nazi psychopaths."
After being released from jail on Monday, Pawlowski said:
I just woke up in Hong Kong a few days ago. I mean, I thought I emigrated to our beloved Canada, but I am in Hong Kong, full force. It's insanity – arresting pastor[s], shutting down churches. Craziness.
As a result of the latest court order against his church, on Saturday, Pawlowski and his brother, Dawid, were arrested and jailed for hosting an illegal in-person gathering that was ruled as a violation of COVID-19's health and safety protocols. Both were released on Monday night.
A video showed that at least six police cars were deployed by the Calgary Police Service to intercept the two on the road while they were on their way home. As soon as the police put handcuffs on them, the brothers knelt down on the pavement and declined to get up until they were forcefully taken to the squad cars.
"Shame on you guys, this is not communist China," an eyewitness can be heard confronting the police. "Don't you have family and kids? Whatever happened to 'Canada, God keep our land glorious and free?'
The Calgary Police Service issued the following statement on the same day of the arrest, saying the Pawlowski brothers were arrested for:
Organizing an illegal in-person gathering, including requesting, inciting or inviting others to attend an illegal public gathering, promoting and attending an illegal public gathering.
Pawlowski, who was born in Poland and spent most of his childhood under Soviet control, went into full histrionics mode:
I have become, with my brother, a political prisoner. We were taken to custody, thrown on the police van like a piece of meat, and we were denied access to the lawyer for 24 hours. It's horrible. It's a repetition of history.

I grew up behind the Iron Curtain. I've seen the police abuse of power, people being arrested – you could be arrested at five in the morning, the doors could be broken for no reason. Just listening to a European radio, [would] warrant them to torture you, arrest you, and throw you in jail for five years.

I escaped communism. I escaped Poland because I wanted to come to a country that is free. And here we are again, repeating the same mistakes, the same history. And I have to stand up and fight for my rights – not for doing evil, for just opening [the] church for the people that freely want to come and worship their God.
On May 4, Alberta introduced new mandatory health restrictions including a ban on all public or private indoor meetings:
To help stop the spread of COVID-19 and protect the health system.
• Please report any typos/errors to barry@freethinker.co.uk
If you'd like to buy me a cup of coffee – and boy, do I get through a LOT of coffee keeping this site active – please click the link below.
I'd love a cup of coffee