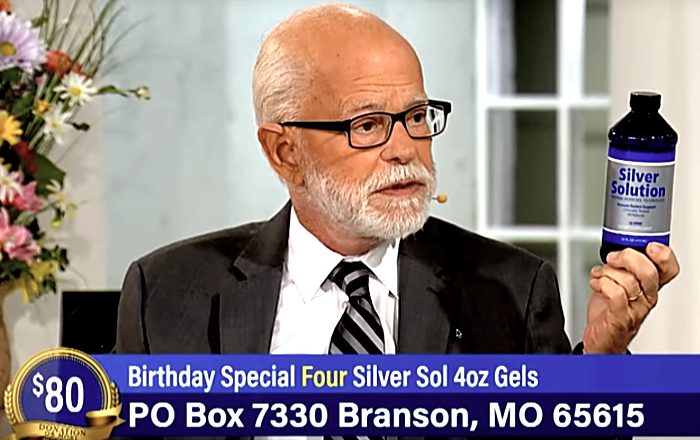 EX-JAILBIRD Jim Bakker, 81, who last year promoted Silver Solution – a 'God-given' product 'guaranteed' to kill the COVID-19 virus within 12 hours – has been ordered to pay compensation to dupes who bought the junk potion.
The order was issued by Missouri Attorney General Eric Schmitt who announced that his office has recovered $156,000 and obtained a consent judgment against the televangelist and Morningside Church Productions.
The Missouri Attorney General's Office filed a lawsuit suit against the convicted fraudster and Morningside back in March of 2020 for marketing Silver Solution.
Schmitt said on Wednesday:
Today I'm pleased to announce that the Missouri Attorney General's Office has obtained a consent judgment against Jim Bakker and Morningside Church Productions that results in $156,000 in restitution and strong safeguards to prevent the marketing of 'silver solution' as a cure or treatment for COVID and other medical issues

My Office will continue to work tirelessly on behalf of Missouri consumers, and will not hesitate to take action when those consumers are being defrauded.
Under the consent judgment, which was signed by Judge Alan Blankenship, Bakker is not allowed to sell or advertise Silver Solution as a way to diagnose, prevent, mitigate, treat or cure any disease or illness, and must return an additional $90,000 to consumers who purchased the stuff between February 12, 2020 and and March 10, 2020.
Restitution cheques will be mailed to Missouri consumers who purchased the Silver Solution no later than 30 days after the execution of the consent judgment, and upon receipt of the cheques consumers will have 90 days to cash them.
Bakker has already refunded a number of customers, which, combined with the $90,000, totals up to roughly $156,000 in restitution.
The Missouri Attorney General's Office filed a lawsuit against Bakker and Morningside Church Productions, his production company, after seeing a clip from his show that advertised Silver Solution as a cure for the Coronavirus.
Christianity Daily adds that civil penalty of $50,000 and the attorney general's expenses of $10,000 are also included in the consent judgment, both of which will be withheld on the condition that Bakker and Morningside Church comply with the agreement's conditions.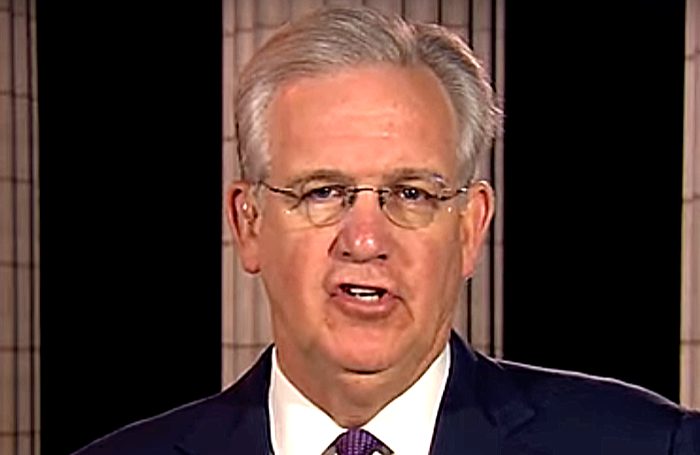 A joint statement from Bakker and Morningside Church Productions' attorneys, Derek Ankrom and former Democratic Missouri Governor Jay Nixon, above, stated that they are content to have the issue settled and that they are looking forward to:
Continuing the important work of Morningside Church.
They said that the settlement contains:
No findings whatsoever that our clients violated any laws or misled people.
While acting as the televangelist's legal counsel, Nixon said in a statement last year that:
Jim Bakker is being unfairly targeted by those who want to crush his ministry and force his Christian television program off the air. The video recording of the Jim Bakker Show clearly shows the allegations are false. Bakker did not claim or state that silver solution was a cure for COVID-19. This case is about religious freedom.
This despite the fact that, in the clip, Bakker is heard to say:
God has given us this product, I believe.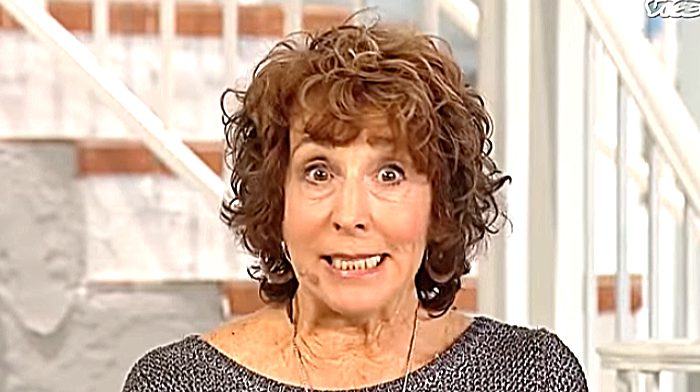 He then turns to his guest, naturopath "Dr" Sherrill Sellman, above, who wholeheartedly endorses it.
Truth in Advertising reported that, on March 11, 2020, the New York Attorney General's office ordered Sellman to:
Immediately cease and desist from making misleading claims.
Eight days earlier, Bakker received his own cease-and-desist letter from the Attorney General.
Six weeks after the segment aired on February 12, Bakker announced in a video that he was suspending sales of Silver Solution.
The AG's letter also advised Sellman to immediately affix the following disclaimer to all colloidal silver products offered for sale on her website:
These products have not been evaluated by the Food and Drug Administration, and are not intended to diagnose, treat, cure or prevent disease.
Among false claims made by Sellman were:
Here you have something [silver] that's been proven on everything it's been tested … It's been tested on viruses … It has no side effects, it's totally safe … there's no amount that ever has shown to be toxic …
And:
Everyone needs to have the Silver Biotics liquid and the silver gel in their medicine cabinet at home … What we're talking about today is how to protect yourself from these viruses … particularly this latest one that people are really concerned about, it's one of the most effective ways to protect yourself and to also use it therapeutically.
And:
It's been tested on other strains of the coronavirus and has been able to eliminate it within 12 hours.
US authorities warned Bakker's business and six others in March 2020 to cease selling anti-COVID products. A combined letter from the FDA and the Federal Trade Commission warned the businesses that their products for curing COVID-19 were "fraudulent," and that they also:
Pose significant risks to patient health and violate federal law.
Nixon said that after receiving the warning letters from the FDA and the FTC, Bakker promptly cooperated. He ceased selling silver solution durng his programmes and on his ministry website.
Sellman, too, stopped flogging the stuff on her own website, in which she says:
As a Board-Certified Integrative Naturopathic Doctor, mind-body psychotherapist, author, journalist, international lecturer, contributing writer to numerous health magazines and host of a weekly podcast, my focus has always been to offer practical, safe and effective holistic solutions for the myriad of the health and hormonal issues that challenging women of all ages.
Is it just me, or did I hear a sound of a distant quack?
• Please report any typos/errors to barry@freethinker.co.uk
If you'd like to buy me a cup of coffee – and boy, do I get through a LOT of coffee keeping this site active – please click the link below.
I'd love a cup of coffee