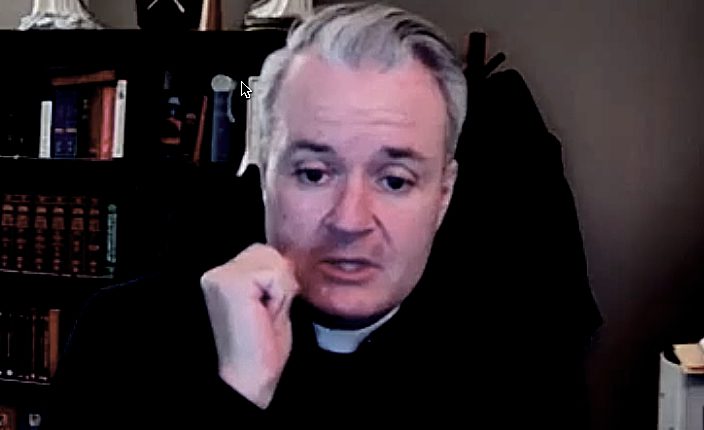 IN the midst of anger over the discovery of 215 bodies discovered at the Kamloops residential school run by the Catholic Church in Canada, Monsignor Owen Keenan, above, had the gall to to claim that people were ignoring the 'good' done at these ghastly institutions.
According to The Toronto Star, after his gross insensitivity was called out, Keenan, of Merciful Redeemer Parish in Mississauga, Ontario, offered his resignation to Cardinal Thomas Collins, Archbishop of Toronto, and will be on an indefinite leave of absence.
Keenan came under fire after mentioning that recent polling showing that two-thirds of Canadians believe churches that ran residential schools should bear responsibility for the abuses that happened there.
I presume that the same number would thank the church for the good that was done in those schools. But, of course, that question was never asked. And, in fact, we're not allowed even to say that good was done in those schools. I await to see what comes to my inbox.
In a statement sent to the Star, Keenan "sincerely"apologised for:
Any hurt I have caused and pledge to do better, especially at a time when there is a national conversation under way regarding residential schools.
The comments about the residential school system came just days before the discovery of 751 unmarked graves on the site of Marieval Indian Residential School, operated by the Roman Catholic Church.
In additional remarks during the same service, Keenan also said he hoped that Catholic school boards "might have had more courage" and flown a Catholic symbol, rather than the Pride flag, in the month of June. Keenan did not respond to questions from the Star about his comments on the Pride flag.
Its reported here that Keenan's church had been sprayed with graffiti, and police were investigating.
Meanwhile, CBC reports that the doors of a Roman Catholic cathedral in Saskatoon were splattered with paint on Thursday afternoon after the discovery of the graves at Marieval.
Video of the event posted to social media showed a woman painting and splattering red paint on the door and the sign of St Paul's Co-Cathedral.
Photos of the aftermath show the words "We Were Children" scrawled on the church door.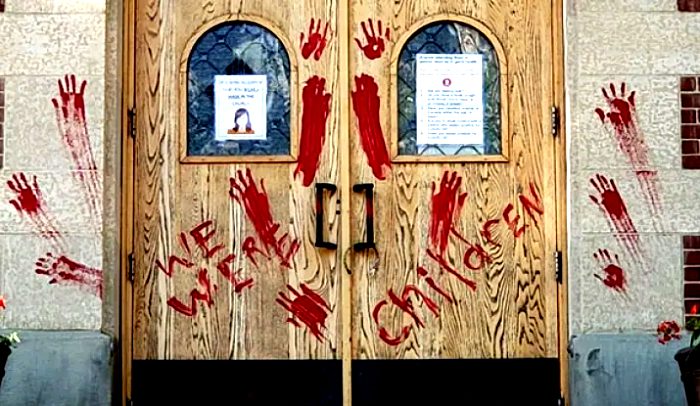 Father Stefano Penna, the priest at St Paul's, said this was the second time this has happened to his church after the discovery of the remains of people at residential schools.
He said he understands the anger Indigenous people are feeling, and would like to sit down with the group that targeted the church and listen to what they had to say.
However, he said he does not agree with their actions.
This objectively a crime. This is vandalism. This shouldn't be done to any crosswalks with the rainbow flag or any mosque or any synagogue. We don't ever solve anything that was hateful in the past by continuing to hate.
'A beautiful experience'
An eyewitness said watching the protest was a beautiful experience. Cathy Bohachik was outside the cathedral commemorating the 60th anniversary of her parents' marriage when roughly 20 people approached the area wearing orange shirts. Then one woman broke away from the group and began to paint the door.
It was very solemn, and it was very peaceful and it was really beautiful. She started to do her artwork, and we were actually quite speechless.
Indigenous affairs columnist Doug Cuthand said he was not surprised to see something like this happen, given recent events.
He said First Nations people across the country have a lot of anger and resentment that has been built up over the years. He mentioned two Catholic churches that burned down on the Penticton Indian Band and the Osoyoos Indian Band this week, as well as the removal of a statue of Father Joseph Hugonard at Sacred Heart Catholic cemetery in Lebret.
This is kind of something we've got to expect. The church has become a target and we can expect more of this in the future.
While Cuthand said burning down churches was unacceptable, he said First Nations people have the right to be angry at the church for its role in residential schools.
A lot of people remember getting their knuckles rapped by a nun or strapped by a priest. They've harboured all these feelings with them all these years. So, yeah, I expect this is going to overflow.
By Friday morning, the paint had been removed and a security guard had been posted outside the church.
If you'd like to buy me a cup of coffee – and boy, do I get through a LOT of coffee keeping this site active – please click the link below.
I'd love a cup of coffee