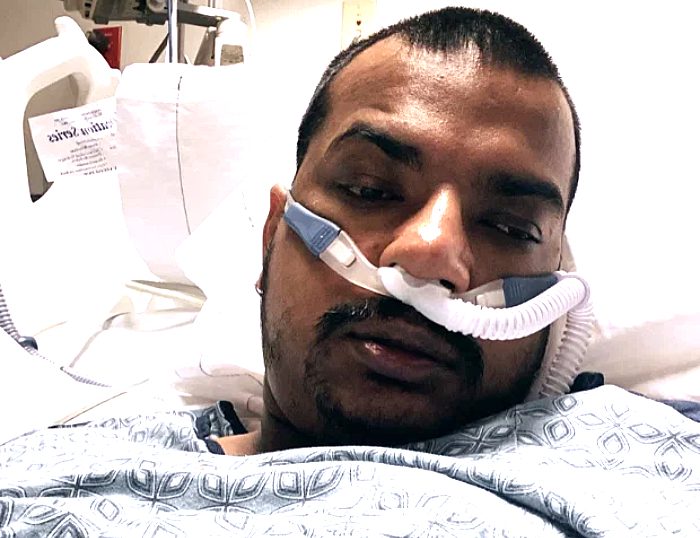 STEPHEN Harmon took to social media last month to poke fun at folk opting to get vaccinated against COVID-19, but just before he died last week in the Corona Regional Medical Center – about an hour's drive east of Los Angeles – he tweeted "Don't know when I'll wake up, please pray."
Harmon's jabs at vaccines included:
Biden's door to door vaccine 'surveyors' really should be called JaCovid Witnesses. #keepmovingdork.
He also tweeted:
I got 99 problems but a vax ain't one.
Later Harmon posted photos of himself in his hospital bed, wrote that he had pneumonia and critically low oxygen levels and was going to be intubated.
Three days before his death he tweeted:
If you don't have faith that God can heal me over your stupid ventilator then keep the Hell out of my ICU room, there's no room in here for fear or lack of faith!
According to this report, Harmon's death was "unbelievably demoralising". It was quoting Dr Oren Friedman, who treats Covid-19 patients at Cedars-Sinai Medical Center in Los Angeles. Friedman said the number of Covid-19 admissions had increased tenfold.
Virtually every single person that is getting sick enough to be admitted to the hospital has not been vaccinated.
California has seen escalating numbers of Covid-19 infections, led by the highly transmissible delta variant that has proliferated since the state fully reopened the economy last month. The vast majority of new cases are among unvaccinated people, and health officials have pleaded for people to get the shots.
On Friday, the state Department of Public Health reported nearly 8,000 new cases a day earlier and the testing positivity rate over seven days had jumped to more than five percent after dipping below one percent only a few weeks ago.
Harmon attended Hillsong Church in Los Angeles. Founder Brian Houston called him:
One of the most generous people I know. As a church, our focus is on the spiritual well-being of the people in each of our local communities. On any medical issue, we strongly encourage those in our church to follow the guidance of their doctors.

While many of our staff, leadership and congregation have already received the Covid vaccine, we recognize this is a personal decision for each individual to make with the counsel of medical professionals.
It's no surprise that Harmon's death has not been reported by leading anti-vax site, LifeSiteNews. Today its home page has headlines include:
• Biden spreads vaccine lies, ignores abortion during 'town hall' at liberal Catholic university.
• Widow says there's 'no doubt' in her mind that the Pfizer vaccine killed her husband.
• Only vaccinated people allowed at Pope's upcoming Mass in Slovakia.
• 47 studies confirm ineffectiveness of masks for Covid and 32 more confirm their negative health effects.
• NFL will severely punish teams if an unvaccinated player gets COVID.
• UK gov't. official revises previous statement, asserts only 60% of COVID hospitalizations are of the unvaccinated.
Little wonder the LSN has been hit with bans by social media companies. This from Wiki:
LifeSiteNews' Twitter accounts have been temporarily suspended at least four times since 2018; once in error, twice for violating rules against "targeted misgendering or deadnaming of transgender individuals", and once for violating rules against spreading COVID-19 misinformation.
LifeSiteNews' YouTube channel was banned in February 2021 for persistently promoting COVID-19 misinformation. One video claimed that COVID-19 was "the greatest hoax ever perpetrated on an unsuspecting public".
Another promoted anti-vaccine sentiment, cast doubt on the efficacy of COVID-19 vaccines, and stated that COVID-19 "isn't really killing people right and left that weren't probably gonna die within the year anyway".
These claims contradicted the scientific consensus and reports from authorities like the World Health Organization, and violated YouTube policies on promotion of health misinformation.
LifeSiteNews was permanently banned from Facebook in May 2021 for violations of policies prohibiting COVID-19 misinformation.. According to LifeSiteNews, Facebook said the ban was related to their policy of removing anti-vaccination accounts, and a Facebook spokesperson allegedly accused LifeSiteNews of disseminating "false information about COVID-19 that could contribute to physical harm".
A joint statement signed by Media Matters for America, GLAAD, the Human Rights Campaign, and NARAL Pro-Choice America said they had collected and reported to Facebook over 100 posts by LifeSiteNews that allegedly spread COVID-19 and vaccine-related misinformation. They added that they believed Facebook should have banned the group "years ago" for using the platform to "push its noxious anti-LGBTQ and anti-choice extremism".
When I tried to leave a comment below one of these reports, this is what happened:

Hat tip: BarrieJohn
Please report any typos/errors to barry@freethinker.co.uk
If you'd like to buy me a cup of coffee – and boy, do I get through a LOT of coffee keeping this site active – please click the link below.