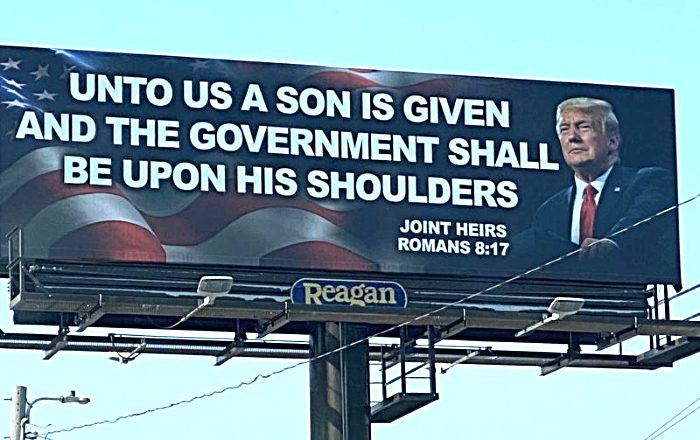 A LARGE billboard suggesting Trump is the Messiah made a brief appearance in Georgia at the end of the week.

It was removed after social media users described it as "blasphemous" and pointed out that those responsible for the thing used the wrong Bible verse to get their message across.

"Unto us a son is given, and the government shall be upon his shoulders," the sign read, ending with "Joint Heirs, Romans 8:17."
According to Religion News Service, Romans 8:17 reads:
Now if we are children, then we are heirs – heirs of God and co-heirs with Christ, if indeed we share in his sufferings in order that we may also share in his glory.
"Unto us a son is given …" actually comes from Isaiah 9-6, which goes on:
And he will be called Wonderful Counselor, Mighty God, Everlasting Father, Prince of Peace.
No-one seems to know who was responsible for the billboard and the misquote.
RNS said the billboard sparked an immediate backlash across social media from Christians and non-Christians alike. There were calls of blasphemy and accusations of violations of church and state.
Retired Chattanooga pastor and hospital chaplain Bill Bond tweeted:
People just over the border in Georgia seeking to redefine blasphemy. And doing an excellent job at it.
Bond was the first to post a photo of the billboard on Twitter.
Dr Jeffrey L Scott, an educator in nearby Dade County, Georgia, tweeted:
As a Christian and proud American I find this very disturbing …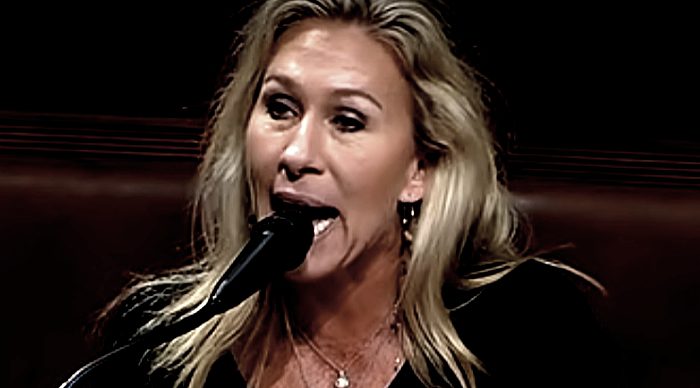 The billboard was placed on a well-traveled commuter route in Fort Oglethorpe, Georgia, near the border of Tennessee. The area is a Republican stronghold represented by the Christ-crazed US Representative Marjorie Taylor Greene, above, the 'sorriest excuse for a congresswoman we've ever had',
The billboard indicates that is owned by Reagan Outdoor Advertising based in Salt Lake City, which has a history of political involvement in Utah but was not reportedly responsible for the Georgia sign.
Scott Hibberts, General Manager of Reagan's Chattanooga office, told The Chattanooga Times Free Press that the company:
Supports our advertiser's First Amendment rights and the use of our displays to promote legal products and services, as well as other messages that may be editorial in nature as long as those messages are not offensive to the moral standards of the community, do not provide misleading or false statements, and are legal.
The Trump sign was reportedly placed for a client of Atlanta-based company Impact Outdoor Media. The media company did not respond to a request for comment.
The Catoosa County Republican Party also denied any involvement and had no further comment on the billboard's message or origins.
Writing for RNS, Heather Greene said:
The location chosen for the sign suggests that it was intended to speak to Trump's loyal base by making the connection between the voters' strongly held political and religious beliefs. If so, it seems to have misfired.
In 2018, residents of St. Louis County, Missouri, were treated to a similar billboard that read: "Make the Gospel Great Again. The word became flesh – John 1:14." According to reports, residents there were also confused by the message, wondering if it was suggesting that Trump was the Messiah.
Please report any typos/errors to barry@freethinker.co.uk
If you'd like to buy me a cup of coffee – and boy, do I get through a LOT of coffee keeping this site active – please click the link below.