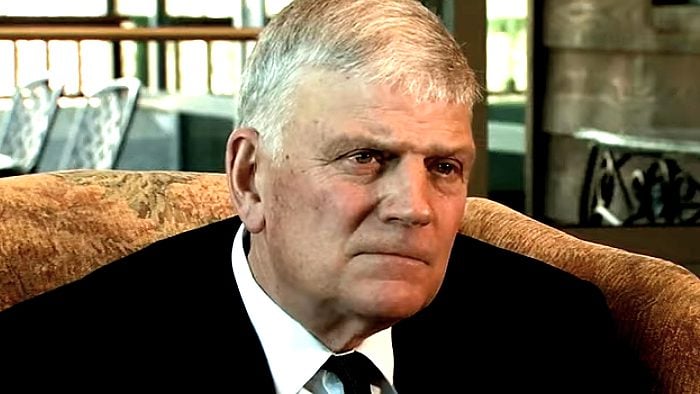 EVANGELIST Franklin Graham, above, has found something new to hate: "ungodly" passports for Americans that who identify as non-binary.
Reacting to news that America has approved passports with an X marker, the Trump-loving bigot called on countries to turn back anyone in possession of  a gender-neutral passport.
Acccording to this report, Graham said on Facebook:
I hope countries will reject recognizing this passport and refuse the person carrying it into their country. The State Department is wrong. This is not truth or science. We only have two genders: Male and Female.

Gender X is not only nonsense, it is going against God. The State Department is turning the American passport into a farce, not to mention flaunting God.
He closed his post by asking his followers to:
Pray that those running our government will come to their sense, or be voted out of office.
Writing for LGBTQNation, Alex Bollinger said:
What Graham is calling for is for countries to refuse to accept an official U.S. document as proof of identity and nationality, effectively having foreign nations disrespect the U.S. government in order to advance his political agenda because his party lost the 2020 elections.
Several other countries such as Canada, New Zealand, and Pakistan already issue passports with gender markers beyond M and F, and the US didn't even have gender markers on passports before 1977.

A federal judge ruled in 2019 that the US had to issue a passport to Dana Zzyym, above – who is intersex and non-binary – without an M or F gender marker after years of litigation.
Zzyym was the person issued the first US. passport with an X gender marker on  Wednesday, and said:
I almost burst into tears when I opened the envelope, pulled out my new passport, and saw the 'X' stamped boldly under 'sex.' I'm also ecstatic that other intersex and non-binary US citizens will soon be able to apply for passports with the correct gender marker.


It took six years, but to have an accurate passport, one that doesn't force me to identify as male or female but recognises I am neither, is liberating.
Also ecstatic is the American Civil Liberties Union's Arli Christian, the organisations's campaign strategist, who said:
Today is a milestone for the United States as the State Department issues the first passport with an 'X' designation, and we are so glad that soon all transgender, intersex, and non-binary people will be able to access an accurate marker on their passport.

The ACLU will continue to work with Biden administration so that accurate gender markers are available on IDs and records across the federal government.
In January, ACLU launched a six-figure campaign – its largest ever targeting the federal government on LGBTQ rights – to urge the Biden administration to issue an executive order on accurate federal IDs across all federal agencies.
Almost 100,000 Americans contacted the White House in support of the executive order, which is also supported by a coalition of over 80 advocacy organizations and several congressional offices.
• Please report any typos/errors to barry@freethinker.co.uk
If you'd like to buy me a cup of coffee – and boy, do I get through a LOT of coffee keeping this site active – please click the link below.
I'd love a cup of coffee