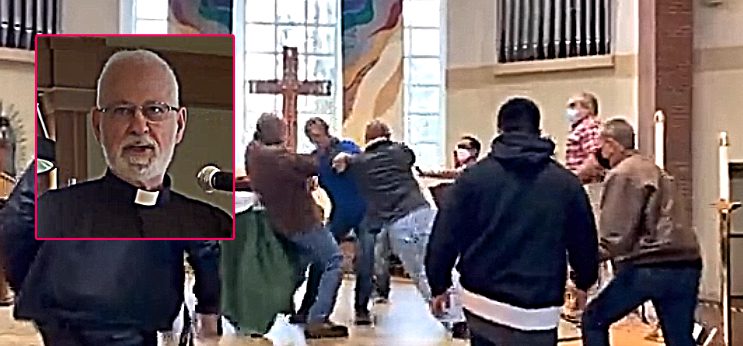 AFTER Fr Paul Brunet, inset above, ordered a man out of his church a brawl broke out. Soon after a video of the incident went viral.
Initial coverage suggested that the brawl was sparked at St Frances Cabrini Parish in Lakewood, Washington, after the man had entered the church without a face mask, but according to this report Brunet may been targeted because the man was convinced that the priest was a sexual predator and a danger to children.
According to documents filed with the Superior Court of Pierce County, Washington, a petition for a Sexual Assault Protection Order was filed against Brunet on September 27 by a man who wrote that the reason for the order was that:
My son will be sexually abused.
The petition was rejected the same day by Pierce County Superior Court Commissioner Karen Watson because "the sexual assault protection order petition does not list a specific incident and approximate date of nonconsensual sexual contact" and "preponderance of the evidence has not established that there has been nonconsensual sexual contact."
According to the petition, the man believed that Brunet "is unstabe [sic] and … could potentially commit a murder suicide."
In the section of the form where he was asked to describe the respondent's nonconsensual sexual conduct, it says that on one occasion in April:
During mass when priest [Paul] was at stations of the cross he kept batting his eyes at me.
He also describes:
Previous dates throughout 2021 and previous years the priest would specifically pick me out to look into my eyes at the altar then look away suddenly. During Mass.
On the form, when asked to describe why he has "reasonable fear of future dangerous acts," the man wrote that Brunet's "actions," as well as past experience of sexual abuse in his own family in the early 2000s "leads me to believe that my son is in imminent danger to go to school. He will be abused."
He went on to add that his son has attended the school since prior to Fr. Brunet's arrival at the parish, and that:
The priest lives adjacent to the school and has contact with all the children.
In the section asking whether the possession of a firearm by Brunet poses a "serious and imminent threat to public health and safety," the man wrote:
I am afraid of this man and what he will do to my son.
He also indicated that Brunet was:
A risk to my wife as well. I don't trust him at all.
In a letter to congregants, Brunet said:
The events leading up to this unfortunate incident began last month. After an initial pastoral appointment with [name redacted], his behavior has worsened and become less predictable. He has engaged in a course of abusive and threatening conduct, directed not just at me but towards the parish and school staff.

Under the circumstances, the parish and school had no other choice but to obtain a 'No Trespass' order from the Lakewood Police Department against (name redacted). He chose to disregard this order when he appeared at Mass yesterday.

The safety of the children, parishioners and staff are our top priority. The parish and school are working closely with the Lakewood Police department, the Lakewood City Attorney and private security to maintain extra safety precautions.
The man was arrested but later released and is awaiting a date for his first appearance in court. Brunet said the church and the Lakewood police are working closely to maintain extra safety precautions in the building.
• Please report any typos/errors to barry@freethinker.co.uk
If you'd like to buy me a cup of coffee – and boy, do I get through a LOT of coffee keeping this site active – please click the link below.
I'd love a cup of coffee