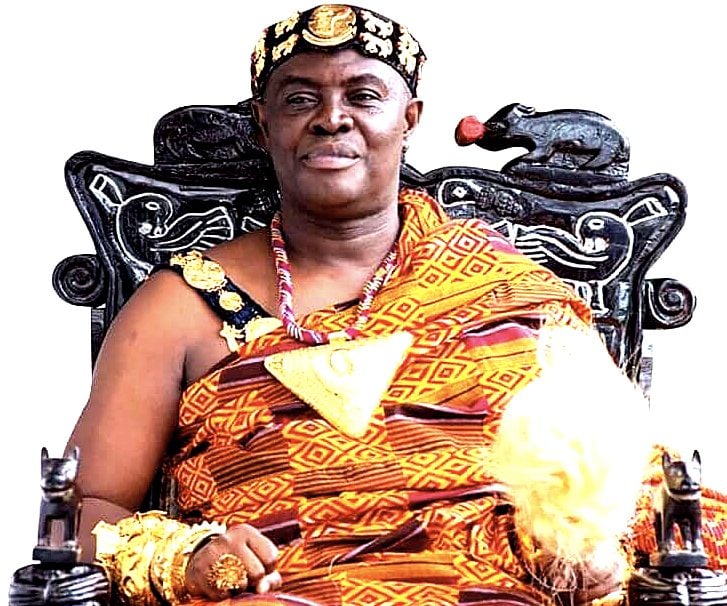 CLAIMING that "pastors and the majority of Ghanaians" oppose homosexuality and transgenderism, regional leader Osagyefo Oseadeeyo Agyemang Badu II, above, warned that if a draconian new bill is not passed, he will storm parliament with "10,000" supporters.
Ghana's parliament is currently debating the Promotion of Proper Human Sexual Rights and Ghanaian Family Values Bill 2021, which would promote conversion therapy and ban advocating for LGBTQ rights. And, according to the BBC, both Anglicans and Pentecostal leaders have thrown their weight behind the proposed legislation.
Ghana's Anglican House of Bishops said in a statement in support  of the bill that Christianity and Ghanaian tradition and culture oppose same-sex relationships.
Badu, President of the House of Chiefs in the region, chimed in with a warning that "all the beautiful women" will not be able to marry if homosexuality is legalised in the country.
He said that he was "saddened" to hear that some members of Parliament oppose the bill, which has been condemned as a human rights violation by the UN.
It is like some educated are now becoming backward thinkers.
Homosexuality is already illegal in the majority-Christian country, and the new bill would increase the maximum prison sentence for homosexuality from three to five years. It would also ban "grossly indecent acts" that involve "amorous relations" between two people of the same sex, which experts say could include holding hands, as well as "intentional cross dressing."
Moreover, a ban on LGBTQ "propaganda" puts people at risk for prosecution for associating with LGBTQ people, which led one Ghanaian publication to say:
It compels Ghanaians to police gender and sexuality in their homes, workplaces, and everyday lives.
The human rights group Rightify Ghana described the bill as:
The most homophobic document the world has ever seen.
France 24 reports that while discrimination against LGBT communities is common in Ghana,  no one has ever been prosecuted under the existing colonial-era law.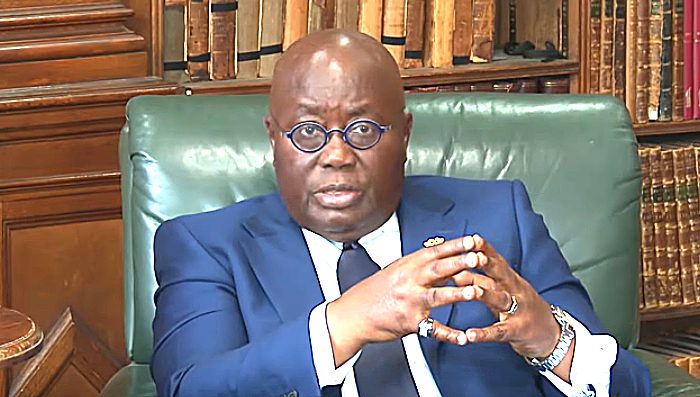 It adds that President Nana Akufo-Addo, above, is not all enamoured with the bill, but is being been pushed into a tight spot by opposition politicians who do want it passed.
According to Wiki Akufo-Addo has taken a relatively moderate line on LGBT rights. In November 2017 – the year he became President – he suggested that the legalisation of homosexuality was inevitable and said he could foresee a change in the law,
Akufo-Addo, who spent much of his early life in England, said that LGBT rights will evolve in Ghana as they have in the UK. However, he affirmed that LGBT rights were not part of his government agenda at that time. In August 2018, he reiterated that the Government of Ghana would not legalise same-sex marriage or decriminalise homosexuality under his leadership.
One of the bill's  main sponsors, Samuel Nartey George, told AFP:
We need to protect our children who are currently being targeted by these LGBTQ+ people making them believe that it's the new way of life. Our culture should not be destroyed.
Davis Mac-Iyalla, director of the Interfaith Diversity Network of West Africa, criticised the cultural argument.
To tell me that it's not part of our culture and that these people don't exist, I would say it's a blunt lie, people know LGBT in their communities, in high places.
France 24 says the issue has arisen at an inconvenient time for the President who wants to attract African-Americans and the Ghanaian diaspora through his programme "The Year of Return".
Danny Bediako, Director of Rightify Ghana, said:
Most people don't really believe he will sign it, but its difficult, because religious institutions are very powerful here.
Activists worry Ghana will follow the same path as Nigeria and Uganda, where similar bills were passed in recent years.
Henry Kwasi Prempeh, Director of the Ghana Center for Democratic Development, said:
When countries legislate prohibitions around association and freedom of expression, which are fundamental human rights that are protected under international law this gives members of the public the authority, the tools, to perpetrate violations. People are attacked on the streets, people don't get medical treatment … people are kicked out of schools, people are kicked out of their homes.
Bediako and Mac-Iyalla both say they personally know LGBT people in Ghana who are already thinking about leaving the country.
"The sad situation is that it has really led to an increase in homophobia in Ghana," said Bediako.
"Many are already in serious dilemma," said Mac-Iyalla, and "there's a high interest in fleeing Ghana already, because of the threat coming."
• Please report any typos/errors to barry@freethinker.co.uk
If you'd like to buy me a cup of coffee – and boy, do I get through a LOT of coffee keeping this site active – please click the link below.
I'd love a cup of coffee