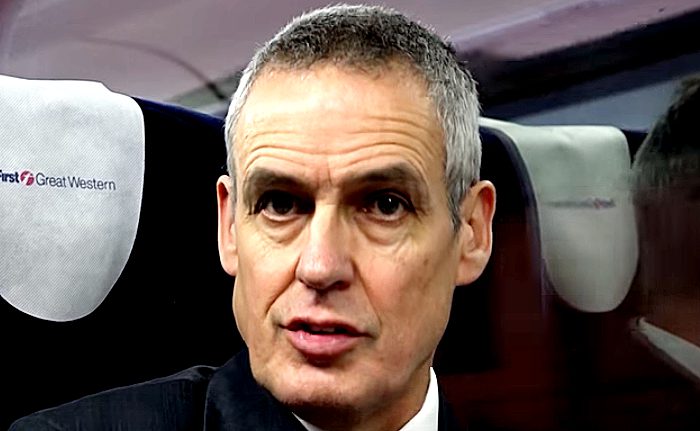 WHEN I started a petition recently to have odious hate preacher Stephen Green, above, removed from a list of right-wing bigots standing for election to the council of the National Trust, the UK's leading heritage conservation organisation, I knew not many would sign it.
I did so primarily to expose the fact that Green's attempt to get elected was to infiltrate the NT, not because he gives a flying fuck about conservation of old buildings, or indeed the environment, but solely because he's a Grade A-listed hate-monger who has no place in secular body he perceives to be too gay-friendly.
Well, this weekend, when the NT held it's AGM, I learned with horror that this nasty piece of work, who runs a pathetic anti-vax, homophobic and creationist site called Christian Voice UK, had come within a whisker of achieving his goal.
He polled 33,564 votes, a shocking indication of how many NT members support a man known only for hatemongering and brutality.
From Rational Wiki:
According to his ex-wife, Caroline: He told me he'd make a piece of wood into a sort of witch's broom and hit me with it, which he did. He hit me until I bled. I was terrified. I can still remember the pain.

Stephen listed my misdemeanours: I was disrespectful and disobedient; I wasn't loving or submissive enough and I was undermining him. He also said I wasn't giving him his ­conjugal rights.

He even framed our marriage vows – he always put particular emphasis on my promise to obey him – and hung them over our bed. He believed there was no such thing as marital rape and for years I'd been reluctant to have sex with him, but he said it was my duty and was angry if I refused him. But the beating was the last straw. It ­convinced me I had to divorce him.
I'd come across this posturing gasbag in my former home town, Brighton, when he and a small bunch of cohorts would arrive to protest annual Pride parades. I also had the pleasure of seeing him being shat on by a sea gull when he came to protest the staging of Jerry Springer: The Opera. It was, he loudly declared, "blasphemous" because the man playing his beloved Jesus, described himself as "a little bit gay."
It was then that the gull swooped in and defecated on the fool – and forever after the evangelist was referred to as Stephen "Birdshit" Green.
Not content with simply voicing his fury, the nutter stupidly decided to sue the BBC, which screened the musical comedy, for "blasphemy."
Again from Rational Wiki:
Sweet juicy justice was served in late 2007, when Lord Justice Hughes and Justice Collins rejected the suit, ruling there was no case to answer.. The BBC and producers were awarded costs amounting to several tens of thousands of pounds sterling, which Green says he cannot afford to pay. The odious little toad has the nerve to demand sympathy for his plight.

A petition he began to demand the BBC drop its pursuit of legal costs was signed by almost 1,500 people, the majority of whom used false names and left mocking comments.

In response to the case, the Labour government amended the 2008 Criminal Justice Bill (now Act) to remove the offence of blasphemy from the statute books, though there are now potentially restrictive hate speech laws.

The actual AGM at the weekend was, according to The Guardian, a bad-tempered affair:
Often a controversial event, this year proceedings veered close to one of the blood sports that animated the debate. Cancelled last year, participants had longer than usual to build up a head of steam.
Given that Green came so close to getting voted onto the NT Council, I am convinced that he will stand again election next year, so I'll not remove my petition, which drew just 1o3 signatories. So feel free to add your name.
• Please report any typos/errors to barry@freethinker.co.uk
If you'd like to buy me a cup of coffee – and boy, do I get through a LOT of coffee keeping this site active – please click the link below.
I'd love a cup of coffee