"When the Devil has a plan to take you out, God has a plan to keep you in. Hallelujah!"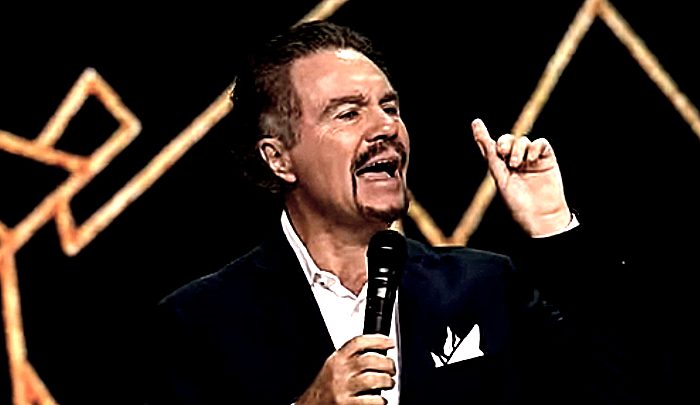 Those words came out of the mouth of Marcus Lamb, above, the very wealthy head of the Christian Daystar Television Network, in a recent YouTube video.
Then, after he snuffed it yesterday (Tuesday) aged 64, his son Jonathan declared that Lamb's Covid-19 death was "a spiritual attack from the enemy" to "take down" the prominent televangelist.
Daystar's request for prayers for his recovery when he contracted the virus proved fruitless … as ever.
In reporting that Lamb had been handed a Herman Cain Award by a god who'd apparently had more than enough of the dangerous fool's anti-vaccine messages and conspiracy theories NBC News said that the network has dedicated hours of broadcasts to anti-lockdown and anti-vaccination activists and groups.
In July 2020, the Lamb family devoted an hour of their broadcast to "censorship" around the Covid pandemic, featuring the misinformation group America's Frontline Doctors.
In May, Daystar broadcast an hour-long programme with Robert F Kennedy Jr, whose famous family denounced his anti-vaccination views in May 2019. Kennedy was recently banned by Instagram for posting Covid vaccination misinformation.
The network said in a tweet on Tuesday:
It's with a heavy heart we announce that Marcus Lamb, president and founder of Daystar Television Network, went home to be with the Lord this morning. The family asks that their privacy be respected as they grieve this difficult loss. Please continue to lift them up in prayer.
The network and the guests it featured insisted that Hydroxychloroquine (HCQ) cured Covid infection – an outright lie.
The network also resisted President Joe Biden's calls for mandatory vaccination. Daystar Television Network joined forces with Mississippi-based Christian fundamentalist organisation, American Family Association, in a court challenge against the Biden administration's vaccine mandate.
I had occasion to post a piece about Lamb last December when it was revealed that he received almost $4-million from the US government's COVID-19 Paycheck Protection Program (PPP). Soon after he and his family began jetting around the country in a newly-acquired, multimillion-dollar 1997 Gulfstream V, enjoying holidays in Florida and California.
When the press got wind of Lamb's new acquisition and starting digging into his lavish lifestyle, he insisted the new jet was a replacement for an old one, and that it was being used for "ministry purposes."
Many didn't buy Lamb's explanation, and, faced with fury expressed on social media, he returned the $3.9 million DTN received.
Hat tip: Angela_K
• Please report any typos/errors to barry@freethinker.co.uk
If you'd like to buy me a cup of coffee – and boy, do I get through a LOT of coffee keeping this site active – please click the link below.
I'd love a cup of coffee