THERE a two reasons why the city of Enid in Oklahoma should never have erected a 140-tall "Christ tree" decked out with baubles weighing 4,200 lbs.

First, the area is subject to extremely high winds. According to this report:
Wind is always an issue in Western Oklahoma … insanely, crazy winds.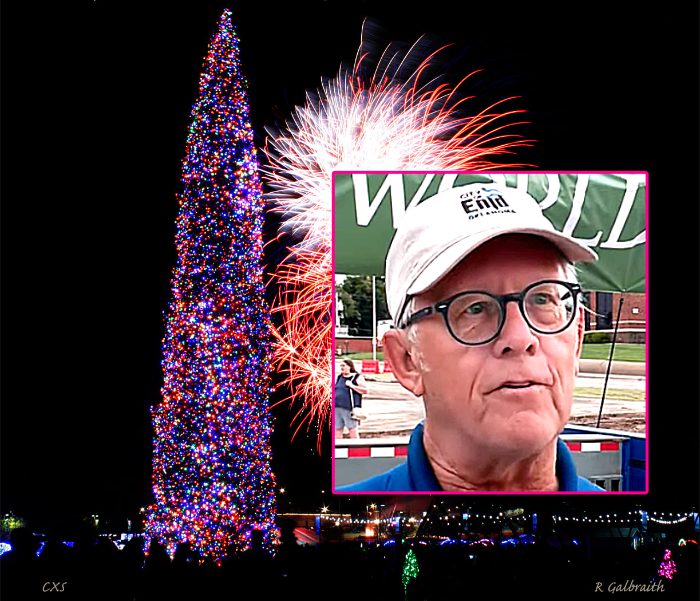 Second, and most important, Enid's Mayor George Pankonin, inset above, was warned in a letter from the Freedom From Religion Foundation (FFRF) that spending more than $150,000 of taxpayers' cash on the project was blatantly unconstitutional as it breached the separation between church and state.
Mother Nature apparently concurred, and on December 5, it sent a mighty gust that lopped 27 ft off the tree.
In announcing its arrival from Northern California, "The One Enid" posted this on social media: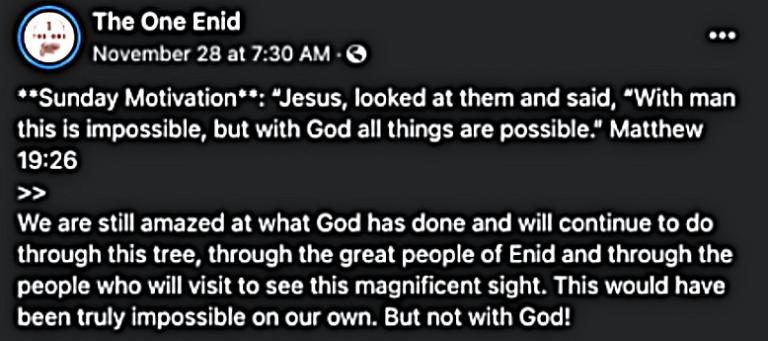 Back in September, when Enid announced it's intention to erect the world's largest festive tree, Pankonin and City Council members received the FFRF letter, but obviously chose to ignore it.
FFRF pointed out that there were:
Serious constitutional concerns with the City of Enid expending more than $150,000 of taxpayer funds to support the construction of a religious 'Christ Tree' and many religious worship events intended to take place at the tree.
It added that "multiple" concerned Enid residents have reported that the City has partnered with an Enid resident, Kyle Williams, to put up a large Christmas tree, which is referred to as the "Christ Tree," and to build surrounding infrastructure that will be used explicitly for a religious event called "The One," and multiple religious worship services.
We understand 'The One' is meant to to remind the Enid community of the true meaning of the Christmas holiday – celebrating the birth of Jesus Christ. 'The One' will include free public concerts, musicals, carols and other events organized by churches and individuals, including five religious worship services on Christmas Eve, which will all be held at the 'Christ Tree.'

We write to request that the City immediately cease any infrastructure work that utilizes taxpayer funds in order to support the "Christ Tree," and "The One" event. The City must also cease any promotion or endorsement of this religious event.

When a city promotes and expends $150,000 of taxpayer funds in order to support a religious structure and multiple worship events, reasonable citizens will interpret this as government endorsement of religion. The City of Enid must cease expending taxpayer funds to support religion, and must cease promoting religious events. We request written assurances that the City will cease this project, and will not spend taxpayer funds on religion in the future so that we may notify our local complainant that this matter has been resolved.
As the great and the good who manage Enid's affairs chose to bin the FFRF's letter, the forces of nature appear to have stepped in to partially resolve the matter.
• Please report any typos/errors to barry@freethinker.co.uk
If you'd like to buy me a cup of coffee – and boy, do I get through a LOT of coffee keeping this site active – please click the link below.
I'd love a cup of coffee