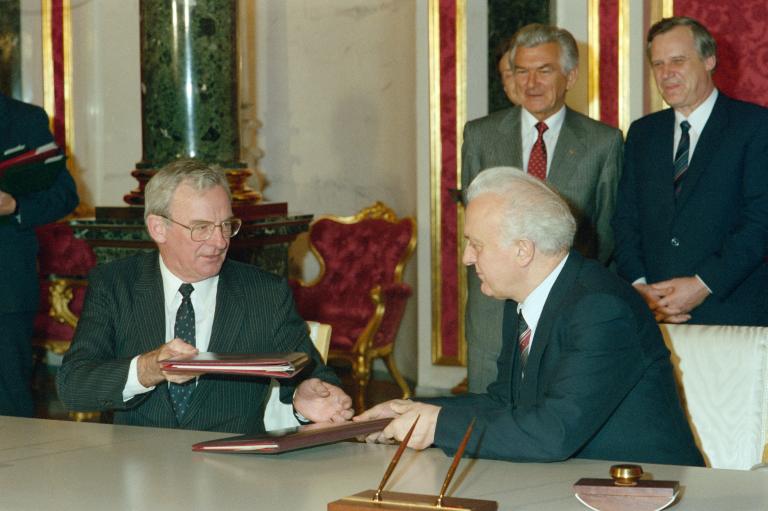 Some amazing news came out of Australia today with a famous atheist politician receiving baptism. Bill Hayden had been the leader of a major Australian political party, then was the Governor General of Australia for 7 years. (The Governor General is the one who signs bills into law in the Queen's name in 15 Commonwealth countries.) Recently, at 85, he renounced his atheism and joined the Catholic Church.
Getting Close to Death
The Australian reports his motivation to take this step.
Bill Hayden, at age 85, has ­renounced his atheism and been baptised into the Catholic Church.

The former Labor leader and governor-general said it was witnessing so many selfless acts of compassion by Christians over his lifetime, and deep contemplation while recovering from a stroke, that prompted his decision.
Toying with Catholicism for Years
The Australian article continues with a bit of background from Bill Hayden.
"I always regarded myself as a fellow traveller with Catholicism and declared I was a Catholic on official forms, but it wasn't official," Mr Hayden said. [His family had been Catholic.] "I would go to mass every Sunday and then go to benediction when I was a teenager. I didn't know that I wasn't officially a Catholic, and found that out only later when my sister did the family history.

"When you grow up with it, I don't think it ever really leaves you. The Catholics have ceremony very much in place. But it was more than that. I could just feel in my heart that I didn't feel fulfilled.

"There is more to life than just me. I had to make a dedication of myself for the good of others, ­before God. I felt that strongly."
Sincere Motivations to Convert
It is also worth noting the reasons Bill Hayden wrote to friends about his conversion.
In a letter to family and friends, he explained that the Christian principles of "humanity, social commitment and service to ­others" aligned with his personal and political values, and guided his return to the Catholic faith.

"Christianity represents for me the qualities I have attempted to apply in my life but from now on will strive to uphold, with faith," he wrote.
So often we can write people off and think there is no hope. However, stories like this of conversion late in life should teach us not to lose hope on anyone.