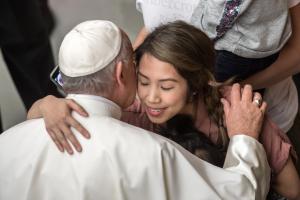 Yesterday, Pope Francis was in Palermo. After one of his meetings, he gave an impromptu blessing prayer. Online, people exploded claiming that he was refusing to give the Apostolic Blessing using the standard formula and the Trinitarian invocation. As far as I could trace it back, this tweet started the controversy.
At the end of his meeting with the Youth of Sicily today, Pope Francis refused to give the Pontifical Blessing, as not to offend the "many non-Catholic christians, those of other religions, and the agnostics" present pic.twitter.com/mnNEXp6scN

— Catholic Sat (@CatholicSat) September 15, 2018
This tweet is fake news! He never refused anything, he never mentioned others being offended. He simply thought a blessing talking about the "seed of restlessness" in the heart might be best in this circumstance. I don't know if it as best but I don't obsess over ad-libbed prayers that are orthodox.
Fortunately, the same account gave us a reasonably good translation of the Pope's words.
My English translation of what the Pope said instead of his Apostolic Blessing: pic.twitter.com/39S7CDAFKr

— Catholic Sat (@CatholicSat) September 15, 2018
A Perfectly Fine Blessing
If you read that text, the Pope is clearly asking for God's blessing on the people present. Several things are worth noting about this blessing,
It uses the deprecatory formula (may you bless) rather than the indicative (I bless). Both are used in the Church and well-established in tradition even though indicative is more common in West.
He speaks of "God" rather than invoking each person of the Blessed Trinity. This would be a problem if a priest bishop or Pope never spoke of the persons of the Trinity but if we can't use "God,"  we lose a lot of good prayers.
Obviously, this is not the standard formula but it's much like if you asked a priest to bless the food and he did an impromptu blessing rather than, "Bless us, O Lord and these thy gifts…" Sure, many of us prefer the latter, but the former isn't something we should be too concerned about.
Also, the nature of an apostolic blessing by the Pope seems to be that the Pope can use whatever formula he desires and need not stick strictly to the ritual (Bishops and priests must stick to the ritual for the blessing to be apostolic). There is a standard formula but the Pope is not obliged to follow it.
Three Blessings in One Day
Deacon Greg Kandra gave a good summary of Pope Francis's day in Palermo. He gave at least three blessings, including the apostolic blessing using the standard formula. He also gave a blessing during Mass.
The pope evidently had three non-liturgical public events in Palermo.

1) After meeting with clergy, religious and seminarians, he concluded his talk with these words:

"I thank you and I bless you, and excuse me if I was a bit strong, but I like to talk like that! I wish you the joy of celebrating, accompanying and witnessing the great gift that God has placed in your hearts. Thank you, and pray for me!"

2) Meeting with large numbers of the faithful in the Piazza, he concluded:

"Now I will give you the blessing, but let's prepare the heart to receive it. Everyone thinks about his loved ones, because this blessing falls on loved ones. Think of his friends. And you also think about the enemies, the people I do not love, and who do not love me. Open everyone's heart, for this blessing descends on everyone."

[Apostolic blessing using the stadard formula]

3) Finally, he met with the young people and finished his remarks with these words [the video above]:

"Now I would like to give you the blessing. I know that among you there are young Catholics, Christians, other religious traditions, and even some agnostics. For this I will bless everyone, and I will ask God to bless that seed of restlessness that is in your heart.

"Lord, Lord God, look at these young people. You know each of them, You know what they think, You know that they want to move on, to make a better world. Lord, make them seekers of good and of happiness; make them active in their journey and in their encounter with others; make them bold in serving; make them humble in seeking the roots and carrying them forward to bear fruit, to have identity, to have belonging. May the Lord, the Lord God, accompany all these young people on the journey and bless everyone. Amen."
He gave a blessing following the normal rite at the largest two events (Mass and meeting in the Piazza) while giving a less formal blessing two other times. The Pope is under no obligation to always follow the exact formula of a blessing, especially in a non-liturgical context when the form is far less rigid. There are far bigger concerns in the Church and the world to worry about than if the Pope uses a formula or does an impromptu blessing. Whether you like the Pope or not, let's please let this non-issue die.
Why He Was in Palermo
EDIT: focusing so much on the blessing, I forgot why he was in Palermo: to commemorate a priest who was a victim of the mafia and condemn mafiosi. The Guardian reports.
Speaking on Saturday in the Sicilian capital, Francis said members of organised criminal networks – many of whom go to church and worship openly – "cannot believe in God and be mafiosi" at the same time. […]

The pope visited Palermo to commemorate Father Giuseppe "Pino" Puglisi, a priest shot dead by mafia hitmen in 1993 after he challenged the organisation's control over one of the city's toughest neighbourhoods.

Puglisi was killed on his 56th birthday during a bloody mafia offensive against the state and anyone else who threatened the group's existence. Magistrates Giovanni Falcone and Paolo Borsellino had been killed in twin bomb attacks in Palermo in 1992.