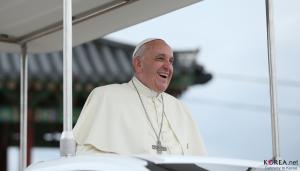 A few months back, The Catholic Herald asked me to interview about an article on "conservative" defenders of Pope Francis. I objected to using political labels like "conservative" and for Catholicism but I did the interview. (I have written before about why we should not use these labels.)
Today the article was published and including a few paragraphs on my comments:
For the Legionary priest and blogger Fr Matthew Schneider, defending Pope Francis is part and parcel of his priestly vocation. "To me, the call of the priest online is primarily part of the munus docendi – the power or duty of teaching – which is among the three munera [duties] we receive at ordination," he tells me. "As such, we are called to defend, explain and promote the Catholic Church and her teaching primarily through words."

Fr Schneider thinks the problem of anti-Francis conservatives is inherent in the word "conservative" itself – that is, applying partisan language to spiritual matters. "I am strongly orthodox and Catholic," he says, "but I don't identify with any political label."

He's also sceptical of drawing too sharp a line between Pope Francis and his predecessor, Benedict XVI, who remains a hero figure to orthodox Catholics. "Even though Pope Francis speaks in a different manner to the popes we remember, I don't see major problems with what he says or his way of speaking," he tells me. "We need to realise that Francis is more of a pastor, while Benedict … is more a theology professor, so the latter is more used to precise theological language."
I hope what I said was clear. If you are interested, a few of the other interviewees are worth reading.
Note: I don't get paid for this and I have no regular salary from a parish or similar so depend on donations. You can support me monthly on Patreon or one-time via Acceptiva.