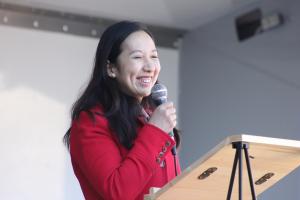 Dr. Leana Wen became the CEO of Planned Parenthood less than a year ago. This afternoon, the board met and kicked her out. She wanted to diversify the healthcare offerings of the abortion giant, but the board wanted to double-down on abortion. PP often claims that abortion is only 3% of what they do: this has never really been honest, but today's action reminds us that abortion is their focus. If abortion really was only 3% of what they did, focusing on the 97% while continuing the 3% would be a sensible strategy. An emergency board meeting to immediately replace a CEO not involved in a scandal only makes sense if abortion really is Planned Parenthood's focus.
Planned Parenthood's board met in emergency session Tuesday and approved Leana Wen's immediate departure just eight months after she took over the post. […]

People familiar with Wen's position said she has been battling over the organization's direction with new board chair Aimee Cunningham almost since Cunningham arrived in May. Wen had tried to refocus the organization's mission and image as a health provider offering a wide array of services, including abortions, they said. She replaced a number of the organization's top officials with people who supported that approach.

"I am leaving the organization sooner than I'd hoped because of philosophical differences about the direction and future of Planned Parenthood," Wen said in a letter to the organization's 55 affiliates and senior leadership. She said she wanted to work on a variety of health issues, but "the new board leadership has determined that the priority of Planned Parenthood moving forward is to double down on abortion rights advocacy."
You can read the whole article if you want, but most of the rest is background info you might already know.
This doesn't really change that much but it does put rest many arguments Planned Parenthood has used to defend itself.
Note: Please support me on Patreon to support more content like this. Sorry for having a few weeks with no content.