Vine: the video version of Instagram, because pictures just aren't enough anymore.
Vine is Twitter's new video sharing app for the iPhone. It's still fairly new and, judging by the lack of certain important features (like, say, privacy settings), you should expect to see many updates and enhancements to this app in the near future.
But, hey, I saw it on Ellen a few days ago so clearly it's a hit and we should talk about it.
How the app works:
1. Create account.
The set up is the same as every other social media app. You set up an account, create a username, and find friends.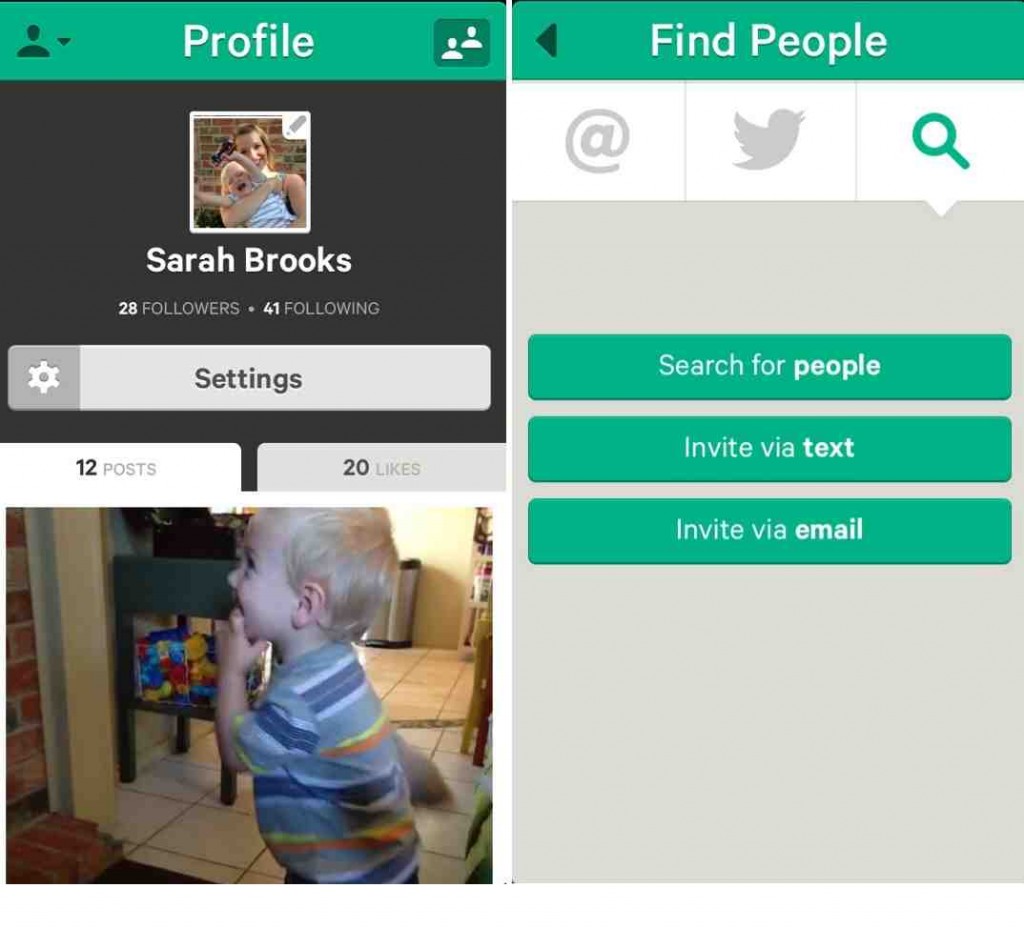 This app is a little tricky in the safety department. And by "tricky" I mean that it has zero privacy settings to protect accounts. I would guess that the developers will add in those features soon, but in the meantime, all videos and profiles are public.
2. Make a video.
Vine videos are created using the in-app camera, and are anywhere from 3 to 6 seconds long. Just a short 6-second-max snippet of life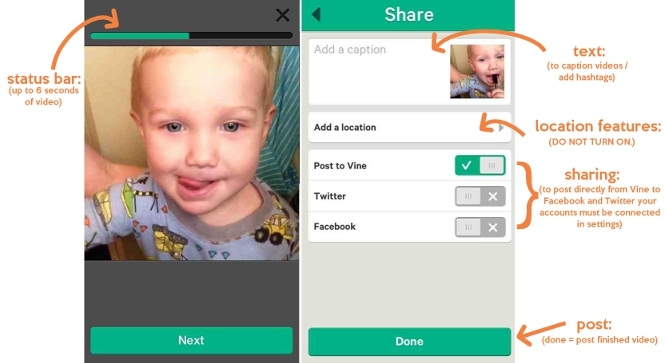 The fun part of Vine is the way the videos are created: the camera only records while the screen is being pressed. So within your 6 second video, you can have several tiny clips. Think stop-motion video style, if you're familiar with that. Better yet, I'll just show you my favorite stop-motion Vine:
(To hear the sound, unmute the video in the top left corner.)
I think it's obvious what you are Harry… https://t.co/S2Svx5viQ8

— Jackson Holland (@_jacsun_) March 20, 2013
3. Share with friends.
Once a video is uploaded to Vine, a copy is saved to the iPhone's Camera Roll.
Vine users can tag friends using @username, create #hashtags, and "like"/comment on others' videos. (In other words, your kids can communicate with each other on Vine just like they can on Instagram or Twitter.)
A quick note about hashtags…
A hashtag is a hyperlink designed to group information together. It is basically a way to join in on a public conversation. On Twitter it groups tweets, on Instagram it groups photos, and on Vine it groups videos. (On Facebook it does nothing. So stop hashtagging there.)
When enough individuals have adapted a certain hashtag, it might show up under the "trending" section, allowing even more people to join in on the conversation.
For example, here are the trending Vine topics for today:
Seeing the trending topics, I might want to join in with a video of my own last day of school. I'll create my video and use #lastdayofschool in my video caption. A quick search of that hashtag will pull up any and all videos using that tag (including mine). Make sense?
So, in a nutshell, Vine is 6 seconds of video clips, on a loop, with sound, shared with the world at large.
Parents: what concerns should you have about this app?
For starters, the lack of privacy controls. This is sketchy, especially if you have younger kids and are a protected-account-only family.
Also, stumbling upon raunchy messages and/or porn is always a risk in social media. With this app, I feel like I've seen a lot more filthy stuff than usual. I'm not just talking about naked people – I'm talking about more "f" words in 6 seconds than I've ever heard in my life. Part of it, I'm sure, is because video is more offensive to watch and hear than text is to read, but still. If your kids are on Vine, I would strongly encourage them to stick to their newsfeed to watch friends' videos only, not do a whole lot of exploring. Videos from the Vine world at large are 1 part funny, 9 parts nasty.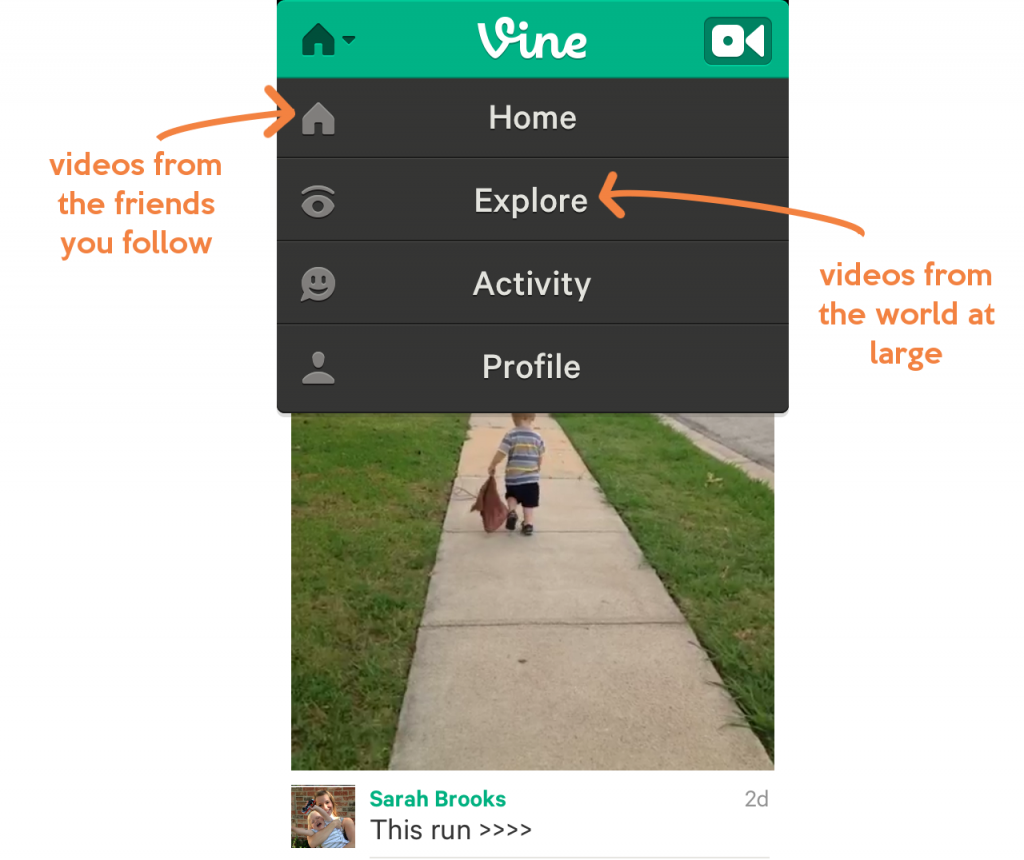 There are a few types of Vine users: the girl making boring videos of every day life (me), the guy trying to record and edit a 6-second masterpiece (the flying broom guy), and the gross dude who should be voted off the internet forever (the one who favors the "f" word).
Still, concerns aside, Vine is unique and pretty entertaining. It has more of a creative element to it than other sites.
And, if your kids are on Vine, just like every other decision in life, they get to decide who they want to represent and who they want to follow. Their Vines can contribute to the filth, or they can showcase their creativity by flying around your living room on a broomstick.
Let's encourage them towards the latter.
Because, really, Vine can be a fun place:
Table Toast #vine #stopmotion #magic http://t.co/JlSCGQb75K

— yelldesign (@yelldesign) February 27, 2013
Today. https://t.co/6rVclJJWji

— Adam Goldberg (@TheAdamGoldberg) May 7, 2013
#vinecation #loop http://t.co/EsOs9W3y7c

— Charlie Love (@clove) March 7, 2013
Self cooling system in the movie theater. http://t.co/5DOLjMoyBD

— Jesse Tyler Ferguson (@jessetyler) February 23, 2013
What do you think, parents? To Vine or not to Vine?
More Reading:
Sarah explains SnapChat here.
Sarah explains Instagram here. The comments on her original Instagram post are here.
Sarah's follow up post on Instagram is here.
Rebecca on explains why she Dumped Facebook.
Rebecca's followup: Breaking Up with Facebook Feels so Right
Rebecca two months later: Frankly, I'm Shocked at the Difference it's Made.
Check out Sarah's blog, Life as of Late, follow her on Twitter, or, yes, check out her Instagram account.