Beyond Sherwood
Despite the success of Sherwood Pictures, or perhaps because its success increased the studio demand for faith-based films, the screenplay greenlit by Affirm did not come from Sherwood Pictures and followed a more familiar Hollywood path. The script was written by Andrea Gyertson Nasfell for PureFlix, a small company that makes explicity Christian films for release to the home market on DVD. They range from Bible stories to post-rapture post-apocalyptic stories to present day stories heavily infused with Evangelical faith.
PureFlix pitched Affirm with the script, was accepted, and the Erwin brothers were attached to direct.
With her husband David, Andrea Logan-White owns PureFlix and has a supporting role in Mom's Night Out.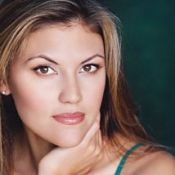 She moved to Los Angeles in her 20s and "got saved" shortly thereafter: "I experienced every type of sin imaginable and realized that I was so empty and sin broken, so I got saved in my early 20s and went very conservative because I just know the life that I lived. It was awful. It was sinful."
She is determined to make films that "bring back that place of balance, where you can have fun, have a savior and not have to compromise your beliefs or values. Obviously, do we want to change Hollywood? Absolultely."
However, the co-director of Mom's Night Out, Andrew Erwin, uses softer language in talking about his vision: "Our first goal when we take on a story is to tell a good story. To make sure it's an entertaining movie because we are in the business of entertainment. And if we don't entertain people, there's no reason to put our message in there."
He is more concerned with telling the truth than promoting a certain message:
I think a lot of times a film audience they can smell a fake a mile away….A filmmaker that's asking the audience to go on an emotional journey that they haven't taken themselves. So I think the first thing you've got to do is find a story that resonates with you. And is your goal to be not to get a message across but to go just tell a good story. And if you tell it in a way that is honest… I think the other thing that is a philosophy that I have is that my job is not… I'm not a preacher, I'm not a politician, I'm a filmmaker. I'm a storyteller. So I don't really need to tell people what to think. I need to challenge people to think. A filmmaker that I really respect, Paul Haggis, said the best films don't give answers, they ask the most penetrating questions. 
Make no mistake, however, Andrew Erwin is unapologetically a Bible-belt Christian from a ministry and political family and that will come through in his work. "But I think when [Jon and I] find a story that is entertaining,  nine times out of ten, we are attracted to stories that have our values just, you know, intrinsically in it."
Read more of our interview with Andrew Erwin
Erwin isn't necessarily trying to make movies as an alternative to Hollywood. He embraces the current Evangelical trend of wanting to "engage" Hollywood:
As a Christian, I really love engaging Hollywood. I don't think…I think as I've seen it, you know, Hollywood is not necessarily intrinsically bad or evil. It's a business. There's people that use that for bad things and there's people that use it for good things. I think as Christians sometimes we've been afraid to engage. While I was getting started with film ministry, I worked at ESPN for years, so I worked the secular side of things for a long time. So As a Christian, I really like engaging people that don't necessary agree with me. I like having healthy conversations and I guess debunking some of the stereotype. Instead of interacting with them in fear, I like interacting with them with confidence and humility.
Next: Patricia Heaton, Sean Astin, and the rest of the cast talk about faith and "Christian" film