Interview: Andrew Erwin on Filmmaking, Faith, and Being in Alabama
October 1, 2013
Rebecca Cusey
z-index: 1; padding: 0px; color: #000; background: #dddddd; outline:none; } ul.xtabs li a:visited { color: #000; } ul.xtabs li a:hover{ background:#5EADD0; } ul.xtabs li.selected a { /*selected tab style */ position: relative; top: 0px; font-weight:bold; background: #EBD94C; } ul.xtabs li.selected a:hover { /*selected tab style */ text-decoration: none; } ul.xtabs li a img { width:60px; height:60px; } div.xtabcontent { display: block; height:100px; overflow:hidden; padding: 0px 0px 10px 0px; } div.author { color: #555555; font: bold 18px/1.2em "Century Gothic",Verdana,sans-serif; padding: 4px 0px 2px 0px; } div.teaser { font: 11pt/1.2em Georgia,"Times New Roman",Times,serif; color: #555555; display: inline; padding: 0px 0px 10px 0px; } div.read { font: 11pt/1.2em Georgia,"Times New Roman",Times,serif; display: inline; float: right; } div.xtabcontents { padding: 1px 10px; background-color:#F2F0E6; border-radius: 8px 8px 8px 8px; margin: -2px 10px 0px 10px; }
Andrew Erwin is taking on Hollywood at its own game and in his own terms.
He makes movies from an unapologetically religious point of view.
He films – and lives – in Alabama, almost as far spatially and methaphoically as one can get from Hollywood.
And yet, as far as he is from Hollywood in philosophy, he is equally as far from his mentor and friend Alex Kendrick as well.
While Kendrick speaks language of ministry, theme and message, Erwin speaks about story, character, and even making money.
"I think our first goal – I mean… Jon and I are unapologetically Christian – and our first goal when we take on a story is to tell a good story. To make sure it's an entertaining movie because we are in the business of entertainment. And if we don't entertain people, there's no reason to put our message in there. But I think when we find a story that is entertaining, nine times out of ten, we are attracted to stories that have our values just, you know, intrinsically in it."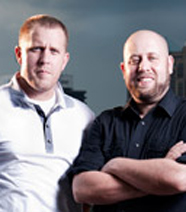 Rather than come to filmmaking, as Kendrick did, out of a sense of using the medium to reach people as a ministry, Jon and Andrew fell in love with moviemaking at a young age. After making growing up in the studio of their politician/TV minister father and attending a summer camp in which they made movies for the campers, "We fell in love. It was like…it was just…we got just hypnotized by it. [We realized] this is something we'd love to do for the rest of our lives."
Like many aspiring directors in Hollywood and out, they found ways to make money doing what they loved, making music videos, working on documentaries, and for many years, working for ESPN. Then a film to which they were attached – Mom's Night Out – was given the greenlight.
Erwin speaks the language of the younger generation of Evangelicals, using terms like "engage," "honesty," and "humility."
I think that the first thing you gotta do, is you can't go to make a movie trying to make everybody happy because I think those are the movies that end up offending more people because you're trying to..it's not honest.
Andrew Erwin and Jon Erwin are both married, both with young children. Their filmmaking is a family affair and their children grow up near extended family. The day of the press visit, their father, Hank Erwin is on set, shaking hands and slapping backs like the Southern politician he is. After a career as a radio and TV preacher, he went on to serve in Alabama's State Senate. Mom Shelia is on set too, beaming with pride and on the two boys she raised and homeschooled.
Andrew Erwin enjoys visiting Los Angeles, but he'll stay right on Alabama soil, he says:
I like being close to home. For some reason, this is where I feel most creative. I like the pace of life. I like being in a state where people really don't know a whole lot about what I do so I can just be a regular person and just be creative and it's the story, not all the chaos that goes around The Industry. So as long as I can, as long as it fits the narrative and it enhances the story, I'll keep making movies here as long as I can.
Read the entire transcript of the interview with Andrew Erwin here.