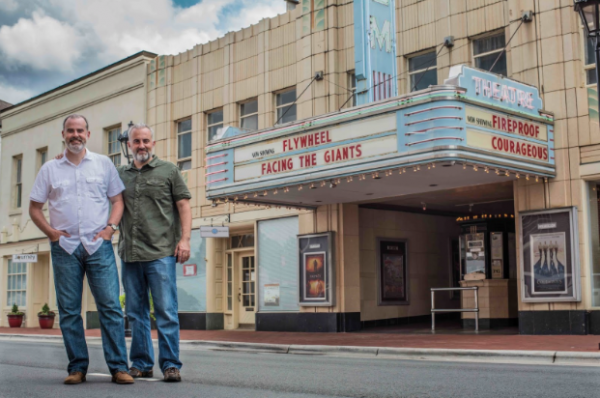 Alex and Stephen Kendrick, the brothers behind faith-based hits Courageous and Fireproof have finished a fifth movie focused on prayer, they announced in a press release today. The film includes a cameo by popular Evangelical speaker Beth Moore.
From the release:
"It's time for fierceness in prayer, and I cannot think of a more crucial message for a movie to convey," Moore said. "God waits to see a generation that will take Him at His Word. Let's be that generation.""We're going after something here that could radically improve our culture, and moviegoers will experience it within the context of an inspiring and emotional story," Producer and Co-Writer Stephen Kendrick said. "Prayer is so much more than people realize. It can powerfully affect every problem and need in our lives if engaged from within a vibrant relationship with God."

SYNOPSIS
A family-friendly drama, the film is about learning to fight the right kinds of battles. Filled with humor, wit and heart, it follows Tony and Elizabeth Jordan, a middle-class couple, and their daughter, Danielle, as they struggle through personal, marital and spiritual issues. Their lives are forever changed after Elizabeth meets an elderly widow who helps her develop a secret prayer room in her home.
This is the first release from Kendrick Brothers Productions, the production studio they formed after leaving Sherwood Pictures, which is a ministry of Sherwood Baptist Church in North Carolina. By all accounts, the brothers left Sherwood amicably and remain associate pastors of the church.
This also appears to be the first Kendrick Brothers film with a predominately African-American cast.
I spoke with Alex Kendrick on the set of Mom's Night Out. I am not a fan of these types of faith-based films that drive a message home and leave no question unanswered. I tend to think both God and art are found in the asking, not in the telling. But there's no denying that they've found an audience of religious folk who are thrilled to see their lives reflected onscreen. With a small production budget, inexpensive talent, and a fair amount of volunteer, non-union labor, these films have fantastic return on investment. They certainly have attracted Hollywood's notice.
When I spoke with Kendrick, I found him passionate and articulate. I took issue with his tendency to unapologetically build a movie around a message, rather than letting character or story lead the way. But he was also convincingly sincere and eager to learn and expand, more than you can say for a lot of moviemakers. Read my interview here, and the report on the set visit here.
Release date and title are TBD.
What do you think? Will you watch it?