Sorry to have been absent!  I've had a few 15 hour days, since I've arrived at my new job at a very busy time and I'm still trying to find housing and put an end to my itinerant living.  There will definitely be a more usual schedule of posting starting Wednesday, but no guarantee til then.
Luckily, I've got something nice for you to pass the time with.  Scott/Yvain has the updated handbook for his Dungeons and Discourses game (and he'll help put you in contact with skype or near-you players).  Here are my favorite spells/feats this time round:
INVERSE COMMUNION
TYPE: targeted, catholic
COST: W
TIMING: 1
SPELL: Transforms the victim's body to bread and their blood into wine, doing physical damage equal to your Virtue. Any enemy killed by this spell turns into high-quality edible supplies

SIEVE OF ERATOSTHENES
TYPE: targeted, number theory
COST: 4W
TIMING: 1
DURATION: 3
SPELL: Cast on yourself or another player. While the Sieve is in place, only attacks that deal a prime number amount of damage affect the target.

SUMMON: SAGAN'S INVISIBLE DRAGON
TYPE: physicist, summon, skeptical
COST: 3W
TIMING: 1
DURATION: 3
SPELL: Summons an invisible dragon. For each action the dragon takes visible to anyone besides yourself, you must come up with an alternative (non-dragon based) explanation for how it could have conceivably occurred or else the dragon disappears, or lose W.

SUMMON: PARASITIC VIOLINIST
TYPE: targeted, noncumulative
COST: 2W
TIMING: 1
DURATION: 10
SPELL: Cast on an enemy. Summons a parasitic violinist with 10 HP who attaches herself to the target. Each turn after the first, the violinist sucks 4 HP from the target, regardless of armor or other defenses. After ten turns, the violinist recovers her health and leaves the target, and the target gets +3 Virtue and (as a gift of gratitude) a Magic Violin, which allows one casting of the spell Senseless Violins. Alternately, the target may also kill the parasitic violinist before this point by dealing 10 damage, thus avoiding the HP loss. This costs the target -3 Virtue.
Even though I'm snowed under, I'm still tracking my usually hobbyhorses, and I found one quote in a football-concussions article very interesting:
The postinjury test is quick — it takes about six to eight minutes — and shares many elements with the baseline test to allow a comparison that might indicate a decline in function. Both include a section on the players' concussion history and a 24-symptom checklist; players are asked to score themselves on a scale of 1 to 6 in categories like dizziness, confusion, irritability and sleep problems. Both note any abnormal pupil reaction or neck pain. There is a balance test and a concentration test, in which players, who are usually brought to the locker room to be evaluated, are asked to say the months of the year in reverse order, to recite a string of numbers backward and to remember a collection of words three times. Then they are asked to recall them again, without warning, at least five minutes later. The words and sequence of numbers may be changed from test to test, so players cannot memorize them from a previous test to mask concussion symptoms — a fact that has annoyed players, according to Dr. Margot Putukian, the director of athletic medicine at Princeton University Health Services and a member of the N.F.L.'s Head, Neck and Spine Committee.
Auuuughhhh! (That the players are disappointed to not be able to game the test, which of course reminds me of this previous discussion of what kind of damage people consider harm).
betting on the next Pope does not cause you to be excommunicated
!  But, alas, 
civil
law still
keeps me from betting on Intrade
.
In other unusual analysis of Papal conclave news: Bruce Schneier, the awesome security expert, gives his take on the security of the voting system used by the cardinals, with this interesting note:
There are also enormous social — religious, actually — disincentives to hacking the vote. The election takes place in a chapel and at an altar. The cardinals swear an oath as they are casting their ballot — further discouragement. The chalice and paten are the implements used to celebrate the Eucharist, the holiest act of the Catholic Church. And the scrutineers are explicitly exhorted not to form any sort of cabal or make any plans to sway the election, under pain of excommunication.
It makes me wonder what, if anything, is sufficiently sacred as part of civic ritual that incorporating it into the means of voting would have a large marginal effect on fraud. (I don't think inscribing your vote using a quill made from a bald eagle's feathers would work.)
If I'm trying to cover what you're missing by me not blogging for a week, an interesting data visualization seems necessary.  Via Flowing Data, a map of where 'missed connections' on craigslist were most commonly found (and tragically lost) by state.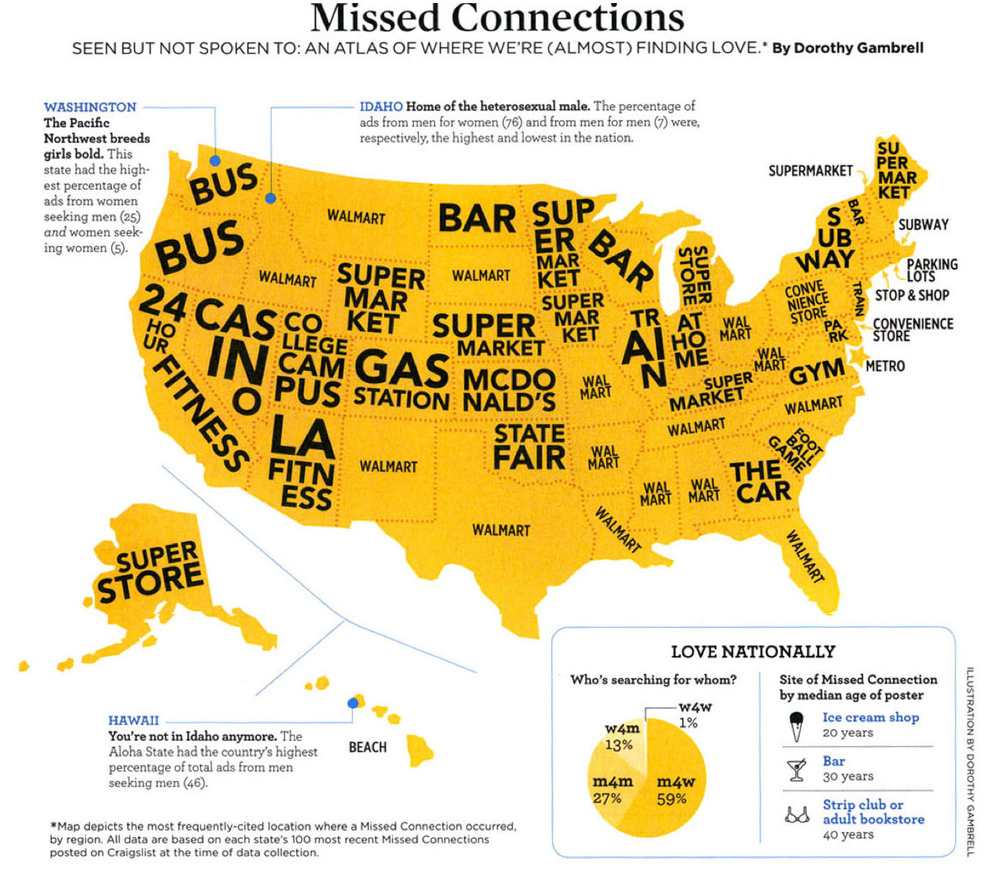 I'm working long hours at what is basically my dream job, but it's not the only extraordinary job that exists. You could be working on the Mongoliad. According to an io9 piece by Mark Teppo, they do a lot of research:
For example: in the first volume of The Mongoliad, we had a fight between one of our knights and a samurai. This was the big opening set piece, the flashy "dance number," if you will, that was meant to draw people in. It took us six months to write it. We wrote three complete drafts, and each time we discovered that we really didn't know what we were doing. We had an extensive choreography session, from which I've got hours of video footage which are funny to look at now as we spend most of our time clustered around a laptop at one end of the practice hall, trying to see what our sword expert from Finland is trying to show us over a laggy Skype connection. We learned that stopping a naginata stroke with a sword blade was laughably foolish (and have high speed video capture demonstrating this lunacy), and we discovered that a 10,000 word sword fight is probably too long. Even for sword nerds.
And let me send you off with a cosplay compilation video found at Fashionably Geek, so the self-parodic nature of these Quick Takes is complete!
For more Quick Takes, visit Conversion Diary!