First, just a reminder that today I'm reading the first meditation in Cardinal Bergoglio's (Pope Francis's) Open Mind, Faithful Heart: Reflections on Following Jesus for the year-long book-club I'll be running here. It kicks off Monday, so get reading, if you're interested!
And if you're looking for something delightful to read, perhaps you'd like to check out the extraordinary Christmas present that my friend Nicola made for her husband, Will. His patron saint, St. William of Gellone, has a chanson de gueste written in the late eleventh century. Unfortunately, it's not available in English… until now. Nicola translated the Old French verses about St. William's monkhood and the end of his life into just plain French and then into English. And you can read her delightful translation here.
Over the holiday season, I ended up spending a non-negligible amount of time reading through the entire archive of Dip that pen, Shake that speare (the source of the cartoon the other week, where Shakespeare protagonists switched places). I really recommend poking though the archives and adding it to your feedreader. And, to entice you, I'll just share this link to that blog's history of the letter 'v' in English.
Meanwhile, back in England… I know I said West Saxon ( aka Old English) had no V. Let me take that back. What I meant was, they had no letter V—but they did have the sound. The V sound, though, was close enough to the F sound that they just used an F instead. This served everyone perfectly fine until the French-speaking Normans invaded and soon started influencing the spelling of Anglo-Saxon words. The letter F was sometimes replaced with the letter U, and both were pronounced as V. (The Anglo-Saxon ambivalence toward differentiating the F/V sound is still present today in nouns with an F that turn into V in the plural, like knife/knives, hoof/hooves.) I know this is all very confusing, so feel free to take a breather. Here are some dog .gifs I have accumulated
You know how you can tell your life is filled with an embarrassment of riches? When you have two awesome Shakespeare tumblrs to share in a single week. My theatre major brother and I passed a very enjoyable evening reading through the archives of Shakesketch together and exclaiming over our favorite illustrations of lines from Shakespeare. Here's one of my favorites: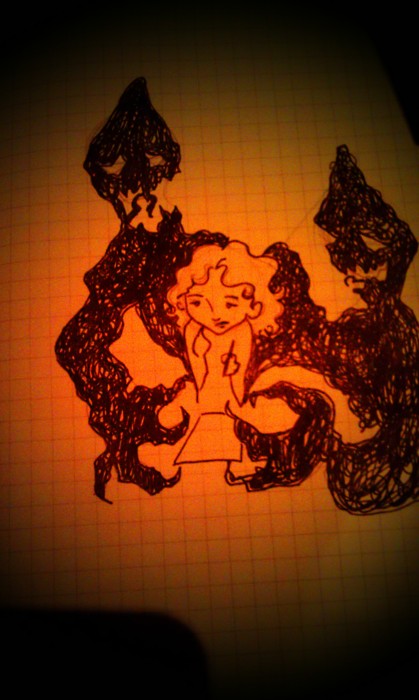 Ok, two of my favorites: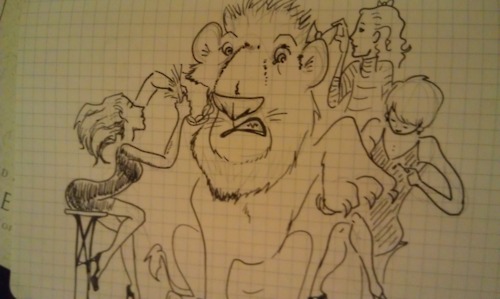 I was really confused when I saw friends on facebook linking to reviews to a sequel of Chess. After all, it's not like chess is a franchise. But the game sounds entertaining, with a number of rule tweaks (including an additional victory condition, below) and the ability to play with asymmetrical sides optimized for defence or aggression, etc.
The new Chess has some rules that seem quite out there, at first. But that might be because it's hard to imagine Chess changing. My first time playing Chess 2, I had to come to grips with the Halfline Invasion rule. If a player brings their king beyond the halfway mark, it's an instant win. Sound easy? It's actually a self-balancing rule. The closer you move to the halfway point, the more likely squares are to be in check — both because it's closer to enemy pieces, and because your opponent can see you doing it. And as the match goes on, and pieces are eliminated, the Halfline Invasion becomes easier — reducing stalemates.
The goal is to make chess feel more like a game, where you use some of the same kinds of reasoning as in normal chess, but without the obligation to memorize openings or get pummeled by those who have. It sounds like a fun idea.
And speaking of delightful reinventions, my parents took my brother and me to A Gentleman's Guide to Love and Murder, an exceedingly delightful musical loosely inspired by the original source for Kind Hearts and Coronets. The protagonist of the musical discovers that he is only nine relatives removed from an Earldom and begins merrily murdering his way into the gentry. All nine of the D'Ysquiths who precede him are played by a single, very talented actor, with a flair for characterizations and quick changes.
I've linked two video previews below (from the out of town tryout, so some roles have been recast) but you'll have a good sense of the show.
http://www.youtube.com/watch?v=XqSiP34Zxv8
http://www.youtube.com/watch?v=0b2iarSSfxk
And one final amusement that turned up during the Christmas season: while scrolling through a In Focus slideshow of Christmas Around the World, I discovered that Seattle has a giant troll sculpture under one of its bridges.
The [18 foot tall] sculpture, built in 1990 of steel rebar, wire and concrete, clutches an actual Volkswagen Beetle and sports a hubcap as an eye, but is usually bare-headed. The figure is often referred to as the "Fremont Troll."
And here's what the big guy looks like: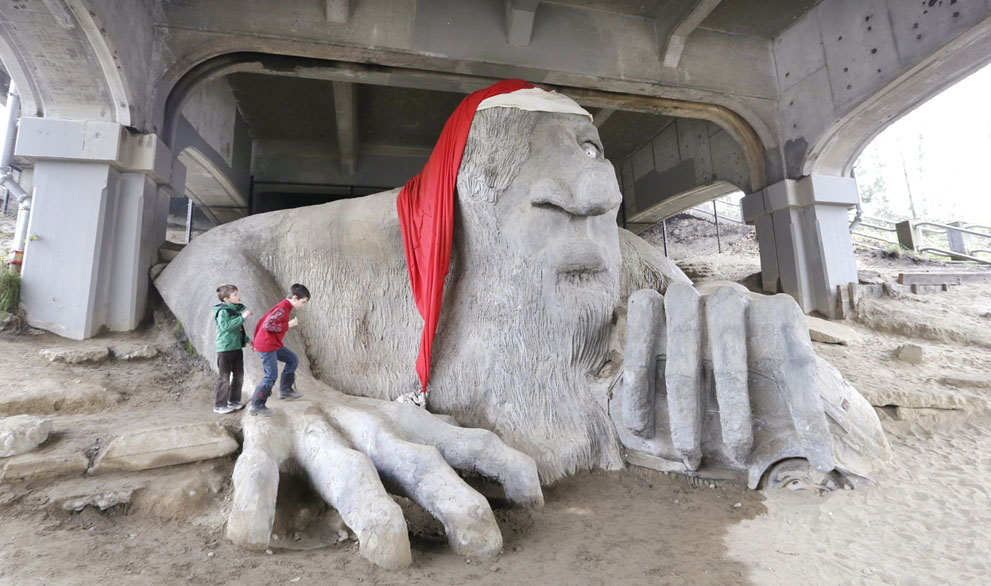 For more Quick Takes, visit Conversion Diary!